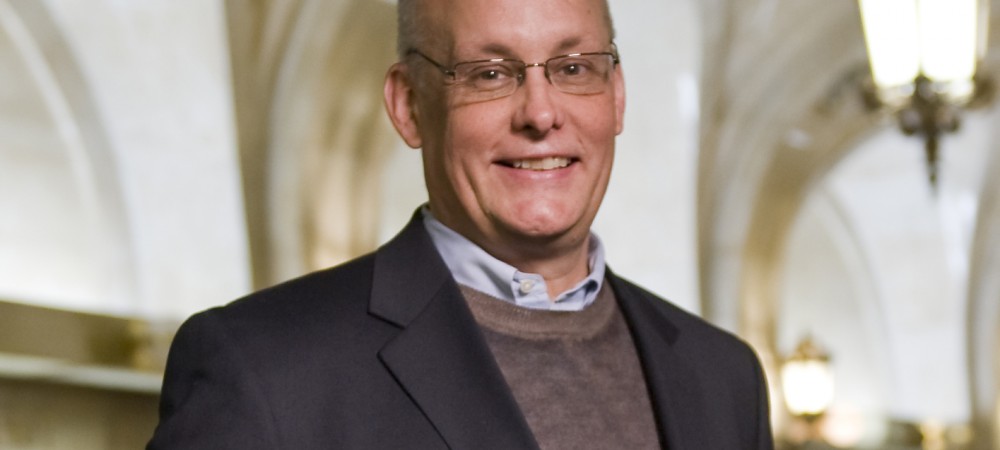 Brown to judge: Step down — or explain why
Originally published May 15, 2013
By MARK BROWN
Columnist
The elephant in Room 201 of the Rolling Meadows courthouse Tuesday was what the judge handling the trial of Richard J. Vanecko might have to say about a judicial ethics investigation into the circumstances surrounding debts her ex-husband escaped through their divorce.
Would McHenry County Judge Maureen P. McIntyre clear the air regarding questions raised by Sun-Times' investigative stories?
Or would she recuse herself, becoming the second judge to realize the case against former Mayor Daley's nephew is a hot potato better passed to the next person down the line?
Unfortunately, McIntyre said nothing about either the Sun-Times' stories or a resulting Judicial Inquiry Board probe.
In the first court date since the Sun-Times' reports, McIntyre treated the routine status hearing in the involuntary-manslaughter case against Vanecko — belatedly charged in the 2004 death of David Koschman — as exactly that, routine.
As most of you know, nothing has ever been routine about the investigation into Koschman's death, swept under the rug for years and the subject of an ongoing grand jury probe into whether there was a coverup by Chicago police or Cook County state's attorney personnel.
One result is that the judge who handles the Koschman case ought to be able to pass the smell test.
McIntyre doesn't. It's as simple as that.
McIntrye should have stepped down — or explained why not. We shouldn't have to depend on lawyers in the case to raise the issue.
As the Sun-Times reported in February, McIntyre's ex-husband and former law partner, Raymond X. Henehan, was able to avoid repayment of hundreds of thousands of dollars in debts when the couple divorced in 2006.
In the divorce settlement, the judge received most of the couple's major assets, including their Barrington Hills home, where by all indications Henehan has continued to reside.
This arrangement shielded those assets from Henehan's creditors, most of whom were his law clients.
"It was a divorce of convenience, where he still lived in the house," one of Henehan's creditors previously told Sun-Times' reporters Tim Novak and Chris Fusco. "It helped separate her from his problems."
I was always impressed by how succinctly that creditor, David Matthiesen, 70, distilled what was wrong in this complicated situation. So I called him Tuesday.
Mathiessen's late-father, Earl, was an elderly client of Henehan and loaned him a lot of money. Earl Matthiesen was 91 by the time he realized Henehan wasn't going to pay him back. He won a judgment for $471,534, but his estate was never able to collect.
"He was treating my dad like a patsy," Matthiessen told me.
Matthiessen said he will never be able to prove that McIntyre and Henehan divorced as a means to shield their assets, but that it definitely served that purpose.
"If it looks like a duck, quacks like a duck and lays duck eggs, it's probably a duck," Matthiessen observed.
Henehan was later disbarred for misdeeds that included mishandling clients' money.
Totally aside from the couple's personal finances, our reporters have also shown Henehan's old family ties practically shout Cook County Democratic machine politics.
The problem for McIntyre is that this isn't a simple matter of declaring a potential conflict of interest and stepping aside out of "an abundance of caution."
This is a matter that goes to the very question of her fitness to remain a judge, which is undoubtedly why the Judicial Inquiry Board has opened an investigation.
As you will recall, the only reason McIntyre has this case is that special prosecutor Dan Webb sought appointment of a judge from outside Cook County because of the fact so many judges here have a connection to Daley.
Chief Cook County Judge Timothy Evans agreed and sought help from the Illinois Supreme Court, which sent the matter to McHenry County and resulted in the assignment of McIntyre.
It's fair to ask whether this newspaper — or anybody in Cook County for that matter — would have shown any interest in the judicial ethics of McIntyre's marital finances if she had never been assigned to this case.
The answe is no. That would have been up to the lawyers of McHenry County to raise — or ignore, as has been the case.
But here she is, front and center in a case that has called into question the fairness of our legal system.
And from here, it looks — and smells — like a duck.