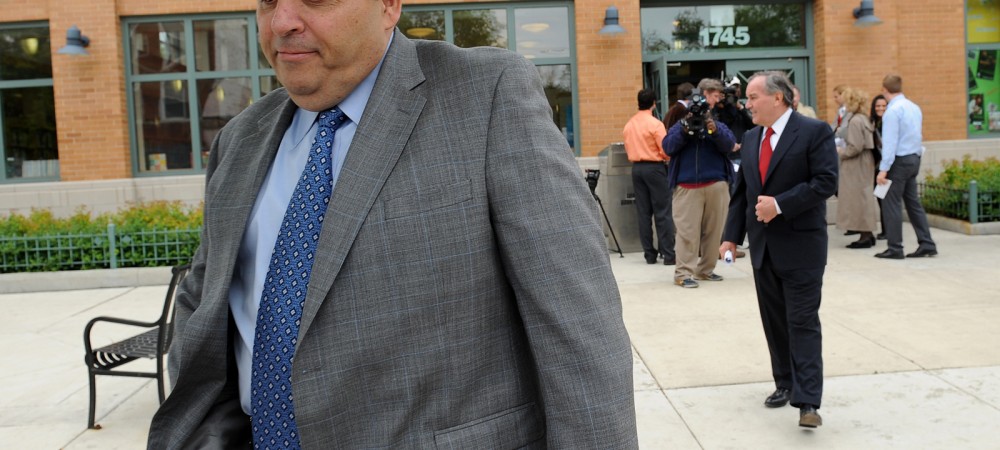 Daley's police detail under scrutiny
Originally published Jan. 21, 2013
BY TIM NOVAK, CHRIS FUSCO  AND CAROL MARIN
Staff Reporters
For the 22 years he was mayor, Richard M. Daley relied upon a select group of police officers to ensure his safety and that of his family.
The security detail was more than a palace guard. Its members routinely traveled with Daley and his family. They drove his kids to school. They ran errands for the family.
Now, members of the police detail that served Daley are being questioned by Dan K. Webb, the special prosecutor appointed by a judge last year to reinvestigate the 2004 death of David Koschman.
Sources say Webb wants to know what the security detail's members know about Koschman's death — a case that resulted in an involuntary manslaughter indictment last month against Daley nephew Richard J. "R.J." Vanecko.
Webb continues to look into why police and prosecutors from the Cook County state's attorney's office didn't charge Vanecko.
Webb's team has questioned retired police Cmdr. Sam Roti, who became the detail's commander in 2004, about two months after Koschman's death.
Roti replaced James Keating, a retired police officer who is now head of security for the Chicago Transit Authority.
Keating and Roti both grew up in Bridgeport, the former mayor's old neighborhood. Each joined the detail on April 25, 1989 — the day after Daley was first sworn in as mayor.
Neither Roti nor Keating would comment.
Nor would Webb, who has refused to discuss the investigation.
Daley spokeswoman Jacquelyn Heard said: "We understand that to be an ongoing investigation and therefore inappropriate for anyone, particularly the former mayor, to comment at all."
Daley was in Florida, celebrating his 62nd birthday, when the police say the 6-foot-3, 230-pound Vanecko punched the 5-foot-5, 125-pound Koschman during a drunken confrontation in the Rush Street nightlife district on April 25, 2004. Hospitalized in a coma, Koschman died 11 days later from brain injuries.
Vanecko ran away, according to the police, who have said they had no contact with him until May 20, 2004, when he appeared in a lineup at Area 3 detective headquarters at Belmont and Western.
The Chicago Police Department had 25 officers assigned to Daley's detail between April 25, 2004, and May 20, 2004, police records show. Among them were:
◆ Roti, who became commander of the detail on July 1, 2004. He stayed in that job until he retired Nov. 15, 2010, six months before Daley left office.
◆ Keating, the son of a Chicago firefighter. Keating headed the detail between Feb. 16, 1998, and June 30, 2004. He then moved to another post in the police department and eventually became a deputy chief, retiring on Jan. 15, 2011. He became the head of security at Navy Pier and now has the same job at the CTA.
◆ Brian Thompson, who is now commander of Mayor Rahm Emanuel's security detail.
◆ Carol Weingart, who is among several police officers suing the city after being removed from the detail after Daley left office. Her brother-in-law, Lt. Denis Walsh, was an officer in the police department's 18th District, where Koschman was injured. Walsh is now a detective in Area 3 who was involved in the 2011 reinvestigation of the Koschman case — including the discovery of previously missing police files in the case.
◆ Anthony Fosco, who committed suicide by shooting himself in the stomach on his basement couch about a month after Daley left office, according to authorities. Fosco had recently retired.
"The city is fully cooperating with the special prosecutor," says Melissa Stratton, a police spokeswoman. "Because of a protective order in this matter, the city cannot comment."
There's no information in any of the police reports the department has released to indicate that any member of Daley's security detail had any involvement in the Koschman case.
That wasn't the case nearly 21 years ago, at the time of another incident in which Vanecko, then just a teenager, was involved.
Daley's son Patrick, then 16, had thrown a beer bash at his family's summer home in Grand Beach, Mich. It ended after a fracas in which another teen was hit in the head with a baseball bat outside the home and ended up hospitalized with brain injuries.
The mayor was in New York, but the police chief in Grand Beach, Mich., knew who to call: Daley's security detail.
"I had orders at the time to never call the mayor directly — to always get them through the detail," Chief Dan Schroeder recalls.
Schroeder tried to contact Michael Marano, then head of Daley's detail, hours after the March 1, 1992, fight. Instead, he reached Gregory Ramirez, another officer on the detail, according to Michigan State Police records.
Marano and Ramirez resigned from Daley's detail in 1997 after the Chicago Sun-Times revealed they were also running a security company that got government business from city-related agencies.
The Michigan police records show this exchange took place during the call from Schroeder to the mayor's security detail:
Schroeder: I'm trying to get a hold of the mayor, I need to talk to him, we had a fracas out here last night involving his son. . . .
Ramirez: Could you fill me in on the details, um, the mayor is also in New York with Mike. . . .
Schroeder: OK, what happened was apparently Pat and some of his friends were having a party up there and, um, ah, a friend of Pat's had brought some other friends over from Michigan City.
Ramirez: OK.
Schroeder: OK, and apparently, ah, they weren't welcome there, there was some racial slurs back and forth.
Ramirez: Were they black kids or something like that?
Schroeder: They were Filipino kids . . . And they were told to get out and on the way out one of them, one of the Filipino kids, got sucker punched. . . . So they decided they wanted some revenge. So they had come back later on with reinforcements and there was a fracas in the driveway. One kid from the Daley house had brandished a weapon.
Ramirez: What kind of weapon, do we know?
Schroeder: I think it's a .20-gauge shotgun. Nobody's admitting to it and I didn't see it . . . That was somebody from the Daley clan up there.
Ramirez: OK.
Schroeder: Then the worst part is somebody up there also took a baseball bat and cracked one of the kids in the head.
Ramirez: Holy Christ.
Schroeder: Yes, he's in the hospital. He's had brain surgery this morning. . . . Like I say, it's getting around so I need to talk to the mayor.
Ramirez: Yeah, okay. Well, I'll call Mike back in New York right now and I'll have him advise him from here what's going on.
During their investigation, the Michigan police learned that Patrick Daley and Vanecko, then 17, had gone to a basement closet and grabbed the shotgun. Vanecko apparently assembled it and went outside, where Daley's friends were fighting with another group of teens — including 15-year-old Andrew Buckman — who had come back to the party with the two Filipino teens.
Mark Lawler, one of Daley's classmates from Mount Carmel High School, hit Buckman in the head with the baseball bat that he got from the Daley garage.
Two days after the brawl, Vanecko told the Michigan police, including State Trooper DeWayne Hellenga, that Daley's detail kept Patrick Daley and Lawler from running away, according to a transcript of Vanecko's interview.
Vanecko told the police that, while they were still in Michigan, Patrick Daley had decided to run away after getting a call from someone threatening to publicize the party. Vanecko drove Patrick Daley back to the mayor's home in Bridgeport, leaving behind the Daleys' Chevrolet Blazer, which had its windshield broken during the fight.
From the police transcript:
Vanecko: He wanted to leave, you know, run away, and he wanted me to take him to like a Greyhound bus, he was just really, really nervous and scared. I talked him out of that and I took him home, and he's just like, 'Well, I'm gonna call Mark, and we're gonna leave probably tomorrow.' And I said, 'You know, just wait it out for a while.'
According to Vanecko, the following day he got a call at his home in Sauganash from his cousin, who still wanted to run away because the Michigan police had called him to talk about the gun.
Vanecko: And then Patrick called me back, and he's like, 'I'm going to leave. Do you still have the Blazer keys and my wallet,' because he had left them in my glove compartment. I said, 'Yeah,' and he said, 'All right, well somebody is going to come up to get them.' . . . And my uncle's aid[e], Pat McLain, called me and he's like 'I'm sending some of the detail up to get the keys, and then we'll take the Blazer back into Chicago.'
Hellenga: You're talking about the security detail?
Vanecko: Yeah, and I told them that Pat was thinking of, you know, leaving. And he's like, 'I know, we'll keep an eye on him.'
Later, a member of Daley's detail showed up at Vanecko's home, according to the transcript.
Vanecko: It was a lady . . . security, and she got the keys and I was like 'Here's Patrick's wallet.' . . . I was like, 'I think he's going to run away, you guys have got to watch him.' They're like, 'We know. He's really scared.' And so then, you know, they left, and I'm sitting around and my Uncle Rich called me, and he's, you know, 'What went on?' And I was just, I told him everything, and he said that Patrick had left, that he'd run away, and he wanted to know if I had any idea where he was going, and I told him, you know, he wanted to go to a Greyhound bus, or whatever, get out of there, he was going to leave or pull out.
So then I get a call from the second in command of the detail security, Mike Marano. He's like, 'Patrick's gone, you know he's talked to you before. Where do you think he went?' . . . I was like, 'You should check the Lawler kid's house because Patrick had said Lawler was coming in to get him.' . . .So then, at like 6, Patrick calls me, and he's like 'R.J., I need some money and I got to get my wallet and some of my camping stuff.' And I'm like, 'Where are you?' And he's like, 'I can't tell you.' . . .
[Vanecko then asks] 'Where are you guys going?' and he's like, he said something about going to Wisconsin, like to Green Bay or something. . . . So I told him meet me at the parking lot near my house, in the church parking lot. . . .
So I hung up from him, called the detail, told them that I was in contact with Patrick and they should send their guys to my house, and we'll bring him back down. . . .
Vanecko and the detail drove to the parking lot at Queen of All Saints Church in Sauganash, where they met the mayor's son and Lawler. Vanecko said he told his cousin, " 'Patrick get out of the car, here's your wallet and stuff. . . . I brought the detail with us, they're going to take you back down.' And he got all mad, started yelling."