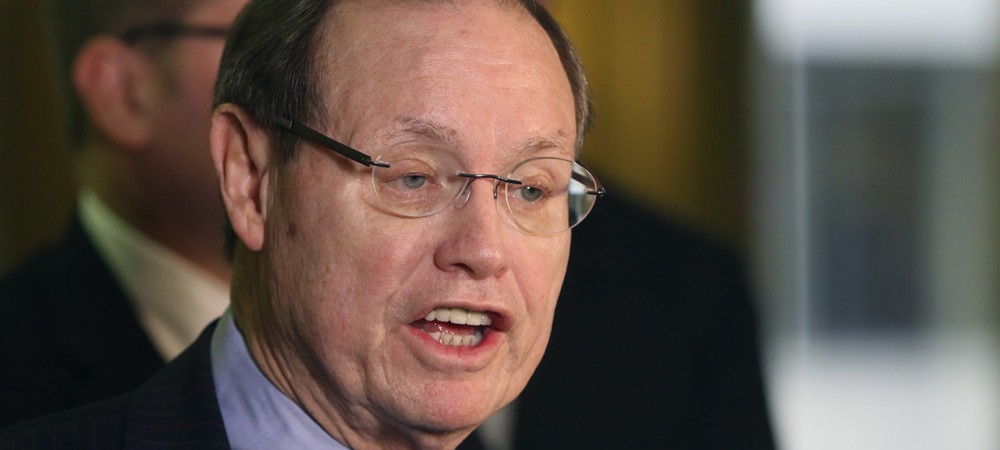 What will Webb's report reveal?
Published Jan. 31, 2014
By  CHRIS FUSCO AND TIM NOVAK
Staff Reporters

Please enable Javascript to watch this video
In 2004, the Chicago Police Department concluded that David Koschman was "clearly the aggressor" in a drunken confrontation on Division Street. Detectives said they couldn't figure out who "pushed or punched" Koschman, causing his death, but said it was self-defense.
In 2011, the police again concluded that Koschman "was clearly the assailant in this incident" — but they now also said it was Richard J. "R.J." Vanecko, a nephew of former Mayor Richard M. Daley, who punched Koschman.
On Friday, Vanecko pleaded guilty to a felony charge of involuntary manslaughter in Koschman's killing.
What led the police to change their findings between 2004 and 2011? That's one of many questions that Dan K. Webb, the court-appointed special prosecutor in the Koschman case, is expected to answer in a 162-page report of his findings into how police and prosecutors handled the case.
Webb's report — which could be released as early as Monday — also is expected to address whether detectives accurately recorded in police reports the witness statements they took from four of Koschman's friends and two bystanders about what happened early on April 25, 2004, when Vanecko punched Koschman, 21, in the face, leading to his death 11 days later. Several of those witnesses have said the police inaccurately took down their statements to make it appear Koschman was being physically aggressive toward Vanecko, even though they said that wasn't true.
Webb, a former U.S. attorney who now heads the law firm of Winston & Strawn, had two missions when Cook County Circuit Judge Michael P. Toomin appointed him special prosecutor in the Vanecko case in April 2012:
• Reinvestigate Koschman's death to see whether anyone should be charged with killing him.
• Determine whether "employees of the Chicago Police Department and the Cook County state's attorney's office acted intentionally to suppress and conceal evidence, furnish false evidence and generally impede the investigation into Mr. Koschman's death."
Webb finished that report in September, saying that no law-enforcement authorities would be charged because the statute of limitations regarding criminal conduct in the Koschman case in 2004 had run out. He also said he found "insufficient evidence to prove beyond a reasonable doubt any state criminal law violations as to actions taken by CPD personnel in 2011."
On Friday — after a dramatic hearing in which Vanecko entered his guilty plea and apologized to Koschman's mother — Webb said, "I hope to have the report released as early as Monday, but it will obviously be up to Judge Toomin to make that decision.
"It's a very long report," Webb said. "I've laid out everything I've found. I laid out all the facts, all the decision-making. A lot of you can be judges of that."
Asked if the report shows evidence of Vanecko getting special treatment from authorities because he is a member of the Daley family, Webb replied, "I'll let you read my report."
In 2004, Detective Ronald E. Yawger wrote that he had conferred with Darren O'Brien — then the chief of Cook County State's Attorney Richard Devine's felony review unit — and "no charges would or could be sought due to the fact that the victim in this incident, David Koschman, was clearly the aggressor, as corroborated by all of the witnesses interviewed, in that David Koschman continued to attack the group of people consisting of Bridget McCarthy, Kevin McCarthy, Craig Denham and Richard Vanecko, resulting in the victim either being pushed or punched in self defense."
But the police department kept the case open. That kept the public from being able to access any police reports about the investigation.
The police finally closed the case on March 1, 2011 — six weeks before Daley left office — now concluding, "David KOSCHMAN, having yelled, 'F— you! I'll kick your ass!' by breaking away from his group of friends and aggressively going after VANECKO was clearly the assailant in this incident. These aggressive actions caused VANECKO to take action and defend himself."
Koschman's friends and a bystander all have told the Chicago Sun-Times that while Koschman was being mouthy with Vanecko's group, he was never physically aggressive toward Vanecko.
And, in grand jury testimony made public in a recent court filing by Webb, one of Vanecko's friends testified that the confrontation didn't seem to reach the point where she thought it would come to blows. Bridget McCarthy was asked: "You've told us that you did not fear for your safety, that you never sought the aid of police, and you turned your back on the altercation when you believed it was over, correct?"
"Correct," she replied.
Her statement to the grand jury isn't reflected in any of the police reports the police released after the case was closed.
_____________________________________________________________________________________________________________
Related links
Top cop, prosecutors' statements as case evolved
Nanci Koschman hopes 'in time' to forgive
Vanecko wants to do time in McHenry County jail
Mark Brown: Justice finally comes in Koschman case
Carol Marin: Where were the Daleys when Vanecko pleaded guilty?
eBook: The Killing of David Koschman/A Watchdogs Investigation
_____________________________________________________________________________________________________________
Among other questions that the Sun-Times has raised in its three-year investigation of Koschman's death:
• Why did the police stop investigating the case hours after Koschman was hospitalized on April 25, 2004, and not resume investigating until May 10, 2004, four days after Koschman died?
• Why did it take six months for the homicide detectives who handled the case in 2004 to file their reports, even though they'd finished their investigation in just 10 days?
• How did files about the case go missing in both the police department and state's attorney's office?
Ultimately, Webb's report should shed light on one big question: Why was justice served only after a special prosecutor got involved in the politically charged case?
"I have obviously believed an indictment should have been returned [sooner], and it was not. And I tried to correct that error several years later," Webb said. "This justice has been delayed. But at least it has occurred."
Please enable Javascript to watch this video