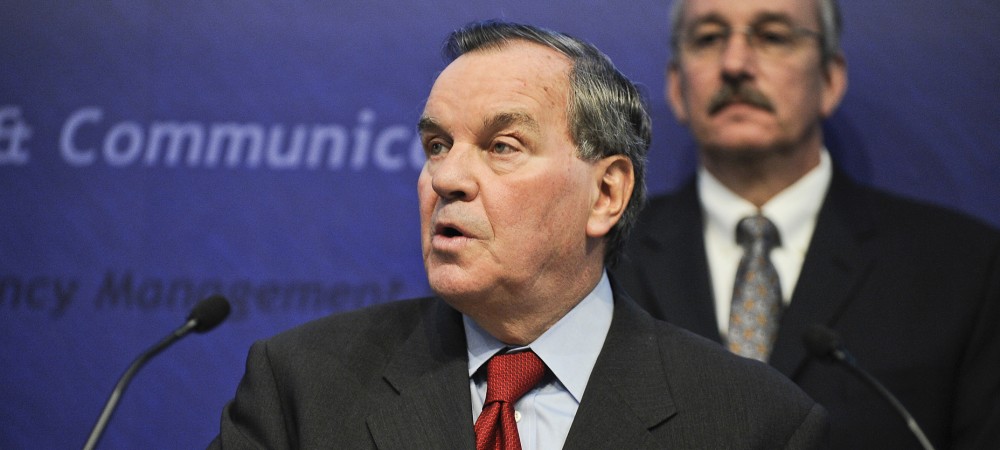 Daley quickly knew of nephew's involvement
Published Feb. 4, 2014
By  TIM NOVAK, CHRIS FUSCO AND CAROL MARIN
Staff Reporters
Former Chicago Mayor Richard M. Daley knew "shortly after the incident" that his nephew Richard J. "R.J." Vanecko had been involved in the drunken confrontation that led to David Koschman's death, according to a report from Koschman special prosecutor Dan K. Webb  Tuesday.
Daley, higher-ups in his office and others in Daley's Chicago Police Department were aware of Vanecko's involvement even as Koschman lay dying in a hospital with a cracked skull and swelling brain, the Webb report revealed.
At the time, the police had compiled a list of six witnesses to interview, but detectives didn't talk with any of them for 13 days after Vanecko punched Koschman, then ran away, Webb said. They didn't resume investigating until after Koschman died.
That's one of a litany of law-enforcement failings — from missing case files to failing to seek out surveillance video — Webb spotlighted in his 162-page report on his investigation into how the case was handled by police and prosecutors.
Daley has never spoken publicly about the Koschman case. He told Webb's investigators "that he learned about the Koschman incident 'sometime' after it occurred, although he was unable to say exactly when. Mayor Daley also stated that he had made it clear to his staff and the public that because he was Vanecko's uncle, he had recused himself from any involvement in the Koschman matter."
Matthew Crowl — an attorney who was Daley's deputy chief of staff for public safety when Vanecko punched Koschman early on April 25, 2004 — told Daley about his nephew's involvement within days, according to Webb's report.
The Death of David Koschman - Report of the Special Prosecutor
Crowl "was informed by someone at CPD of Mayor Daley's nephew's involvement in the incident on Division Street and immediately informed Mayor Daley in person of what he had heard," the report said. "While Crowl was uncertain of the exact date, he believed he became aware of the Koschman matter shortly after the incident. It was not clear whether Mayor Daley was already aware of the incident when Crowl made the disclosure to him."
But in a written statement, Webb said "there was no evidence that former Mayor Daley, his family or others at their direction engaged in conduct to influence or attempted to influence the investigations" in which the police and Cook County state's attorney's office declined to file charges against Vanecko in 2004 and 2011.
Webb's report does question the treatment Vanecko got, though. And it notes that the mayor's staff monitored a police re-investigation conducted in 2011, when detectives closed the case, concluding that Vanecko hit Koschman in self-defense — even though he never spoke with the police and other witnesses disputed that.
"An objective observer might well express amazement as to how the police or [state's attorney's office] could so blithely divine the subjective feelings of Vanecko. Clearly, they could not," Webb wrote. ". . . The public could well conclude that the entire claim of self-defense came not from Vanecko, but, rather, was conjured up in the minds of law enforcement."
Vanecko, 39, who lives in Costa Mesa, Calif., pleaded guilty Friday to involuntary manslaughter and was sentenced to 60 days in jail.
Webb's report offers new details about Koschman case files that went missing from the police department and the state's attorney's office. Among them: Assistant State's Attorney Darren O'Brien told Webb's investigators "he may have thrown away the [Koschman] Felony Review folder when he cleaned out his desk at the time he left the position as head of Felony Review in 2008."
Webb also revealed he considered charging six police officers with crimes — including three high-ranking officers he said appeared to have "edited" detectives' reports during the 2011 re-investigation in a way that bolstered the notion of self-defense. Webb wrote that Deputy Chief of Detectives Constantine "Dean" Andrews, Sgt. Sam Cirone and Area 5 Cmdr. Joseph Salemme signed off on adding a line to a police report saying that, before Vanecko punched him, Koschman had said, 'F--- you, I'll kick your ass."
They did so even though, Webb wrote that, "Upon review of the rest of that police report, that phrase is nowhere attributed to Koschman or any other witness."
But Webb said he decided against charging them because there wasn't enough evidence to convict them. And he said he couldn't charge anyone involved in the 2004 investigation because statutes of limitations had expired for laws regarding official misconduct, obstructing justice, conspiracy and tampering with public records.
Locke Bowman — one of two lawyers who helped Koschman's mother Nanci Koschman win the court-ordered apppointment of a special prosecutor — said after the release of Webb's report, which had remained under seal pending the outcome of Vanecko's criminal case, "Heads need to roll."
That Webb didn't find evidence of any call being made by the Daleys to those involved in the investigation doesn't prove anything, the Koschman attorneys said.
"Destroyed files, evidence that was not documented, interviews not done — in the city of Chicago, you don't need a phone call," Koschman attorney G. Flint Taylor said.
_____________________________
RELATED LINKS
eBook: The Killing of David Koschman/A Watchdogs Investigation
_____________________________
Taylor pointed out that detectives handling the case said they didn't know Vanecko's identity for 18 days — though Webb's investigation determined some police supervisors admitted knowing Daley's nephew was involved early on.
Area 3 Lt. Richard Rybicki told grand jurors he found out "hours later, or possibly the next day," according to the report, and discussed it with his boss.
"According to Rybicki, he first learned of Vanecko's involvement when the investigation was still in its early stages," Webb wrote. "Although Rybicki could not recall the specific details of any conversations with [then-Area 3 Cmdr. Michael Chasen] about the case, he recalled having one conversation with Chasen where it came up that 'holy crap, maybe the mayor's nephew is involved.' "
Webb and his team "discovered evidence demonstrating that the Office of the Mayor ('Mayor's Office') was involved in CPD's response" to the Chicago Sun-Times after the newspaper began investigating the Koschman case in 2011. "However, there is no evidence gathered . . . that demonstrates that then-Mayor Daley directed his staff's actions," the report said.
Daley staffers met with police officials in early 2011, days after the department began re-investigating Koschman's death. Then-Supt. Jody Weis ordered that re-investigation after the Sun-Times filed a request Jan. 4, 2011, to review the Koschman case file.
On Jan. 18, 2011 — five days after that investigation began — police Lt. Maureen Biggane e-mailed Daley press secretary Jacquelyn Heard and her aides Jodi Kawada, Lance Lewis and Rosa Escareno, saying "the case [is] expected to be closed in the near future."
On March 3, 2011 — a day before the police released a report saying they'd closed the case without seeking charges — "Biggane sent an e-mail to Escareno informing her that 'the Vanecko thing' has been pressing. Just FYI — we are meeting with the state's [attorney's] office on this later today.' "
That evening, after the meeting, Biggane sent another e-mail to Escareno, Kawada, Heard and city Law Department spokeswoman Jennifer Hoyle, saying, "We and CCSAO remain in concurrence."
A Daley spokeswoman could not be reached Tuesday for comment.
Webb criticized State's Attorney Anita Alvarez, who declined to pursue charges against Vanecko in 2011.
Alvarez  empaneled a grand jury that interviewed just one witness. And she argued against bringing in a special prosecutor.
On Tuesday, Alvarez noted that the report said "the special prosecutor identified no evidence of any kind suggesting that any employee of the state's attorney's office recklessly, knowingly or intentionally violated Illinois law during their participation in the Koschman matter in 2011 and 2012."
A government watchdog group said Webb's findings warrant further investigation.
"The document reveals troubling behavior by the Chicago Police Department and the Cook County state's attorney's office," said Andy Shaw, who heads the Better Government Association. That conduct "raises enough serious questions to warrant continuing investigation by, among others, the city of Chicago's inspector general, the state's executive inspector general, the Illinois attorney general and the U.S. attorney's office."
Contributing: Dan Mihalopoulos