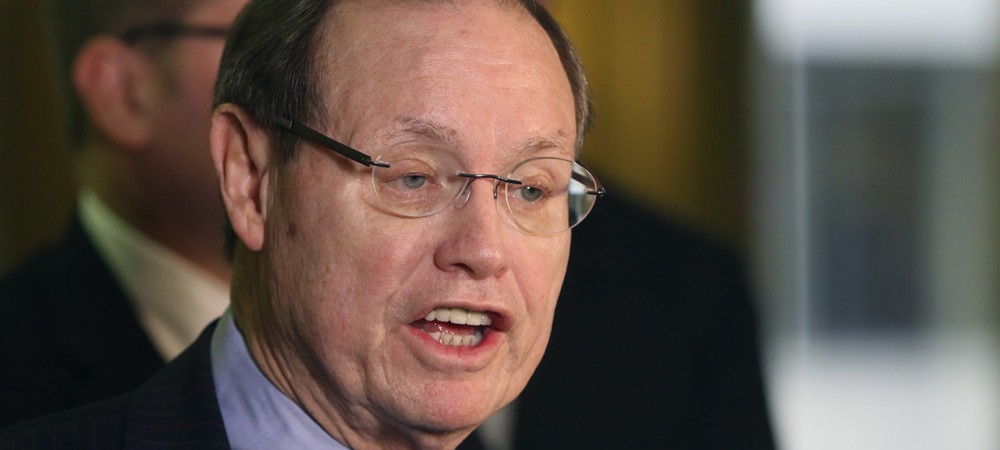 Webb: Who viewed hospital records?
Published March 31, 2014
By  TIM NOVAK AND CHRIS FUSCO
Staff Reporters
Special prosecutor Dan K. Webb subpoenaed Northwestern Memorial Hospital to find out who accessed the medical records of David Koschman, who died there after being punched by Mayor Richard M. Daley's nephew Richard J. "R.J." Vanecko, according to sealed court records obtained by the Chicago Sun-Times.
The subpoenas show that on June 27, 2012, Webb sought "documents evidencing when any medical record of David Koschman's was accessed, reviewed or printed, and by whom, from April 25, 2004, to the present."
Webb also subpoenaed Koschman's medical records — including X-rays, CT scans, doctors' notes, operative reports, patient charts and "written and electronic correspondence (including e-mails)."
What the special prosecutor wanted to know and why hasn't been made public. Nor is what he found out.
Webb's 162-page report on the Koschman case says little about the Gold Coast hospital, where Vanecko's father, Dr. Robert M. Vanecko, has been a thoracic and cardiac surgeon for decades. Dr. Vanecko is the husband of Daley's sister, Mary Carol.
Webb and his staff won't talk about the subpoenas. Nor will Northwestern. Dr. Vanecko did not respond to a request for comment.
Webb's report — released after R.J. Vanecko pleaded guilty Jan. 31 to involuntary manslaughter — did make clear, though, that he wanted to know what Daley knew, and when he knew it, regarding his nephew's involvement.
Koschman's death went unpunished for nearly 10 years, until a Chicago Sun-Times investigation led to Webb's appointment.
Though Webb wrote he found no evidence that Daley was involved in keeping his nephew from being charged, the special prosecutor's report revealed the mayor knew his nephew was involved within days — even as Koschman lay in a coma at Northwestern Memorial. Koschman's mother filed a federal lawsuit last week accusing the city, the police department, Cook County and the state's attorney's office of violating her son's civil rights by covering up the crime to avoid charging Vanecko.
Webb's report says nothing about whether there was any contact between Northwestern or Dr. Vanecko and the mayor or his staff. Nor is there any indication that Vanecko's father ever accessed Koschman's medical records. And Dr. Vanecko, who was once the hospital's chief of staff, never treated Koschman, medical records obtained by Koschman's mother show.
Dr. Patrick M. McCarthy — who had replaced Vanecko as head of cardiothoracic surgery on April 1, 2004 — did coronary-bypass surgery on Koschman on April 29, 2004, records show.
That was a week before Koschman's mother took him off life-support.
Dr. Vanecko and his wife were among seven Daley family members who gave "voluntary sworn statements," which were read to the grand jury that indicted their son, according to court filings. Their daughter, who is a nurse at Northwestern, also gave a statement.
Those statements haven't been released. They remain sealed under court order.
Vanecko, 39, is serving a 60-day jail sentence for killing Koschman.
Webb's report found that police and prosecutors botched their 2004 investigation of the case, as well as a 2011 re-investigation prompted by a Sun-Times request for records on the case.
Webb considered but did not file criminal charges against six police officers, instead turning over the mass of evidence — 300,000 pages in all — to the FBI.
His report documents three conversations between the hospital and the police within 12 hours of Koschman being hit.
Webb also revealed that patrol Officer Edwin Tremore — the beat cop who answered the call when Vanecko hit Koschman on Division Street near Dearborn Street and then ran away — went to Northwestern's emergency room and spoke with Dr. Matthew Levine, who told him Koschman was in serious condition. Tremore didn't mention the visit or Koschman's condition in his report, which was the first police report on the case.
A few hours later, at 9:30 a.m. on April 25, 2004, Detective Rita O'Leary called Northwestern and spoke with an unidentified nurse who told her "Koschman was unconscious, unable to be interviewed, and was in critical but stable condition," according to Webb's report.
O'Leary called again at 3:20 that afternoon and spoke with the same nurse, who handed the phone to Koschman's mother, Nanci Koschman. It was the only time Nanci Koschman heard from anyone with the police until months after her son's death, when she was told no one would be charged.
After O'Leary's second phone call to Northwestern, detectives didn't work on the case for the next 13 days. The investigation resumed only after Koschman died.
It's unclear whether O'Leary was made aware of Vanecko's involvement. Her supervisor, since-retired Lt. Richard Rybicki, testified under immunity from prosecution that he knew the mayor's nephew was involved within a couple days — while Koschman was still on life-support.
Matthew Crowl, who was Daley's deputy chief of staff for public safety, told Webb's investigators he alerted the mayor about his nephew's involvement within days, though Webb wrote, "It was not clear whether Mayor Daley was already aware of the incident."
Three days after Koschman's death, Rybicki assigned the case to Detective Ronald E. Yawger, whose files included the notations "V DAILEY SISTER SON" and a now-disconnected phone number for Northwestern.
Webb said the number wasn't assigned to a particular individual, though it once belonged to a Northwestern office where Dr. Vanecko worked, other records show.
Koschman underwent four surgeries, including two brain operations and two heart procedures, while at Northwestern, where he was in the neurological surgical intensive-care unit. Blue Cross Blue Shield paid about $250,000 for his medical bills under an insurance policy Koschman's mother had for her 21-year-old son, according to Webb's report.