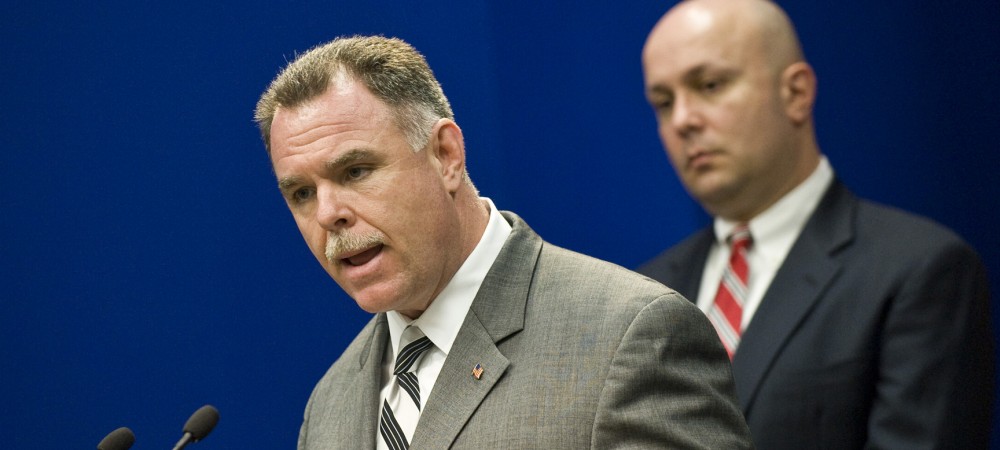 Webb weighed charges against 6 cops
Published Feb. 4, 2014
By  TIM NOVAK, CHRIS FUSCO AND CAROL MARIN
Staff Reporters
The special prosecutor in the David Koschman case considered filing criminal charges against six current Chicago police officers for the roles in the 2011 reinvestigation of Koschman's death but decided there wasn't enough evidence to convict them.
In a report Tuesday on his investigation, special prosecutor Dan K. Webb identifies them as Deputy Chief of Detectives Constantine "Dean" Andrews, Area 5 Commander Joseph Salemme, Sgt. Sam Cirone, Lt. Denis P. Walsh and Detectives James Gilger and Nick Spanos.
Webb says he investigated them over their roles in the Chicago Police Department's 2011 reinvestigation of Koschman's 2004 death.
Gilger and Spanos were granted immunity from prosecution to testify before the grand jury that indicted Richard J. "R.J." Vanecko, a nephew of former Mayor Richard M. Daley, in Koschman's death. Vanecko pleaded guilty Friday to involuntary manslaughter and was sentenced to 60 days in jail.
Gilger and Spanos wrote the report that identified Vanecko as the man who punched Koschman, leading to his death 11 days later. But the two detectives said they determined the Daley nephew had acted in self-defense. As a result, the police, which had declined to seek criminal charges in 2004, again decided not to file charges in 2011.
"The special prosecutor's investigation identified limited evidence that is arguably consistent with a theory that Gilger and Spanos manufactured CPD's 2011 self-defense determination," Webb wrote. "To begin with, three witness statements recorded by the two detectives have been called into question by these witnesses. In each instance, the inaccuracies identified by the witnesses in these statements tended to support CPD's 2011 determination that Vanecko acted in self-defense."
Webb also wrote:  "Although Gilger and Spanos' concluding case [supplementary report] in 2011 states that Koschman yelled `F— you! I'll kick your ass,' this precise language is not supported by any of the interviews in either 2004 or 2011.
"Finally, Gilger and Spanos' concluding case supp did not relate the fact that in his 2011
interview, [Koschman's friend Scott] Allen, one of only two people at the scene of the incident who saw the physical contact between Vanecko and Koschman, stated that Vanecko and his group 'were the aggressors.'
"Allen's statement undermines CPD's 2011 determination that Vanecko acted in self-defense. Even Gilger himself acknowledged during his special grand jury testimony in 2013 that the failure to include this particular statement from Allen in the concluding case supp was a fairly important omission that was contrary to CPD's 2011 determination that Vanecko acted in self-defense."
Andrews, Salemme and Cirone were involved in reviewing the reports submitted by Gilger and Spanos, according to Webb. He said his investigation determined it was Andrews who ultimately decided the Koschman case would be "cleared, closed exceptionally' — known as "CCX" in police jargon, a method the Chicago police use to close thousands of cases without filing charges.
_____________________________
RELATED LINKS
eBook: The Killing of David Koschman/A Watchdogs Investigation
_____________________________
"The special prosecutor obtained two versions of Gilger and Spanos' concluding case supp — an initial draft from on or about Feb. 11, 2011, and the final draft from on or about Feb. 28, 2011," Webb wrote. "The earlier draft made no mention of self-defense. Furthermore, the special prosecutor obtained e-mails sent during the time in between those two drafts in which Andrews and Cirone discussed `corrections' related to the subject matter of self-defense. Salemme was copied on one of those emails."
Webb said that about 30 minutes after an e-mail containing "Correction #1" and "Correction #2" went out at approximately 10:22 p.m., Cirone sent another e-mail, this time only to Andrews.
"The language contained in this e-mail would eventually appear verbatim in Gilger's report," according to Webb, who said that a few minutes after Cirone sent that e-mail, Andrews e-mailed back: "Very nicely done."
As to why he didn't charge the officers, Webb wrote:
"Concerning evidence against Gilger and Spanos, all the issues identified by the special prosecutor are, at most, slight circumstantial evidence of wrongoing — that is, none directly proves that either detective broke the law.
"As for the evidence against Andrews, Salemme and Cirone, none directly proves that any of these individuals violated Illinois law."
All six cops remain with the Chicago Police Department.
"We received the report when it was made public this morning and are in the process of reviewing it," police spokesman Adam Collins said Tuesday.
In their investigation, Gilger and Spanos relied on case files created during the original 2004 police investigation of Koschman's death. But the two detectives never were told that key portions of the original files had gone missing and weren't discovered until months after the detectives closed the case on March 1, 2011, Webb wrote.
Walsh, who pleaded guilty to reduced charges of misdemeanor assault and battery in a sexual assault case in Michigan 10 years ago, had been involved in four separate instances of files going missing in the Koschman case, according to Webb.
"In following up on Walsh's connection to the four files at issue, the special prosecutor and his office further discovered that Walsh reportedly found the original Koschman homicide file conspiciously displayed (a blue binder surrounded by only white binders) on a wooden shelf in Area 3's sergeants' office (an area that had been searched numerous times previously).
"There was not a single witness or document discovered by the [special prosecutor] that directly contradicted Walsh's statement that he actually and honestly found (i.e., wtihout nefarious orchestration of events) the missing original Koschman file on June 29, 2011," Webb wrote.
Contributing: Dan Mihalopoulos