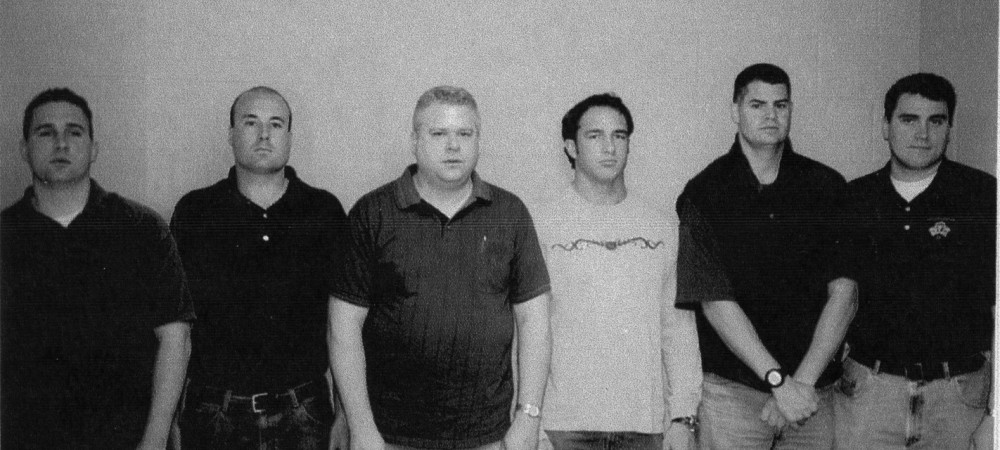 VANECKO'S LIFE AFTER THE PUNCH, MOVED TO HOLLYWOOD
Published Dec. 4, 2012
By TIM NOVAK AND CHRIS FUSCO
Staff Reporters
Once, not long ago, Richard J. "R.J." Vanecko worked for a Chicago investment company that financed Hollywood movies starring Robert De Niro 
and Cameron Diaz. 
He went to parties at the Sundance Film Festival. He tried his hand at television.
Then came the renewed attention to the death of 21-year-old David Koschman, who'd gone bar-hopping on Rush Street, bumped into Vanecko and a group of his friends and ended up in a coma from which he never awoke after the drunken encounter in April 2004.
Vanecko, now charged with involuntary manslaughter in Koschman's death, has kept a low profile since the Chicago Police Department began reinvestigating the case in January 2011. When two detectives came knocking on the door of his boyhood home on the Far Northwest Side, Vanecko's father told them his son "no longer lives in Chicago" and wouldn't say where he'd moved, according to police reports.
Vanecko – who is named for his grandfather, the late Mayor Richard J. Daley – has been spotted in Chicago only sporadically since then. He came back for the wedding of his cousin, Elizabeth "Lally" Daley, a daughter of former Mayor Richard M. Daley. He also was in Chicago for the funeral of his aunt, Daley's wife, Maggie Daley.
His Illinois driver's license expired on Sept. 14, his 38th birthday. That was three days after the state of California issued him two driver's licenses – one to drive a car; the other for a motorcycle.
He's believed to be living in Orange County, Calif.
Last year, Vanecko's lawyers wouldn't let him talk to detectives about Koschman, the part-time college student police later concluded had been punched by Vanecko, then 29, when they ran into each other on Division Street in 2004, leading to Koschman's death 11 days later. The police declined to pursue charges against Vanecko, who ran away after throwing the punch, saying he'd acted in self-defense.
But a Cook County grand jury indicted him Monday in Koschman's death, which Vanecko's lawyers have been bracing him for since Cook County Circuit Judge Michael P. Toomin appointed a special prosecutor, former U.S. Attorney Dan K. Webb, in April to reinvestigate the 8½-year-old case.
Vanecko grew up in Sauganash, the pricey, tree-lined neighborhood on the city's Far Northwest Side. He is the youngest son of Mary Carol Daley and her husband Dr. Robert M. Vanecko, a surgeon and former chief of staff at Northwestern Memorial Hospital, where Koschman was rushed on April 25, 2004.
Dr. Vanecko didn't treat Koschman, according to hospital records. He had left a position as interim chief of cardiothoracic surgery at Northwestern Memorial on April 1, 2004. Less than a month later – on April 29, 2004 – his successor, Dr. Patrick M. McCarthy, performed coronary-bypass surgery on Koschman.
At the time of Koschman's death, Vanecko's four uncles were among the most powerful men in Chicago: Mayor Daley; Cook County Commissioner John P. Daley; William Daley, a businessman who served as U.S. Commerce Secretary under President Bill Clinton and later would serve as President Barack Obama's chief of staff, and Michael Daley, who runs the family's law firm, which works on some of the biggest developments in Chicago that need zoning changes from City Hall.
The late Mayor Daley's 20 surviving grandchildren have close relationships – bonds forged at family gatherings at their grandparents' home in Bridgeport and during summer days and nights they spent together in Grand Beach, Mich., where the Daleys own several homes.
Vanecko is particularly close to his cousin Patrick Daley, son of the second Mayor Daley. The cousins were born nine months apart.
When they were in high school, Vanecko, then 17, and Patrick Daley, then 16, made headlines when they threw a drinking party on Feb. 29, 1992, at Mayor Daley's second home, in Grand Beach. The party ended when Vanecko held a 20-gauge shotgun as one of Patrick Daley's classmates, Mark Lawler, clubbed an Indiana teen in the head with a baseball bat, according to police reports and a civil lawsuit that was settled in 1995 for undisclosed terms.
Later, the mayor tearfully spoke of how his son had "hosted an unauthorized and unsupervised party" while he and his wife were out town.
The Indiana teen suffered a skull fracture and underwent brain surgery, just as Koschman would years later. Unlike Koschman, he recovered after 10 days in the hospital.
Vanecko pleaded guilty to aiming a firearm without malice and possession of alcohol, both misdemeanors, and Patrick Daley pleaded guilty to furnishing alcohol to minors and disturbing the peace. Each was given probation. Lawler, who has since died, was found guilty of aggravated assault.
Three months after the incident, Vanecko graduated from Loyola Academy, the elite college-prep high school in Wilmette where, as a senior, he played on a varsity football team that compiled a 12-1 record, and made the National Honor Society.
Vanecko enrolled at Villanova University near Philadelphia but later transferred to John Carroll University in Cleveland, where he majored in history and played defensive tackle on the football team for two years. In 1996, he volunteered at the Democratic National Convention, held in Chicago.
Vanecko was 24 and living in an apartment in Uptown when he first registered to vote in Chicago, for the February 1999 mayoral election. By 2001, he had become a salesman for Taft Contracting, a machinery-moving company that was once represented by his uncle's law firm.
While at Taft, Vanecko met actor Matt Walsh, whose father, Richard Walsh, owned the company. Vanecko left Taft, which is no longer in business, in 2005.
Matt Walsh, who lives in Los Angeles, has appeared in movies including "The Hangover," "Ted" and "Old School" and co-starred in the HBO TV series "Veep." Vanecko assisted Walsh with "Players," a Spike TV sitcom that Walsh created and produced, and has been a panelist in Walsh's "Bear Down: Chicago Bears Podcast," which airs weekly from Los Angeles during football season.
"We just hang out socially," Walsh said in an interview last year. "Like, we're friends. We do fun things, and we're big Chicago sports fans."
In September 2004, Vanecko became a principal at Cardinal Growth Entertainment, according to his profile on the LinkedIn networking website. In 2008, a Cardinal Growth spokesman described Vanecko as "an independent contractor" for the venture capital firm that was run by Joseph McInerney and Robert Bobb, a friend of Mayor Daley. According to the spokesman, Vanecko worked on a movie-investment fund with Radar Pictures.
Radar is headed by Ted Field, the former Chicago Sun-Times owner who produced movies including "Revenge of the Nerds" and "Bill & Ted's Excellent Adventure."
Vanecko did movie-industry research and helped secure financing for four Radar movies, all released in 2009: "Everybody's Fine," which starred Robert De Niro; 
"The Invention of Lying," starring Ricky Gervais; "All About Steve," starring Sandra Bullock; and "The Box," starring Cameron Diaz.
Cardinal Growth was paid a yearly fee of $150,000, which it split with Vanecko between late 2006 and March 2009, according to company records. Vanecko also got a $47,500 bonus, bringing his total compensation to more than $200,000.