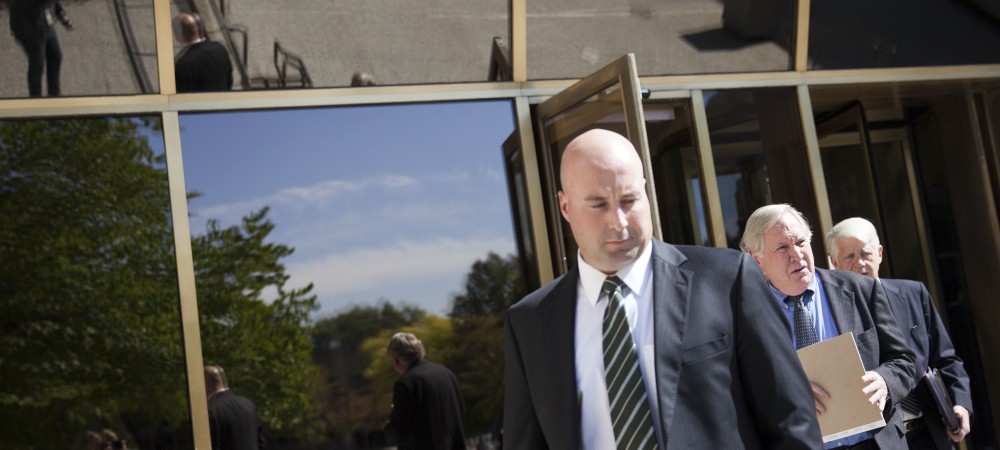 Vanecko lawyers: Throw out indictment
Published Nov. 25, 2013
By TIM NOVAK AND CHRIS FUSCO
Staff Reporters
A manslaughter charge against Richard J. "R.J." Vanecko should be dismissed, lawyers for the nephew of former Mayor Richard M. Daley said Monday, because witnesses lied, a judge overstepped his authority, the news media went on a "crusade" and a grand jury "was deliberately misled."
In court filings, Vanecko's lawyers said the authority to decide whether to bring charges should have been left to Cook County State's Attorney Anita Alvarez.
They said Cook County Circuit Judge Michael P. Toomin overstepped his authority by appointing special prosecutor Dan K. Webb to reinvestigate the 2004 death of David Koschman and to review the actions of police and prosecutors, who twice declined to charge Vanecko.
Webb also investigated the actions of Alvarez's office and the Chicago Police Department, deciding in September not to indict anyone other than Vanecko. His report on his investigation has been sealed until Vanecko's trial is over.
Vanecko lawyers Thomas Breen, Terence Gillespie and Marc Martin said news coverage of the case amounted to a "crusade" against Vanecko.
"The only candid answer to the question of why a special prosecutor was appointed in this case was the Sun-Times's insistence on it," they wrote.
In a separate court filing, Webb asked Maureen P. McIntyre, the McHenry County judge assigned Vanecko's case, to bar Vanecko from discussing the 2004 and 2011 police investigations into Koschman's death, or else allow him to tell jurors about "the flawed nature" of those investigations that led to his appointment and Vanecko's indictment.
Webb's filing also says that as Koschman lay in the street with brain injuries, Vanecko and a friend ran away and returned to the Pepper Canister, a River North bar where they'd been drinking earlier.
"The evidence will show that [Vanecko] immediately ran from the scene after punching Mr. Koschman," Webb wrote. "Due to the presence of police officers in the area, the state intends to argue that [Vanecko] fled the scene to evade detection and arrest."
McIntyre has scheduled a hearing on the motions from Vanecko's attorneys and Webb for Jan. 9.
McIntyre was appointed to the case after the Illinois Supreme Court decided the case should be heard by a judge from outside Cook County.
Daley's nephew, who was charged last December, faces trial in February for involuntary manslaughter. He is accused of punching the 21-year-old Mount Prospect man, causing Koschman to hit his head on the ground, during a drunken confrontation early on April 25, 2004, at Division and Dearborn. He died 11 days later. The case remained an unsolved homicide until a Chicago Sun-Times invesigation that began in early 2011 led to the appointment of a special prosecutor and Vanecko's indictment.
With court permission, Webb had the grand jury meet at the offices of his law firm, Winston & Strawn, rather than in the Cook County criminal courts building where the state's attorney has offices. Vanecko's lawyers said that tainted the grand jury's impartiality.
They also attacked the credibility of four Koschman friends who were with him and have said that police and prosecutors in 2004 inaccurately reported their accounts of what happened to portray Koschman as the aggressor.
"Certainly the jury is entitled to hear the defense theory that the Koschman witnesses have fabricated their accounts as a result of manipulation by reporters," Vanecko's lawyers wrote.
They also accused Webb's staff of presenting a distorted account of the events that led to Koschman's death, saying, "The grand jury in this case was deliberately misled and deprived of its independence, resulting in a denial of Vanecko's due-process rights."
Vanecko's lawyers want McIntyre to prohibit jurors from learning that some witnesses, including police officers and two of Vanecko's friends, were given immunity from prosecution.
They also don't want the jury to hear about the state's attorney's office's missing file on the Koschman case, a Chicago Police Department file that disappeared — then reappeared — two years ago and the police department's "failure" to seek or obtain videotape of the incident in 2004.
Email: tnovak@suntimes.com
Twitter: @tnovaksuntimes