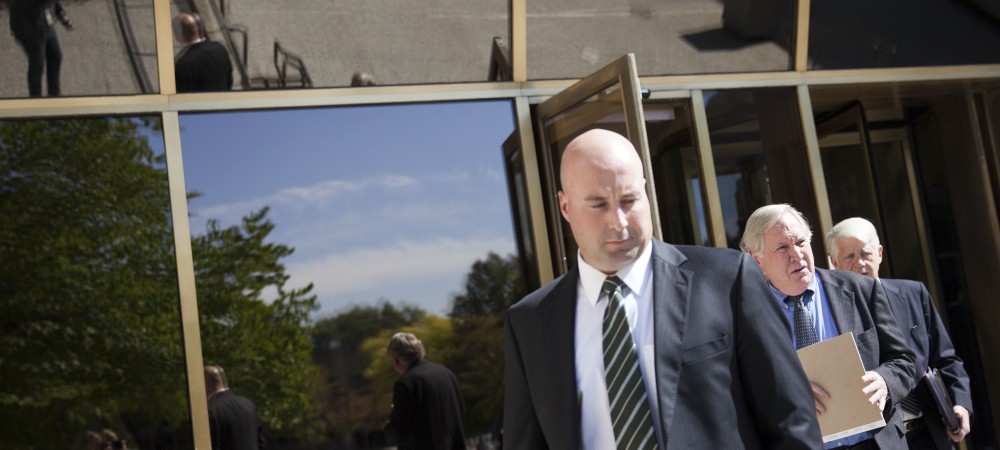 Unseal Koschman report, judge is urged
Published Oct. 10, 2013
By JON SEIDEL
Staff Reporter
The Chicago Sun-Times and WMAQ-Ch. 5 asked a judge Thursday to unseal a special prosecutor's report on his investigation into the 2004 death of David Koschman in a case involving a nephew of former Mayor Richard M. Daley.
In court documents filed with Cook County Circuit Judge Michael P. Toomin, attorneys for the two news organizations said special prosecutor Dan K. Webb's 162-page report should not have been sealed without a hearing and that the public has a right to see court records.
They cite "a strong public interest that supports the immediate release of the report."
"The right of immediate access particularly applies to special prosecutor reports, and even more so in high-profile, politically charged cases," the Sun-Times and WMAQ-Ch. 5 said in arguing that the report be made public.
They note in his motion asking that the report be sealed, Webb acknowledged, "The public cannot understand the basis for the findings and conclusions . . . nor the basis for the court's decision to accept those findings and conclusions, without access to the report."
"As our many months of reporting revealed, so many important questions remain unanswered in the wake of David Koschman's death," said Jim Kirk, publisher and editor in chief of the Sun-Times. "We firmly believe that the special prosecutor's report sheds crucial light on this investigation and that the public has a fundamental and immediate right to know what happened."
_____________________________________________________________________________________________________________
RELATED CONTENT
Get the ebook, "The Killing of David Koschman: A Watchdogs Investigation." It offers a comprehensive look at the case and the major developments. Download now
_____________________________________________________________________________________________________________
Daley nephew Richard J. "R.J." Vanecko has been charged with involuntary manslaughter as a result of special prosecutor Dan K. Webb's investigation and is set to go on trial Feb. 18.
Webb declined to comment.
Thomas Breen, one of the lawyers representing Vanecko, said of Thursday's court filing, "We do not take a position on that."
Breen said Vanecko's legal team also wants the special prosecutor's report.
"We have not seen it," Breen said. "As attorneys for Mr. Vanecko, we feel we are entitled to a copy of that report under discovery rules."
G. Flint Taylor, an attorney for Koschman's mother Nanci Koschman, said: "We are pleased that the Sun-Times is pursuing the public's interest and right to know with regard to this important investigation."
The report details the findings of the 17-month investigation led by Webb that resulted in a grand jury indicting Vanecko on Dec. 3, says he used "physical force and, without lawful justification, recklessly performed acts which were likely to cause death or great bodily harm" to Koschman.
Koschman, 21, of Mount Prospect, died 11 days after a drunken confrontation with Vanecko, then 28, in the Rush Street area on April 25, 2004, according to police reports. Koschman fell and hit his head on the pavement after being punched. He never regained consciousness.
The case was classified as an unsolved homicide until early 2011, when a Sun-Times request to see case files prompted the Chicago Police Department to take a new look at the case.
That ended with the police closing the case without seeking charges. They concluded that Vanecko threw the punch that led to Koschman's death but acted in self-defense. Vanecko wouldn't speak with detectives. And witnesses disputed that it was self-defense.
At the request of Koschman's mother, Toomin appointed Webb to reinvestigate the case, looking at whether Vanecko, who is now 39, and lives in Costa Mesa, Calif., should be charged, as well as investigating the conduct of police and prosecutors. In agreeing to appoint a special prosecutor, Toomin cited what he termed "the fiction of self-defense . . . conjured up by police and prosecutors."
Webb ended his investigation last month without charging any police or prosecutors. Citing the statute of limitations, he said too much time had passed to charge anyone involved in the 2004 investigation. He also said there was insufficient evidence to convict anyone in connection with the 2011 reinvestigation.
But Webb and Toomin agreed the special prosecutor's report should temporarily remain sealed. At Webb's request, Toomin issued an order delaying its release indefinitely, which the special prosecutor said was necessary to help ensure that Vanecko gets a fair trial.
McHenry County Circuit Judge Maureen P. McIntyre will preside at Vanecko's trial, which will be held at Cook County's Leighton Criminal Courthouse. McIntyre was appointed because so many Cook County judges have ties to the Daley family that the Illinois Supreme Court decided the case should be heard by a judge from another county.
Email: jseidel@suntimes.com
Twitter: @SeidelContent
_____________________________________________________________________________________________________________
DOCUMENTS
— Emergency Motion of Sun-Times Media, LLC and NBC Subsidiary (WMAQ-TV) LLC to Intervene with Respect to Sealing of Records
— Notice of Emergency Motion to Intervene
— Memo in Support of Motion to Intervene