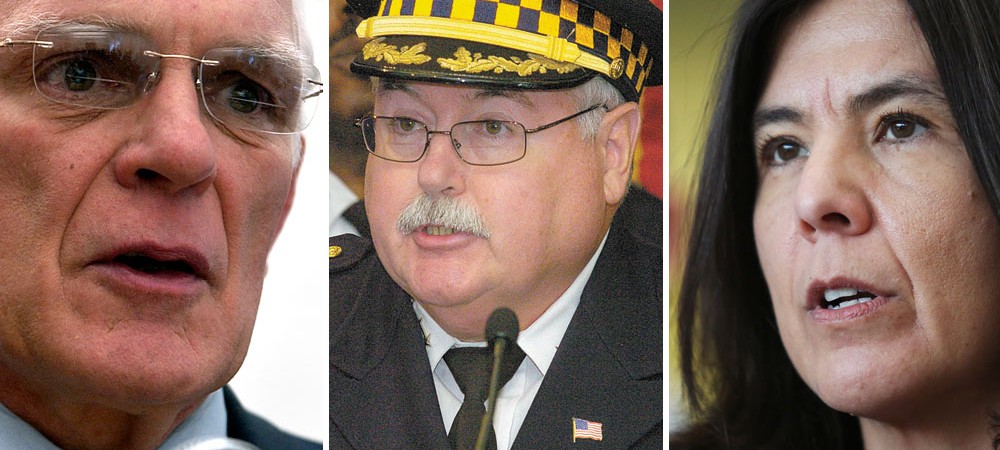 Law enforcement statements on case
Published Jan. 31, 2014
By TIM NOVAK AND CHRIS FUSCO
Staff Reporters
Over the past 10 years, Cook County's top prosecutors and Chicago's top cops refused to bring charges against Richard J. "R.J." Vanecko, the nephew of former Mayor Richard M. Daley who pleaded guilty Friday to involuntary manslaughter in the death of David Koschman.
Here is what those law enforcement officials have said about the Koschman case:
Cook County State's Attorney Anita Alvarez
A career prosecutor, Alvarez landed a job in the state's attorney's office under Daley when he was the county's top prosecutor more than two decades ago. Alvarez rose through the ranks. On the day of Koschman's death, Alvarez was the chief of staff to then-State's Attorney Richard Devine. She was the state's attorney on March 1, 2011, when the police concluded that Vanecko had punched Koschman but decided it was self-defense.
March 20, 2011 — "After reviewing the [Chicago Police Department] reports, we do not see any new or additional evidence or information that would enable the state's attorney's office to bring felony charges in this case. Absent evidence that would enable us to prove guilty beyond a reasonable double, there is not a good-faith basis to bring charges," Alvarez's press secretary Sally Daly said.
March 25, 2011 — "I would welcome an independent agency looking into this like the State Police, basically to determine if it was a complete investigation and whether the witnesses' statements were accurately recorded. . . I am unaware of the police department doing anything underhanded," Alvarez told the Chicago Sun-Times. "I can't speak for the Chicago Police Department, but I can tell you, from our office, that we handled this case like we would handle any other case. It doesn't matter who you are. If the facts are there and we can prove a case, we will bring it forward."
Jan. 7, 2012 — "I don't see any evidence — despite the theories of the journalists who are writing about this case — of a grand conspiracy here either by the police or any prosecutor," Alvarez said on WLS-AM radio, when she was opposing a request from Koschman's mother to have a special prosecutor investigate her son's death. Alvarez said her office was conducting its own investigation.
Dec. 4, 2012 — "I believe that this office has handled this case with the utmost integrity from the get-go," Alavarez said as Vanecko was indicted by a grand jury under the direction of special prosecutor Dan K. Webb.
Sept. 20, 2013 — Alvarez "is pleased that the special prosecutor makes clear . . . that there was no evidence of any kind suggesting misconduct on the part of anyone in the state's attorney's office during her administration's investigation into the Koschman matter," Daly said as Webb announced he would not bring any charges against police or prosecutors.
Jan. 31, 2014 — "We have no comment," Daly said after Vanecko pleaded guilty to involuntary manslaughter, agreeing to 60 days in jail, 60 days of home confinement and 30 months of probation.
Richard P. Devine
A longtime friend of Daley, Devine was the state's attorney on the night Vanecko hit Koschman. And his staff decided there wasn't enough evidence to charge anyone in Koschman's death. When Daley was state's attorney, Devine had been one of his top assistants. Devine is now in private practice. His legal clients have included Vanecko's older brother Robert Vanecko.
May 5, 2011 — "Normally, if some matter is presented to the state's attorney's office — some kind of investigation or review — there's a record that's part of the system. I know it was brought to my attention," Devine told the Sun-Times regarding his office's lack of files on the Koschman case from May 2004, when his staff declined to charge Vanecko.
Dec. 4, 2012 — Vanecko was indicted, and Devine said it would be unethical for him to comment on the case since the special prosecutor was also investigating the state's attorney's office's decisions not to charge Vanecko.
Sept. 20, 2013 — "While prosecutors can draw different conclusions from the evidence, I certainly don't believe there was anything improper done by the assistant state's attorneys. Based on the knowledge I have of what the prosecutors did, I did not find anything wrong or improper in their work or their conclusions," Devine said after Webb announced the statute of limitations prevented any prosecutors or police officers from being charged over the 2004 investigation into Koschman's death.
Jan. 31, 2014 — "People can look at situations differently. The responsible attorneys in the state's attorney's office reviewed the case and reached a conclusion. The special prosecutors reached a conclusion. That's part of the legal process. Those things happen. I'm sure there will be a lot of people saying a lot of things about this one," Devine said after Vanecko pleaded guilty. "You have experienced attorneys on both sides who saw this as an acceptable resolution, and the judge approved it. People can have their opinions about the guilty plea. It is what it is."
Phil Cline
Cline was Mayor Daley's police superintendent on the night Vanecko hit Koschman. Cline has since retired.
May 26, 2004 — "The state's attorney's office and the police department both agree at this time there's no basis for criminal charges based on the witness statements and all the evidence we have," Cline said shortly after Vanecko appeared in a police lineup. A charge of involuntary manslaughter "doesn't fit, based on everything we have looked at so far . . . If new evidence came up, we could change. But based on all of the evidence we have now — all the witness brought in and the lineups conducted — there's no basis for criminal charges."
Feb. 28, 2011 — "At the best, it was mutual combatants. If the other person is the aggressor, then Vanecko has the right to defend himself."
Jan. 31, 2014 — Cline could not be reached for comment after Vanecko pleaded guilty.