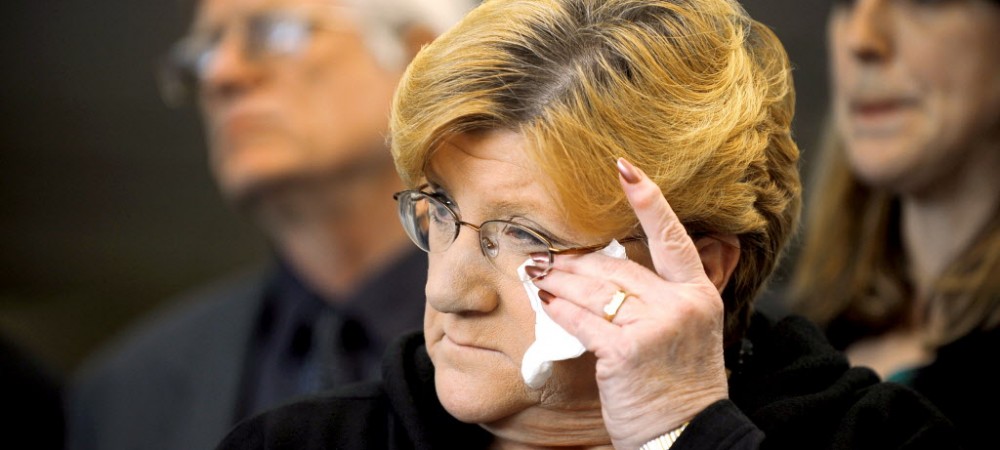 THE LIGHT IN HER LIFE GONE, A MOM PRESSES ON
Published Dec. 4, 2012
By TIM NOVAK, CHRIS FUSCO AND CAROL MARIN
Staff Reporters
For years, Nanci Koschman was so consumed by grief she couldn't bring herself to talk about the violent death of her only child, David.
"It was hard enough losing him. Nothing can bring him back, and nothing can be done," she told a Chicago Sun-Times reporter by phone five years ago.
She still didn't want to open up when the same reporter knocked on her door in Mount Prospect on a cold morning in January 2011 and told her the Chicago Police Department now said it had an "ongoing criminal investigation" into her son's death.
It was stunning news for Koschman, who'd been told by the police in 2004 that her son's own actions had led to his death and that no charges would be filed.
A month later, at the urging of her sister and brother-in-law, Koschman agreed to an interview.
"You are telling me they are saying it's an open case," she said. "Wouldn't that be nice if somebody tells me it's an open case?"
She cried often during the interview.
"Sorry for the constant tears," she said. "But it's not an easy thing to talk about that horrible time in my life."
Over the following 22 months, Nanci Koschman learned there was much more that the police hadn't told her – including their finding that the punch that led to her son's death had come at the hands of Richard J. "R.J." Vanecko, a nephew of former Mayor Richard M. Daley who is now charged in the death.
And Koschman – who had become a near-recluse, staying home, with the blinds and curtains drawn – gradually found the courage to talk more about the son she lost. Last December, when she asked that a special prosecutor be appointed, she stood before a bank of microphones and cameras and told reporters she was doing this to get justice for her son.
Some – including a top prosecutor in Cook County State's Attorney Anita Alvarez's office – questioned why Koschman never filed a wrongful-death lawsuit to get at the truth.
"To be honest with you," she said in that first interview, "I didn't want it to become how bad a person my son was."
That's what she feared a civil case would turn into. Eight years ago, a police detective had told her that her 5-foot-5, 125-pound son was to blame for his own death and that there was nothing she could do to fight the powerful people involved.
"He turned the whole thing to: My son started it, provoked it and – I don't want to say this – deserved what he got," Koschman recalled.
Beyond that, she said, "I was outgunned, and I didn't know what I was going to get out of it. They can't bring my son back."
Born Nanci Schulist, she and her only sibling, Sue Pazderski, grew up above a tavern on Diversey near Cicero on Chicago's Northwest Side, graduating from Foreman High School. Their mother's family was Norwegian; their father's Polish.
She and her friends would hang out downtown and on Rush Street. "I loved the city," she said.
She was working in the Loop at CNA Insurance when a friend introduced her to Robert Koschman, a Vietnam War veteran born in Belgium of Ukrainian descent. They married in 1971 at a Lutheran church on the Northwest Side. She was 23. They bought a small house in Mount Prospect and wanted to start a family, but it took a few years.
She got pregnant in 1982 with identical twin boys. Midway through the pregnancy, she learned one of the babies had died, but, for the other to survive, she would have to carry both to term.
David was born Feb. 12, 1983.
"I looked at David and said he was perfect," said Koschman, who had been told there could be complications.
Though David was fine, Koschman's doctors told her she wouldn't be able to have any more children.
"I always wanted children," she said. "I was the little girl who always had a doll with her and played house. So when David was born, he became a wish come true."
In September 1995, a week after his 47th birthday, Bob Koschman died. He'd been out playing basketball with his then-seventh-grade son earlier in the day, and they were watching TV when a blood clot caused a fatal heart attack.
After her husband's death, Koschman took a job as a secretary at Lions Park Elementary, where David went, so she could be home with him after school. She was popular with the students and staff, crocheting blankets for co-workers when they got married or had babies, and staying on there after David moved on to Prospect High School.
She instilled a strong work ethic in David, who landed his first job at 14 – with the Mount Prospect Park District – and kept working throughout high school.
If he wanted money, she told him, he would need to work. "He understood I couldn't buy him a car," Koschman said.
She also passed on to her son her love of Chicago.
"He learned about Rush Street through me and all my friends, saying that's a rite of passage," Koschman said.
On April 24, 2004, a Saturday night, David Koschman was about to head out to Rush Street with four friends from high school and spend the night in the city.
His mom was going out, too.
"I stopped and I yelled, 'Dave, I'm leaving, have a good time, call me tomorrow,' " Koschman recalled. "And I had my hand on the doorknob, and to this day I don't understand why, but I put my purse down and walked back in to the room, his room, and I said, 'Give me a hug and a kiss goodbye.' And I hugged him and I kissed him, and he hugged me real tight. And I said, 'Have a great time, and be careful.' And you know how people always say, 'What was the last thing you said?' I said I loved him."
The next morning, Nanci Koschman got a call. Her son was at Northwestern Memorial Hospital. He would spend the next 11 days there, undergoing repeated surgeries, before he died of massive brain injuries.
"We went down on Thursday, and we made the decision to turn off life support and let him go," she said. "And I sat and held him till his heart stopped."
Koschman now works as a receptionist at a doctor's office. Some days, she said, that's the only thing that gets her out of bed.
"I have to do what I have to do," said Koschman, who refinanced her house to pay for her son's funeral. "I can't put on that sad face. There are plenty of times I leave work and pull over and just cry."
She hasn't moved from the home where she and her late husband raised David, and she has held onto a lot of his belongings, including a Michael Jordan basketball card and the things in his closet.
"It's still hard to live in the house," she said, but she added, "There are a lot of good memories there, too."