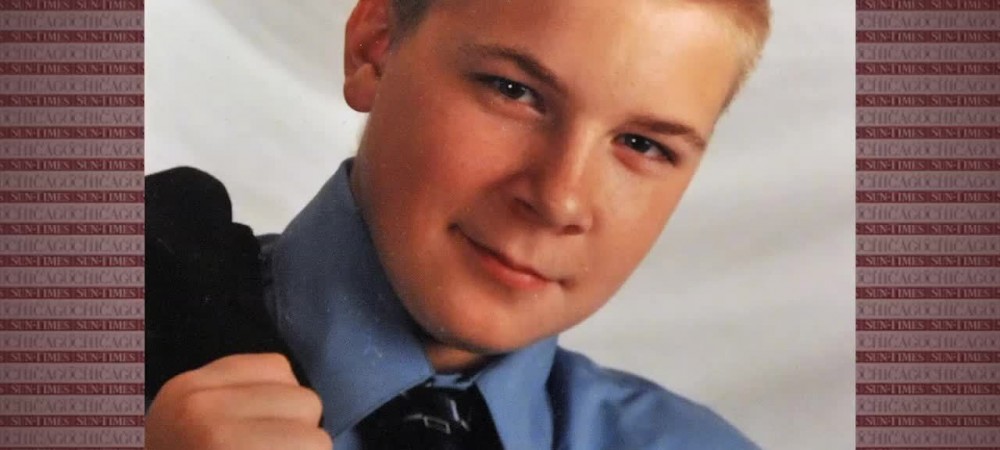 THE LAST DAYS OF DAVID KOSCHMAN: 4 SURGERIES IN 12 DAYS
Published May 1, 2011
By CHRIS FUSCO AND TIM NOVAK
Staff Reporters
His skull fractured in three places, his brain dangerously swollen, David Koschman was loaded onto a backboard by Chicago Fire Department paramedics and rushed to the emergency room at Northwestern Memorial Hospital.
It was 10 minutes to four in the morning on April 25, 2004 – about half an hour after Koschman had been punched in the face by Richard J. "R.J." Vanecko, a nephew of Mayor Daley and William Daley, President Obama's chief of staff, in a drunken confrontation on Division Street at Dearborn.
Koschman, who'd been out drinking with friends, fell backward and hit his head on the street. The 21-year-old from Mount Prospect was moaning and thrashing when he got to the emergency room, newly obtained records show.
He would never regain consciousness and never leave Northwestern. In his 12 days there, doctors would perform two brain operations and two heart surgeries – including a coronary bypass.
He died at 11:26 a.m. on May 6, 2004, six minutes after doctors, acting with the permission of his mother, Nanci Koschman, took him off life support.
His final days and the details of his medical treatment are described in 1,338 pages of records his mother obtained from Northwestern Memorial.
The records show Koschman was in grave condition from the moment his head struck the pavement. Less than three hours later, surgeons were drilling a hole in his skull and inserting a device to monitor the pressure on his brain.
Despite the severity of Koschman's injuries, the Chicago Police Department – which initially classified the case as a battery – halted its investigation that same day, and detectives didn't try to talk with most of the witnesses until after Koschman died.
The Cook County Medical Examiner's Office called Koschman's death a homicide.
The case remained dormant for seven years, until Jan. 4, when the Chicago Sun-Times requested records of the investigation. Top Chicago Police Department brass then ordered a new investigation, and detectives determined that the 6-foot-3, 230-pound Vanecko punched the 5-foot-5, 140-pound Koschman but did so in self-defense. They closed the case March 1 without seeking criminal charges.
Going over the medical records was painful for Nanci Koschman.
"I really would like R.J. to read them, to realize what that one simple punch did to my son," she says.
Nanci Koschman has recently been contacted by city of Chicago Inspector General Joseph Ferguson, who is investigating the police department's handling of the case.
Ferguson declined to comment.
Vanecko's father – Dr. Robert M. Vanecko, a brother-in-law of the mayor – is a cardiothoracic surgeon and former chief of staff at Northwestern. He didn't treat Koschman, according to the hospital records. Among those who did was Dr. Patrick M. McCarthy, who succeeded Vanecko as head of cardiothoracic surgery.
Vanecko didn't respond to an interview request. McCarthy and other hospital officials declined to discuss Koschman's case.
'Does not open his eyes'
When paramedics rushed Koschman to the hospital, doctors there had been expecting him to be "alert and oriented" but instead found him to be "minimally responsive," according to the medical records.
Soon after he arrived, Koschman underwent the first of 11 CT scans of his brain; had a breathing tube inserted in his throat, and was catheterized in preparation for surgery.
A toxicology test about two hours after he was punched showed Koschman had a blood-alcohol level of .193 percent – more than twice the level at which he could have been charged with DUI if he had been driving.
The hospital records show Koschman was in a "fight this evening. Hit to mouth per friends."
Koschman was "assaulted," though "the circumstances surrounding the assault are unclear," wrote his doctor, Joshua M. Rosenow, a neurosurgeon.
Koschman's only visible injury, according to the hospital records, was a large bruise on the back of his head. A CT scan showed he had three skull fractures and a subdural hematoma – meaning his brain had been bleeding, a potentially life-threatening condition – and diffuse cerebral edema – meaning his brain was swelling.
At 5:10 a.m., doctors began prepping him for neurosurgery. Within the hour, they drilled into his skull and screwed in a "bolt" to help monitor pressure on his brain. By 7:15 a.m., Koschman was sent to the hospital's Neurological Surgical Intensive Care Unit.
"Patient is sedated," Rosenow wrote. "He is in a cervical collar. He does not open his eyes. He does not follow commands. He will localize painful stimuli with his left upper extremity. He will withdraw his right upper extremity. He will move both his legs symmetrically to stimulation."
Koschman also was "occasionally moving spontaneously," so doctors restrained him to keep him from dislodging the lines and tubes helping keep him alive, hooking him to the ventilator, brain monitor and IV.
'Why, why, why?'
That's how Nanci Koschman found her only son when she got to the hospital around noon on April 25, 2004, a Sunday, about an hour after a friend of her son reached her at home in Mount Prospect to tell her David had been hurt. He was in the hospital, she was told, unconscious, and not getting ready for the Cubs game he'd been planning to go to.
"All I was just doing was sitting, looking at this young man in the bed, going, 'Why, why, why?' " Nanci Koschman says. "He just went down to have a good time and missed the Cubs game, and I don't know what's going to happen."
The police called that afternoon. Nanci Koschman told a detective her son would be sedated for at least five days.
And, at least at first, there were hopeful signs. Two days after Koschman got to the hospital, doctors noted that Koschman was able to hear and "tries to open eyes, squeezes bilaterally with fingers, moves arms, legs, feet, toes on command."
The next day, they decided to see how he would do without being sedated, taking him off sedation for a "brief period of time," according to a nurse's note.
Koschman was "trying to follow commands," the nurse noted. "Opens eyes to command. Moves extremities." But the nurse also noted: "When off sedation, is very restless. . . . Patient placed back on propofol," a sedation drug.
Nanci Koschman recalls: "He started to come to, and I just said, 'David, I'm here. Do you know I'm here?' And he shook his head, but he couldn't open his eyes. And then everything went downhill from there. He never came back."
His fifth day in the hospital, April 29, 2004, started with a pair of CT scans at midnight: A head CT showed pressure on his brain increasing; a chest CT showed a possible blood clot in his lungs.
Before that day was over, he would have two emergency heart surgeries. The first, at 8 a.m., was an 11-minute operation in which surgeons inserted a clot-busting filter in the inferior vena cava, the large vein that returns blood from the lower body to the heart.
Two hours later, Koschman went into cardiac arrest. He was resuscitated, but afterward he developed abnormal heart rhythms and a condition called rhabdomyolysis, which was damaging his kidneys, the records show.
At 6:30 that night, Koschman was taken into surgery for the coronary bypass by McCarthy. In a post-surgical report, McCarthy described Koschman as "an unfortunate 21-year-old man who had been the victim of trauma" and who, in addition to his neurological problems, "began developing numerous" other complications.
More than 30 family members and friends showed up at the hospital before Koschman went to the operating room.
"They had us all say goodbye to him because they didn't think he'd come out of it," Nanci Koschman says, but, "He came through heart surgery.
"Two days later, I got a call. They said they were removing parts of his brain."
Koschman's brain had continued to swell, measured in part by the increasing size of his pupils, which were "unequal" in diameter and "did not respond to light." By the morning of May 3, 2004, his ninth day in the hospital, the pressure on his brain had tripled. A doctor's note said he was "very grave."
That morning, surgeons performed a lobectomy: They removed a flap of bone from Koschman's skull so they could remove part of his brain and also drained a blood clot.
After surgery, Koschman – who had gained about 40 pounds from fluid build-up during his hospital stay – remained in a coma. At one point, he had eight IVs and was on more than a dozen medications.
A day after the lobectomy, his temperature spiked from 101.8 degrees to 111.8 degrees in less than an hour. Nurses gave him an "ice bath and cooling blanket." His temperature dropped to about 100.
On May 6, 2004, Koschman's 12th day in the hospital, doctors noted he was "developing renal failure." After talking with Nanci Koschman, Rosenow signed a "do not resuscitate" order, and David Koschman was taken off all of the life-support devices. Six minutes later, he died.
"Making the decision to turn off life support was the toughest decision any mother should have to make," Nanci Koschman says. "I would like R.J. to understand that the punch killed my son, maybe not right away, but gradually, which I had to watch."