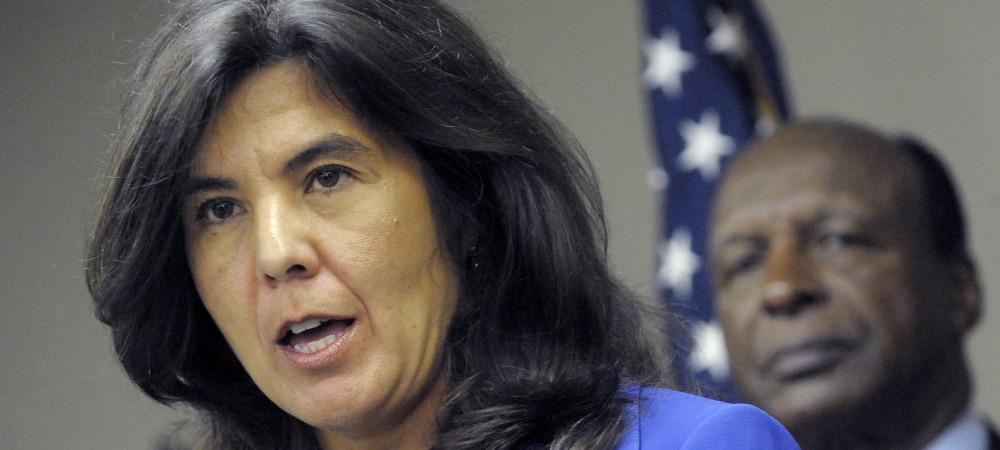 STATE'S ATTORNEY BLOCKED PROBE OF HER OFFICE OVER KOSCHMAN CASE
Published May 5, 2011
By TIM NOVAK AND CHRIS FUSCO
Staff Reporters
After calling for an investigation of how the Chicago Police Department handled David Kosch­man's homicide, Cook County State's Attorney Anita Alvarez now is blocking county Inspector General Patrick Blanchard from investigating how her office handled the case involving Richard J. "R.J." Vanecko, a nephew of Mayor Daley and William Daley, President Obama's chief of staff.
Blanchard sought to investigate the state's attorney's office after reports in the Chicago Sun-Times revealed that the prosecutor's office has been unable to find any paperwork on the 7-year-old case – even though a top prosecutor determined there wasn't enough evidence to warrant filing criminal charges against Vanecko.
"When this came to light, I thought it would be appropriate for our office to open an inquiry," Blanchard said. "But the state's attorney's office rejected our request to open an inquiry, which would have meant interviews and document requests."
Asked why Alvarez didn't cooperate with Blanchard, her press secretary, Sally Daly, cited protocol. "We have not received any official communication from the Cook County inspector general regarding any investigation or any official request for an investigation from that agency," Daly said.
Blanchard – a lawyer who spent 15 years in the state's attorney's office before being appointed Cook County's inspector general in 2008 – acknowledged he never put his request in writing.
But he said he had "several meetings" with top Alvarez staffers – including her chief of staff, Dan Kirk – and they told him he doesn't have the legal authority to investigate the state's attorney's office. They told him that, even though Cook County taxpayers finance the state's attorney's office, the agency technically is a branch of the state government, so it's outside his jurisdiction, Blanchard said.
Daly declined to respond to questions about the jurisdictional issue. She said "it would be inappropriate to comment" because Alvarez is "cooperating fully" with an investigation by City of Chicago Inspector General Joseph Ferguson, who's looking at how the police handled the Koschman case.
As a city official, Ferguson has no authority to investigate the state's attorney's office.
Vanecko punched Koschman during a drunken confrontation in the early hours of April 25, 2004, on Division Street. Koschman hit his head on the street and died of brain injuries 11 days later.
At the time, Alvarez was chief of staff to then-Cook County State's Attorney Richard Devine, her predecessor. Devine's office closed the case without filing any charges after his felony-review chief, Darren O'Brien, met with detectives on May 20, 2004. O'Brien and the police concluded then that it was unclear who had hit Koschman – but whoever it was had acted in self-defense.
The police kept the case open and reinvestigated it after the Sun-Times asked earlier this year for all police reports on Koschman's death. On March 1, the police closed the case "exceptionally," concluding that Vanecko punched Koschman in the face but shouldn't be charged because he did so in self-defense.
O'Brien created a file that listed witnesses to the confrontation, according to sources. The state's attorney's office says it can't find any records. Alvarez has said it's possible the office never created any file on the case.
Devine said he can't explain why the state's attorney's office has no paperwork.
"Normally, if some matter is presented to the state's attorney's office – some kind of investigation or review – there's a record that's part of the system. I know it was brought to my attention," said Devine, who now works for a law firm whose clients include Vanecko's older brother, Robert Vanecko.
The state's attorney's office also says it has no records to show when the police sought its consultation on the Koschman case. Such calls are usually recorded in the state's attorney's felony-review logs.
Those logs show there were 2,268 calls from police officers to prosecutors between April 25, 2004 – the day Koschman was punched – and May 20, 2004 – the day detectives and O'Brien decided there wasn't enough evidence to charge anyone. But none of those calls involved Koschman's case, according to Paul Castiglione, the state's attorney's executive assistant for policy.
Alvarez's office has refused to release the felony-review logs.
Ronald E. Yawger, the since-retired detective who was assigned to the case after Koschman died, said he remembers calling the felony-review office asking for a prosecutor to review the case. That review was handled by O'Brien, then the felony-review chief, rather than one of his assistants. O'Brien has said he handled only "high-profile" cases, usually about a dozen a year. "I called felony review, and they sent him out," Yawger said of O'Brien.
O'Brien went to Area 3 police headquarters at Belmont and Western on May 20, 2004 – the day that six witnesses were brought in to view lineups. One of the lineups included Vanecko, and the other lineup included two of his friends – Kevin McCarthy and Craig Denham – who had been with him. No one was able to identify Vanecko, according to the police.
Vanecko declined to talk with O'Brien and the police. O'Brien did interview Denham, McCarthy and McCarthy's wife, Bridget, along with four Koschman friends who had been out with him. O'Brien didn't interview two bystanders who witnessed the confrontation between Koschman and the Vanecko group.
O'Brien has said he then discussed the case with Bernard Murray, who was chief of the criminal prosecutions bureau under Devine. Murray said he doesn't specifically recall that conversation but that he has no reason to question that it happened.
The Sun-Times has reported that Koschman's friends and one of the bystanders say Yawger and other detectives incorrectly portrayed Koschman in police reports as having been the aggressor. Also, one of Koschman's friends said he believes he did pick Vanecko out of the lineup, though the police said he didn't.
On March 24, citing those discrepancies, Alvarez called on the Illinois State Police to investigate the Chicago Police Department's handling of the case. At first, the state agency agreed to do that but then backed out on April 5.