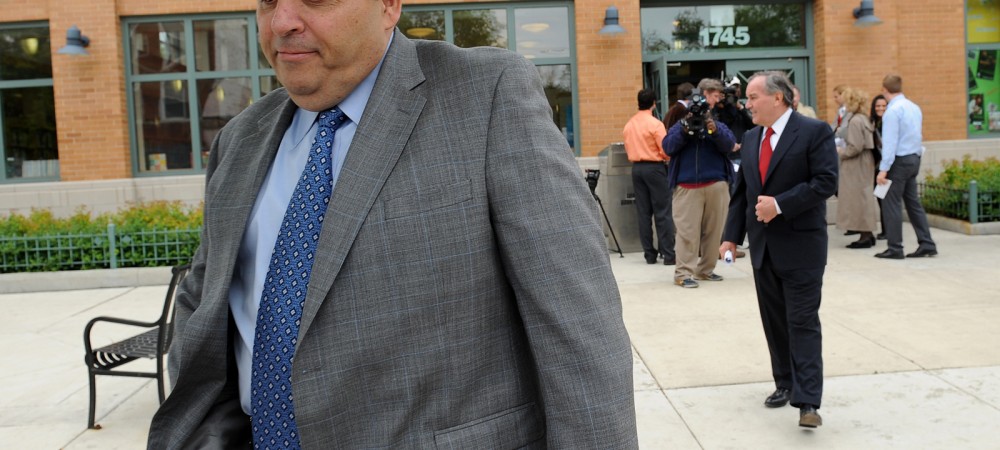 Sneed: Daley bodyguard cancels interview in Koschman probe
Published Dec. 13, 2012
By MICHAEL SNEED
Columnist
Sneed hears that Sam Roti, the last police officer to head former Mayor Richard M. Daley's bodyguard detail, abruptly canceled his voluntary appearance for questioning Wednesday by special prosecutor Dan K. Webb's investigators probing the 2004 punching death of David Koschman.
• To wit: R.J. Vanecko, Mayor Daley's nephew, was charged last week with involuntary manslaughter in Koschman's death – and Webb's investigators are reportedly looking into whether there was any bodyguard involvement in the Koschman case.
• Backshot: Roti, who is apparently suffering from a recent upper respiratory infection, was one of Daley's bodyguards for 22 years and promoted to head Daley's detail several months after Koschman died. Sneed is told that Roti, who had planned on being questioned on a voluntary basis shortly after being summoned by the special prosecutor's office, decided to hire an attorney and wait for the subpoena instead.
The Obama cabinet . . .
The latest White House whisper: President Barack Obama 
may add a little more diversity to his administration by including a gay member in his kitchen cabinet. The name behind the whisper: Fred P. Hochberg, chairman of the Export-Import Bank, as U.S. Commerce secretary.
The royal mystery . . .
It's getting murkier: The investigation surrounding the shocking suicide death of British nurse Jacintha Saldanha, the victim of a phone hoax while the newly pregnant Kate Middleton was being treated for morning sickness at a central London hospital, seems to now be centering on how she was treated at the hospital by staff after the incident – and what her mental state was before and after the hoax.
• The incident, which garnered worldwide headlines, has resulted in the demand by Saldanha's husband and her two teenage children to know everything that happened leading up to the incident and surrounding her death.
• The shocker: Saldanha's husband told the Brit press they knew nothing about the hospital prank until after her death. Saldanha, who left behind a suicide note, was found hanged in her staff housing room near the hospital.
• Sneed is also told the royal family is very concerned about Saldana's family and is keeping close tabs on the aftermath of the tragedy.
Abbey blab . . .
Consider the latest dish from the "Downton Abbey" set at a "Vanity Fair"/Ralph Lauren fete in New York. After the rather abrupt squish of a cockroach scuttling across the interview floor, actor Jim Carter – who plays the butler, Mr. Carson – exclaimed: That could have been Shirley MacLaine!" Actress MacLaine believes she has had many incarnations in her life, but . . . a bug?
The Reagan watch . . .
Raze 'em & remember 'em: Sneed is told that one of the childhood homes of the late President Ronald Reagan, which is scheduled to be razed soon by the University of Chicago at 832 E. 57th St. (because Reagan's one-year stay at the residence doesn't merit Chicago landmark status) may be memorialized by a commemorative marker to quiet down neighbors upset with the demolition.
Reagan lived there in 1915 when he was 3 or 4 years old.
Smoke 'em . . .
Smoking out the character: Excerpts of U.S. Supreme Court Justice Sonia Sotomayor's upcoming memoir, "My Beloved World," has everybody chuckling over the chucked bag of Quaaludes she and her ex-hubby were given as a wedding gift. But the fact that the former three-pack-a-day smoker claims she could imagine lighting up one more time on her deathbed – like her grandmother did – is hysterical.
I spy
Yuks & pucks: Comedian Jeff Garlin, former NHL player Jeremy Roenick and Chris Paul of the L.A. Clippers all were spotted lunching separately at the posh RL on Tuesday.
Sneedlings . . .
Mixing politics and latkes: Sneed is told that Illinois Secretary of State Jesse White plans to light the sixth Hanukkah candle on the menorah at Manny's Deli on Thursday night when Mayor Rahm Emanuel hosts his fund-raiser at David Axelrod's favorite eatery. (Latkes are definitely on the menu.) Thursday's birthdays: Jamie Foxx, 45; Steve Buscemi, 55, and Christopher Plummer, 83.