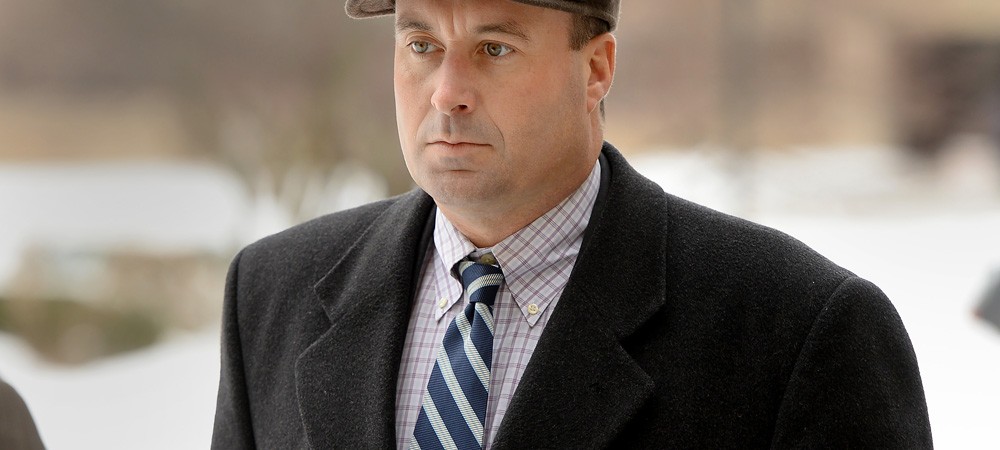 Prosecutor who 'threw away' file quits
Published Feb. 10, 2014
By  TIM NOVAK AND CHRIS FUSCO
Staff Reporters
The prosecutor who declined to charge former Mayor Richard M. Daley's nephew in the killing of David Koschman — and apparently "threw away" the case file — has left the Cook County state's attorney's office, the Chicago Sun-Times has learned.
"Darren O'Brien no longer works in the [state's attorney's office]. The state's attorney accepted his resignation letter approximately six weeks ago," said Sally Daly, a spokeswoman for Cook County State's Attorney Anita Alvarez.
According to county records, O'Brien, 56, retired on Dec. 30, as Daley nephew Richard J. "R.J." Vanecko was awaiting trial for causing Koschman's death. O'Brien had worked in the state's attorney's office since 1984, when he was hired under Daley, who was state's attorney before he became mayor.
Vanecko, 39, pleaded guilty to involuntary manslaughter on Jan. 31, prompting special prosecutor Dan K. Webb to release a report that, among other things, criticized O'Brien for failing to charge Vanecko in 2004.
O'Brien, of Palos Park, couldn't be reached for comment Monday. He was among 24 witnesses who testified before the grand jury that indicted Vanecko.
"Vanecko's Daley family relationship had no impact in forming my opinion that charges were not appropriate in this case," O'Brien told grand jurors on May 8, 2013.
As chief of the state's attorney's felony-review unit between 2001 and 2008, O'Brien has told the Sun-Times he personally handled about a dozen high-profile cases each year. Koschman's was among them.
O'Brien attended police line-ups on May 20, 2004, at Area 3 detective headquarters at Belmont and Western, where he interviewed Koschman's four friends and Vanecko's three companions who were with them.
Two bystanders also viewed the line-ups. But O'Brien didn't interview those witnesses, saying "he relied upon CPD reports" for their versions of the confrontation between the two groups outside the late-night bars along Division Street on April 25, 2004.
Although detectives had concluded that Vanecko had struck Koschman based on witness accounts, they wanted to see if any witness could pick Vanecko out of a line-up — something O'Brien said was "absolutely necessary to establish the identity of any prospective offender."
Witnesses said the biggest guy involved in the confrontation had punched Koschman in the face — and the 6-foot-3, 230-pound Vanecko was significantly larger than his companions. But no one could identify Vanecko when he stood in the line-up alongside five cops — all who were bigger.
O'Brien told grand jurors he "could not conclude" who punched Koschman but "whoever pushed or punched Koschman did so because they were acting in response to Koschman's aggression."
Webb pointed out that "even though O'Brien and CPD did not speak to Vanecko, according to O'Brien, he was nevertheless able to divine Vanecko's actual state of mind."
The state's attorney's office has no paper or electronic files of the Koschman case, even though O'Brien was required to create a felony-review folder with information on the witnesses he interviewed.
O'Brien had told his supervisors he didn't recall creating a file, according to Webb's report. But O'Brien told a different story to the grand jury.
"O'Brien further testified that after he completed the May 20, 2004, witness interviews, he likely brought the felony review folder back to his office to await further contact from CPD . . ." Webb wrote. "According to O'Brien's special grand jury testimony, he likely kept the Koschman folder in his office desk drawer for some time, but '[w]hen nothing more happened in the case, [he] threw the folder away.'"
In his three decades as a prosecutor, O'Brien — who made $116,349 a year — had been involved in several high-profile cases, including the Brown's Chicken massacre.
O'Brien, who made a failed bid for judge in 1998, is part of a political family. His first cousin James "Boz" O'Brien operates the Reilly's Daughter tavern at Midway Airport under a city contract. Another first cousin, Kevin O'Brien, is married to Patricia J. Cullerton, the 38th Ward Democratic committeeman whose family has been involved in city politics since before the Chicago Fire of 1871.