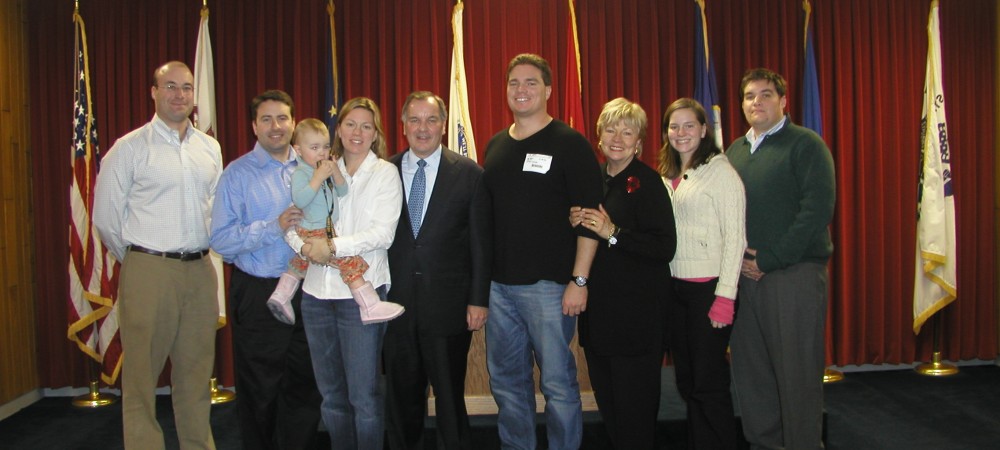 POLICE REPORTS LEAVE HOLES, CONTRADICTIONS IN HOMICIDE CASE WITH DALEY NEPHEW
Published March 16, 2011
By TIM NOVAK AND CHRIS FUSCO
Staff Reporters
The Chicago Police Department's accounts of a drunken Rush Street confrontation seven years ago involving Richard J. "R.J." Vanecko – a nephew of Mayor Daley and White House chief of staff William Daley – and its two resulting investigations into David Koschman's death fill 82 pages.
Yet the half-inch-thick series of police reports – recently released two months after a Chicago Sun-Times public records request – leaves gaps in recounting what witnesses say happened in the early-morning hours of April 25, 2004, a Sun-Times investigation has found.
The police reports also attribute statements to friends of Koschman – and to a bystander described by prosecutors as one of the two "unbiased witnesses" – that they say they didn't make or that distort what they told detectives.
Koschman's friends recently told the police they'd be willing to take lie-detector tests.
Instead, the Police Department closed the recently reopened case on March 1 without seeking criminal charges. The police concluded that the 6-foot-3, 230-pound Vanecko threw the punch that knocked the 5-foot-5, 140-pound Koschman to the street, where he struck his head, causing a brain injury that killed him 11 days later – but that Vanecko acted in self-defense. They reached that conclusion without speaking to Vanecko, who they say ran away afterward and has refused to speak with detectives.
The police – including Jody Weis, who quit as police superintendent on March 1, and interim Supt. Terry Hillard – have refused to discuss the case or say who made the decision to close it without bringing their findings to Cook County State's Attorney Anita Alvarez for review.
The only public comment from the department – made days before the announcement there would be no criminal charges – came from Deputy Supt. Ernest Brown, who said the police conducted "a thorough, fair and impartial investigation."
Hours after Koschman was hospitalized in critical condition, detectives stopped interviewing witnesses. They didn't resume doing so – and do their first interviews with most of the witnesses – until May 10, 2004, four days after Koschman died. Ten days later, that initial investigation ended with no charges filed.
The case remained dormant until January, when a Sun-Times reporter asked to review the files, a request that led police to reinvestigate Koschman's violent death.
Though the police aren't talking, what follows are details of what's known of their investigations, based on the recently released reports from a dozen detectives and, where noted, Sun-Times interviews:
THE INITIAL INVESTIGATION
April 25, 2004: Koschman, who's from Mount Prosect, goes bar-hopping on Rush Street with four friends: Scott Allen, James Copeland, Dave Francis Jr. and Shaun Hageline, each recently turned 21. After 3 a.m., they leave Bar Chicago, 9 W. Division, and are walking west when Koschman bumps into Craig Denham, 29, a LaSalle Bank employee who's with Vanecko, also 29, and Kevin and Bridget McCarthy, 31 and 26. Bridget McCarthy and her parents are friends with the mayor's family. Denham would later marry a sister of the mayor's son-in-law. The groups exchange angry words. Koschman gets punched so hard he's unconscious before he hits the ground, Allen later tells police, slamming his head on the street. Vanecko and Denham run away. Police handcuff McCarthy, who tells them he doesn't know the two guys who ran away and is released.
Two bystanders later described by prosecutors as the "unbiased witnesses" – co-workers Michael Connolly and Phillip Kohler – tell police they saw what happened. Koschman is taken to Northwestern Memorial Hospital.
A beat cop, Edwin Tremore, files a "simple battery" report based on statements from Connolly and Hageline.
Later April 25, 2004: Detectives Andrew Sobolewski, Rita O'Leary and Robert Clemens begin investigating. O'Leary and Clemens go to the McCarthys' home. Kevin McCarthy says he was getting out of a cab at Division and Dearborn and saw two groups of men arguing. "One of the younger males pushed one of the older males who subsequently fell into his wife. McCarthy said he yelled 'What the hell,' and that one of the younger males then pushed him. . . . He said as his wife was pulling him away he turned around and saw the victim on the ground, but did not see who pushed him."
The detectives apparently don't talk with McCarthy's wife, the daughter of Jack Higgins, a friend of the mayor who built Chicago's police headquarters.
O'Leary calls the hospital and talks with Nanci Koschman about her son's condition. O'Leary then calls Connolly, who says he saw Koschman "get into the center of the altercation" and then "get 'pushed or shoved' from the group."
It will be 15 days before police interview any other witnesses.
May 6, 2004, 11:26 a.m.: Koschman dies from "crainiocerebral injuries due to blunt trauma."
May 10, 2004: The death is ruled a homicide by Dr. Tae Lyong An, a Cook County deputy medical examiner.
Police upgrade the battery case to "first-degree murder" and assign it to detectives Ronald Yawger and Anthony Villardita. In coming days, they'll work with detectives Pat Flynn, Anthony Giralamo Jr., Edward Louis and Charles Redman. The investigation will be wrapped up in the next 10 days – but police reports on the case won't be filed until November.
Yawger, Giralamo and Flynn resume interviewing witnesses, starting with Kohler, whom they track down at the Cook County Courthouse in Rolling Meadows, where he's on jury duty. Kohler says he saw two groups of men who "appeared to be pushing and shoving each other along with loud verbal exchanges" before he saw Koschman "charge into the group in an angered state, but was immediately pushed back out into the street."
Kohler says three older men ran away. He also says "he has never seen any of the subjects from either group before and could not identify any of the persons involved." In a Sun-Times interview earlier this year, Kohler says he later remembered he and Vanecko had been high school classmates at Loyola Academy in Wilmette, graduating in 1992 – which he didn't tell police until Jan. 18, 2011.
May 12, 2004: Yawger and his partners interview three of Koschman's friends: Allen, Copeland and Francis. Allen "states that as they got the victim about 10 feet from the group of three guys, the victim broke away and ran back toward them. Allen states that as the victim ran up to the three guys, the larger white male punched the victim in the face." According to the reports, Copeland says Koschman was running when he was hit, while "Francis states that he then observed the victim lunge at the three guys and then immediately come flying backwards."
Those police reports are wrong, Allen and Copeland now say. "It was like a circle of all of us," Allen says. "There was no room to run. He never lunged or ran. I was right next to him. I saw the punch coming." Francis couldn't be reached to discuss the police reports, but he previously told the Sun-Times that Koschman was walking, not running, when he was hit.
A different team of detectives, Villardita and Louis, interview Koschman's other friend, Hageline. Their report has no mention of Koschman running or lunging. Hageline is quoted as saying: "I got Dave away for about 10-15 seconds then Dave went back. I turned to get a cab because I didn't think things were going to diffuse."
May 13, 2004: Bridget McCarthy and her attorney meet with detectives at Area 3, at Belmont and Western. She tells detectives she and her husband had been at an engagement party with Denham and Vanecko when they decided to take a cab to Butch McGuire's, the popular bar on Division Street. She and Denham got out and began walking on Division while her husband and Vanecko paid the fare. She says Koschman "reached up and flicked" Denham's glasses, causing the two men to argue, push and shove. She says the groups were parting when Koschman "ran back" and "the pushing, shoving and name-calling resumed."
McCarthy says her group was walking away again when she turned and saw Koschman on the ground – and Vanecko and Denham gone.
May 17, 2004: Vanecko's attorney meets with detectives, agreeing to bring Vanecko in for a lineup on May 20.
May 19, 2004: Kevin McCarthy and his attorney tell detectives the same thing his wife did. Denham and his lawyer meet with detectives, too. He says he and Bridget McCarthy were walking when his glasses were knocked off. He's not sure if it was "a glancing punch or if they were just flicked off his face by an open hand." It "made him mad," and he argued with Koschman's group, while Koschman "kept trying to fight with him." Denham says he and his friends were walking away when "he felt a hard jolt from behind. Denham states that the next thing he knew, he and Vanecko were running down the street. Denham states that he really doesn't know why he was running. Denham states he was pretty intoxicated. . . . Denham states that he and Vanecko got into a cab and went to another tavern. Denham states he didn't think anything of the incident after they left and didn't know someone had been hurt."
May 20, 2004, 11 a.m.: Lineups are held. Vanecko comes to Area 3 with attorney Terence Gillespie. Kevin McCarthy and Denham arrive with attorney Bill Dwyer. The lineups are run by Yawger and Flynn. Up first, Vanecko chooses to stand in the second position in a lineup with five other men, all police officers: Scott Dahlstrom, Hugh Gallagly, Pete Kelly, Robert Shea and Emmett Welsh. Six witnesses – Koschman's four friends and the two bystanders – view the lineup. Two identify the wrong man. The others can't "positively identify anyone."
Hageline told the Sun-Times a detective recently told him that Vanecko, who'd been balding, shaved his head for the lineup. He also says the guy who hit Koschman was wearing a hat, making it hard to identify him without a hat.
A second lineup includes Denham and McCarthy along with police officer Stuart Tallen and three other people. Three of the witnesses identify either McCarthy or Denham as being there but not throwing the punch.
After the lineups, "all available witnesses" are interviewed by Assistant Cook County State's Attorney Darren O'Brien, then head of the felony review unit. O'Brien later told the Sun-Times he spoke with Koschman's friends but doesn't remember talking with the two bystanders.
The detectives decide: "No charges would or could be sought due to the fact that the victim in this incident, David Koschman, was clearly the aggressor as corroborated by all of the witnesses interviewed. Due to the above information, [the detectives] request this Involuntary Manslaughter investigation remain in PROGRESS."
May 22, 2004: News reports identify Vanecko as being involved in the altercation that led to Koschman's death.
May 26, 2004: Police Supt. Phil Cline says, "At this time, there's no basis for criminal charges."
THE REINVESTIGATION
Jan. 4, 2011: The Sun-Times asks police for all reports on Koschman's death.
Jan. 14, 2011: Police shift the case from Area 3 to Area 5, where detectives James Gilger, Nick Spanos and Donald Falk will reinvestigate it as a "homicide, second-degree murder."
Jan. 17, 2011: They begin re-interviewing witnesses, starting with Koschman's friends, who say they're willing to take lie-detector tests.
Gilger visits Copeland, who gives "essentially the same account" as in 2004 except he says Koschman "walked back" toward Vanecko's group when he was hit. In 2004, detectives said Copeland told them Koschman "ran back."
Gilger calls Allen, who says Koschman was punched while arguing with someone in Vanecko's group. There's no mention of Koschman running toward Vanecko's group – as detectives said Allen told them seven years ago.
Gilger calls Hageline. Again, his report says nothing about Koschman going back toward Vanecko's group.
Jan. 18, 2011: Gilger calls Francis, who says he saw Koschman "go after" someone in Vanecko's group before getting punched. In the 2004 police report, detectives said Francis saw Koschman "lunge at the three guys."
Gilger visits Kohler, who says "he and Connolly stopped and watched as these two groups pushed and shoved each other" and "then one of the younger guys in the larger group jumped into the middle of the argument, and then he immediately fell backward." Seven years ago, detectives said Kohler saw Koschman "charge" Vanecko's group.
Kohler tells Gilger about going to Loyola Academy with Vanecko but says he didn't recognize him that night on Division Street or in the lineup, that he did so only after reading a newspaper story identifying Vanecko. Kohler says he hadn't seen Vanecko – his onetime high school wrestling teammate – since they graduated in 1992.
Jan. 19, 2011: Gilger visits Connolly, who says Koschman had been pushed. There's no mention of Koschman being physically aggressive.
Jan. 24, 2011: Gilger visits the McCarthys at home. McCarthy says "he would stand by his statement from May 2004″ and tells his wife not to say anything.
Jan. 27, 2011: Gilger calls Denham, who says his story hasn't changed from seven years ago.
Jan. 28, 2011: Gilger and Falk go to Vanecko's last-known Chicago address. The man who answers says Vanecko "no longer lives in Chicago" but won't say where he lives. The detectives leave a business card.
Feb. 14, 2011: A Vanecko attorney tells Gilger that Vanecko won't talk.
Feb. 28, 2011: In a Sun-Times story about the Koschman investigation, the state's attorney's office says it declined to charge anyone in 2004 because "all witnesses who were questioned indicated that Koschman was the aggressor and had initiated the physical confrontation by charging at members of the other group after they were walking away." Connolly responds, calling that a "flat-out lie," and says Koschman wasn't physically aggressive.
March 1, 2011: Police close the case without asking the state's attorney to file charges.