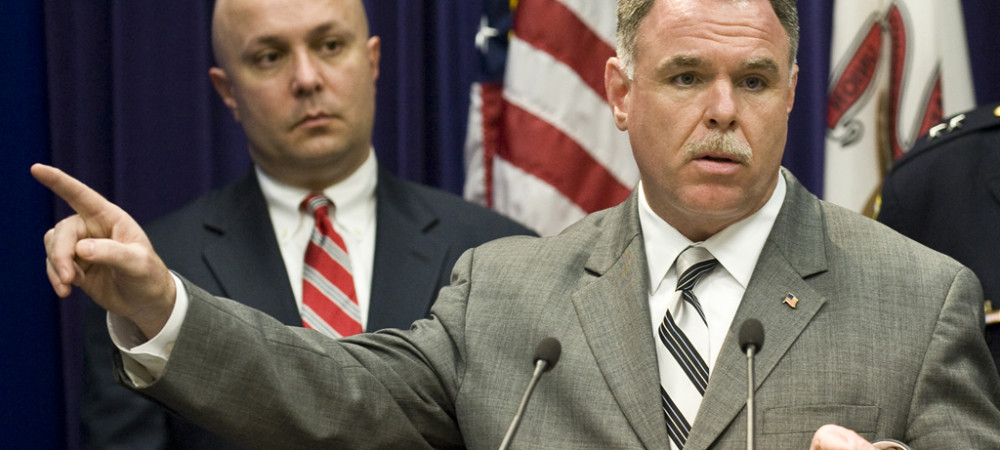 McCarthy promotes cop under investigation
Published Oct. 5, 2015
By CHRIS FUSCO AND TIM NOVAK
Staff  Reporters
Chicago police Supt. Garry McCarthy has a new chief of detectives — a veteran cop under investigation for his role in creating a fictitious witness statement that helped prevent former Mayor Richard M. Daley's nephew from being charged with killing David Koschman.
Constantine G. "Dean" Andrews was deputy chief of detectives in 2011 when he was placed in charge of reinvestigating the Koschman case and closed it without charges, concluding that Daley nephew Richard J. "R.J." Vanecko had punched Koschman in self-defense.
Cook County Judge Michael P. Toomin later ruled that police and prosecutors "conjured up" the self-defense conclusion. Toomin appointed a special prosecutor, Dan K. Webb, who led an investigation that resulted in Vanecko pleading guilty to involuntary manslaughter in January 2014.
Andrews' promotion, announced Monday, angered an attorney for Koschman's mother, Nanci Koschman, who fought for months to have her son's 2004 death examined by a special prosecutor after the Chicago Sun-Times raised numerous questions about how authorities handled the case.
"This is a complete disgrace, a slap in the face not only to Mrs. Koschman, but also to all citizens of the city of Chicago who believe that the police department should stand for justice rather than corruption," Koschman attorney G. Flint Taylor said.
After Vanecko's guilty plea, Webb released a 162-page report that names Andrews 114 times.
The special prosecutor focused on a series of messages that Andrews and Sgt. Sam Cirone exchanged over their personal emails on a Sunday night regarding a statement from an unidentified witness claiming Koschman had yelled "F— you. I'll kick your ass," before Vanecko struck him.
Webb, though, found no evidence that any of the witnesses involved in the late-night confrontation on Division Street made such a statement to police. But the statement still ended up in the final report that Andrews used to clear the case "exceptionally," without any charges on March 1, 2011, less than three months before Daley retired as Chicago's longest-serving mayor.
Webb said he considered charging Andrews and five other cops with obstructing justice but decided he didn't have enough evidence to convict them. Andrews and those cops remain under investigation by city Inspector General Joseph Ferguson.
McCarthy and Mayor Rahm Emanuel directed Ferguson to recommend whether any of those cops, including Andrews, should be disciplined.
McCarthy announced Andrews' promotion to chief of detectives Monday in a news release that detailed command staff restructuring prompted by the retirements of First Deputy Supt. Alfonza Wysinger and Internal Affairs Chief Juan Rivera.
Wysinger will be replaced by Chief of Detectives John Escalante, who will be replaced by Andrews.
Rivera will be replaced by his deputy, Eddie Welch III. In June, the Sun-Times reported that the Internal Affairs Division was investigating Welch. It's unclear why he's under investigation and whether it has concluded.
Emanuel's press office had no immediate comment on Andrews' promotion.
In an emailed statement, Chicago Police spokesman Anthony Guglielmi said: "Dean Andrews has an exceptional record of service as Deputy Chief of Patrol for Area North, and as Deputy Chief of Detectives that will serve him, and the people of Chicago, well in this new role. We are confident that he is uniquely positioned and uniquely qualified to continue advancing our efforts to seeks justice for victims and hold offender accountable for their crimes."
"With more than 80 years of combined law enforcement experience, First Deputy Superintendent Escalante and Chiefs Welch and Andrews have dedicated their lives to making our neighborhoods safer," McCarthy said in the news release. "They are among the most respected leaders at CPD, and their skills and experience will serve us all well as we fight gun violence and ensure professionalism and accountability for our officers."
Andrews, 50, joined the police department in July 1990 and most recently worked as Area North deputy chief of patrol. He made $168,857 last year and will be paid a $185,364-a-year salary in his new role.