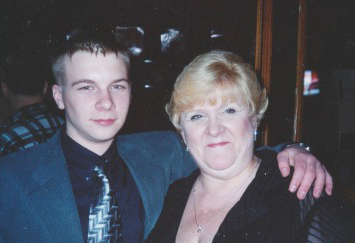 Marin: Nanci Koschman fights for her son
Published April 1, 2012
By CAROL MARIN
Columnist
What Nanci Koschman is doing takes courage.
She sat, quietly crying at times, in the first row of Courtroom 606 at the Cook County Criminal Courts on Thurs­day as her attorneys asked Judge Michael Toomin to appoint a special prosecutor to investigate the events surrounding her son's death.
Mrs. Koschman, 63, is the mother of David, who in 2004 got into an argument near the bars on Division Street with Richard J. "R.J." Vanecko, the grandson and nephew of two mayors named Daley.
Police made no arrest. The Cook County state's attorney did not indict. In fact, the case stayed open until a 2011 Chicago Sun-Times investigation led by Tim Novak and Chris Fusco raised new questions.
Only then, seven years later, did Chicago Police conclude that only one punch was thrown. By Vanecko. In self-defense.
When David Koschman's head hit the curb that awful night, he never woke up. Eleven days later, he was taken off life support at Northwestern Memorial Hospital. And died in his mother's arms.
Nanci was widowed when her husband, Bob, died from a blood clot in 1994. She and David were a mother-son team. She watched over him. He looked after her. She worked multiple jobs, as a school secretary, at Carson's, in a doctor's office and as a restaurant hostess to keep them afloat.
For Nanci Koschman, David is now frozen in time. A slight, blond 21-year-old who, with four buddies, left home in suburban Mount Prospect to party on Rush and Division.
She kissed him good night that evening, told him she loved him and sent him off to the city she had taught him to love.
"I lived in Chicago . . . was born and raised in Chicago . . . worked downtown, loved the city," she said Thursday night. "I'm not mad at Daley, not even mad at R.J. . . . He didn't intend to hurt my son."
But Vanecko ran, his friends lied to police, who took 25 days to even bring him in for questioning, files went missing and the Cook County state's attorney's office even today can't locate a single document reflecting its own involvement.
People often ask Mrs. Kosch­man why she never sued.
"How do I put a price on David's life?" she asks.
Instead, to pay for his funeral, she refinanced her house. She's still paying on the loan.
"It isn't about being greedy. It's about justice," she said. And so she recently authorized pro bono civil rights attorney Locke Bowman and Northwestern's MacArthur Justice Center to go into court and petition for an outside, independent prosecutor to investigate whether clout affected this case. Cook County State's Attorney Anita Alvarez's office is forcefully fighting that petition.
In an email on Friday, Nanci Koschman urged me not to make a big deal about her struggle.
"You have to realize that I am no different than so many other mothers and fathers who have lost their children. My grief is the same. . . . I don't deserve any special treatment or praise. . . . I'm just a hurt mom looking for justice, and if the people did mishandle it, that they be held accountable."
She needs, she says, to be able to tell David one day when they meet again that she stood up.
And fought for him.