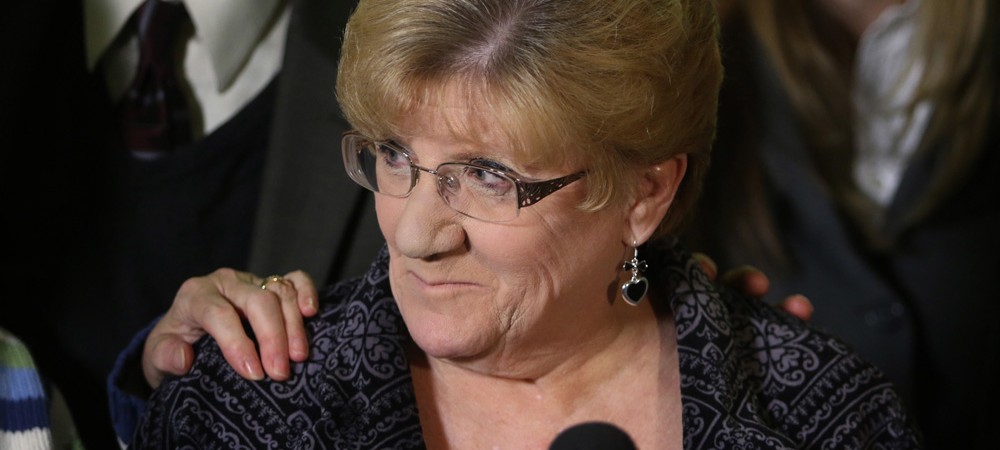 Koschman mom hopes 'in time' to forgive
Published Jan. 31, 2014
By TINA SFONDELES
Staff Reporter
Nanci Koschman had never come face to face with the man accused of throwing the punch that killed her son.
That moment came Friday — after more than nine years — when Richard "R.J." Vanecko walked in to the Cook County regional courthouse in Rolling Meadows to enter a guilty plea in the death of her son David Koschman.
Seated in a middle row, Nanci Koschman looked up and saw him, then turned away. Less than an hour later, the grief-stricken mother stood in front of a packed courtroom and read aloud her victim-impact statement, at times speaking directly to Vanecko:
"Thank you for allowing me to speak on behalf of my son David. I know most of you never met him, but he was the light in my eyes and my heart and my soul. When his life ended, a part of me died, too. I never expected to be here speaking for him. I also never thought his life would have ended so soon.
"When he left the house on April 24, 2004, to celebrate with his friends, fate took a terrible turn of events.
"Today is my first opportunity to see Mr. Vanecko in person. While I know, in my heart, he did not go out that evening with the intent to hurt my son, it happened. David died 12 days later when life support was turned off. I have spent 9 1/2 years waiting for this day because, regardless of whatever my son did that night, he did not deserve to die. I have lived with such guilt and pain because I blamed myself for what happened that night. I just needed to know the truth.
"I have never been out for revenge. I just wanted an apology. I needed to hear, 'I'm sorry.' I've said this many times, and now I hope to hear those words. Will it bring back David? Of course not. But I have a little peace of mind knowing that I got justice for David. It has always been about David.
"I agree with the outcome today. Payback won't change the events of that night. Nothing will. I hope Mr. Vanecko can go on with his life, and I can continue to face mine without David. I am glad I fought. I'm very grateful that I had so many wonderful people on my side and fighting with me. Thank you for allowing me to speak on David's behalf."
Moments later, Vanecko turned his back to the judge and faced Nanci Koschman and, as the judge had ordered, apologized.
She told reporters later she was thankful for his words: "I did thank him for saying it because I know it probably was just as difficult standing up there as it was for me."
She said she hopes, "in time," to forgive Vanecko, but "the pain will always be there.
"I wish he would have thought a little, but I understand everybody does things in a moment, and they regret it. It just led to the death of my son, which was a big regret for me."
She said she still has many questions about the investigations into her son's death — among those why the police didn't tell her Vanecko was involved. She hopes her questions will be answered when the special prosecutor's report — which has been under seal pending the outcome of Vanecko's trial — is released.
"I do think definitely something got dropped along the way because I shouldn't be here 9 1/2 years later doing this," Koschman said. "They should have done this probably six months after he died. But I'm glad it's over, and I agree with the punishment, and I just want to get back on with my life right now."
She said she planned to visit her son's grave to share the news: "I'm going to go tell him that we did this . . . . He didn't deserve to be, to be thought of as: 'He got what he deserved.' And that was what was said to me at one point during all of this. And I never thought he deserved that. I don't care how angry someone [can be], he never deserved to die."
Email: tsfondeles@suntimes.com
Twitter: @TinaSfon