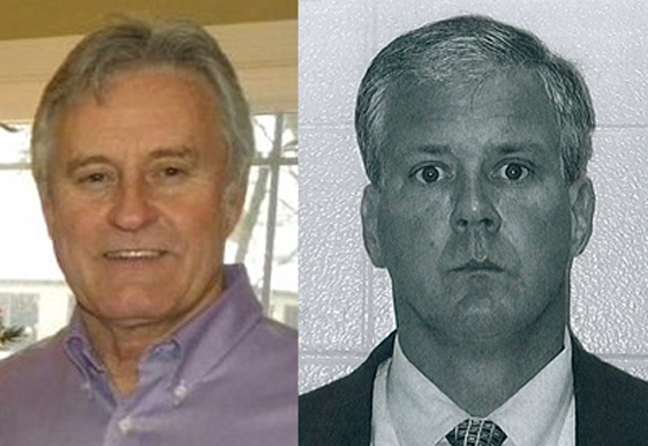 Key CPD lieutenant had secret meeting with detective
Published Aug. 25, 2014
By TIM NOVAK, CHRIS FUSCO AND CAROL MARIN
Staff Reporters
In early 2011, as the Chicago Police Department began re-investigating a homicide involving a nephew of Mayor Richard M. Daley, a high-ranking cop had a secret meeting with the retired detective who didn't solve the case seven years earlier, according to records obtained by the Chicago Sun-Times.
The records show the meeting between Lt. Denis P. Walsh, a homicide case supervisor, and retired Det. Ronald E. Yawger took place in January 2011 — the same month Walsh reported Yawger's original file on the David Koschman case was missing.
Months later, that missing file ended up in a safe inside Walsh's Northwest Side bungalow, the Sun-Times has reported.
There's no record of the meeting in police files that have been released on the Koschman case.
Nor is there any mention of the meeting in the 162-page report released in February by special prosecutor Dan K. Webb on Koschman's death and two police investigations that found no cause to charge Daley nephew Richard J. "R.J." Vanecko, who pleaded guilty early this year to involuntary manslaughter. Webb wrote that Walsh and Yawger had exchanged calls and text messages over several months and then met at a North Side police station in June 2011.
The revelation about the Walsh-Yawger meeting in January 2011 is buried in one of 900 emails on the Koschman case released to the Sun-Times by Cook County State's Attorney Anita Alvarez's office under the Illinois Freedom of Information Act.
RELATED: City Hall hasn't disciplined any Koschman cops
Alvarez received the email from the staff of city of Chicago Inspector General Joseph Ferguson on Oct. 28, 2011, when their offices were reviewing the case prior to Webb's appointment. It contains a list of witnesses compiled by the inspector general's office.
According to Ferguson's witness list, "Yawger told IGO during interview that in January 2011, Walsh came to see him about the re-investigation."
Nothing else is noted about the meeting, including where or the date it took place, what was discussed or why the two men met in person.
Asked about the meeting during a brief phone interview last week, Yawger — who retired with a pension from the police department in 2007 and now works as an investigator for Illinois Attorney General Lisa Madigan — said, "I have no idea what you're talking about."
Walsh couldn't be reached.
Ferguson's and Webb's offices declined to comment.
The Walsh-Yawger meeting has come to light as the two cops are facing a federal civil rights lawsuit filed by Koschman's mother Nanci Koschman that accuses them and others of engaging in an "official cover-up" and conspiring for more than a decade to keep Vanecko from being charged. Also named in the suit are 18 other current or former members of the police department including former Supts. Phil Cline and Jody Weis, Cook County prosecutors including Alvarez and former State's Attorney Richard Devine and unnamed Daley family members.
U.S. District Judge Rebecca Pallmeyer has scheduled a hearing for Thursday to consider motions by the defendants to dismiss the civil case.
City Hall has hired four law firms to fight the lawsuit, one of them hired solely to defend Walsh. According to a City Hall spokeswoman, that's because, "unlike the other officers, he was not assigned to either the original investigation or the 2011 investigation, and his involvement concerns the missing files."
Walsh is among six current Chicago cops Webb considered charging with crimes over their handling of the second investigation in early 2011.
But Webb decided he didn't have enough evidence under Illinois law to convict the six cops, including two officers he found had fabricated statements in police reports to portray Koschman as the aggressor during a drunken confrontation with Daley's nephew on Division Street near Dearborn in April 2004.
A grand jury empaneled by Webb indicted Vanecko in December 2012, rejecting the conclusion by the police and Alvarez's office that the 6-foot-3, 230-pound Vanecko hit the 5-foot-5, 125-pound Koschman in self-defense.
Before the grand jury completed its work, Webb turned over the evidence he'd gathered to the FBI, the Sun-Times has reported. Webb's staff told the grand jury the FBI requested the files, according to one grand juror, who spoke on the condition of not being named.
Webb's staff didn't tell the grand jury about the Yawger-Walsh meeting in January 2011, according to the grand juror.
Walsh and the other officers involved in the Koschman case who are still with the department remain under investigation by Ferguson's office.
Yawger was one of six current and former cops granted immunity from prosecution to testify before the grand jury. Walsh, who had a limited grant of immunity, spoke only with Webb's investigators. His statements were later read to the grand jurors.
Both Yawger and Walsh have had run-ins with the law themselves during their police careers.
In the mid-1980s, Yawger was indicted by a federal grand jury that accused him and his partner of driving a drug dealer to sell cocaine to a buyer who turned out to be an undercover FBI agent. Both cops were found "not guilty" after testifying they didn't know the dealer was carrying cocaine and that he was an informant alerting them to the drug sale, which they were investigating. Yawger never faced a police disciplinary investigation in the case.
Ten years ago, Walsh was charged with criminal sexual assault, accused of groping and licking a gas-station attendant near Kalamazoo, Michigan. He pleaded guilty to reduced misdemeanor charges, and the police department suspended him for 30 days.
Yawger worked on the original Koschman investigation while a detective in Area 3 on the North Side. His involvement in the re-investigation began when he called Walsh's detective division — also Area 3 — on Jan. 4, 2011. That was the same day the Sun-Times filed a request with the police department for records on the Koschman case.
Prompted by the Sun-Times request, Walsh's boss, Cmdr. Gary Yamashiroya, told him to find the original case file compiled by Yawger in 2004. But Walsh said he couldn't find it.
Yamashiroya then looked himself, finding a manila folder containing Koschman case reports in his credenza — but "not the original Koschman homicide file," according to Webb's report.
A meeting about the missing file was held Jan. 13, 2011, in the office of Tom Byrne, the department's chief of detectives. Byrne's deputy chief of detectives, Constantine "Dean" Andrews, ordered the Koschman case re-investigated. But Andrews gave the job to the Area 5 detective division, removing the case from Walsh and Yamashiroya, who were among nine people at the meeting in Byrne's office.
Walsh has said he was told during this meeting to contact Yawger, but Webb's report noted that no one other than Yamashiroya had the same recollection.
Walsh stayed involved in the case, though it's unclear why or at whose direction.
Over the next two weeks, Walsh called or texted Yawger three times, according to phone records cited in Webb's report. Yawger told the grand jury he didn't recall those calls.
Walsh got an email "update on the Vanecko case" on Feb. 9, 2011, from James Gilger, the Area 5 detective heading the re-investigation, according to Webb's report. Gilger told Walsh he expected the state's attorney's office would again decline to charge Vanecko — the same as in 2004.
On March 1, 2011, Andrews ordered the case closed.
Walsh called Yawger again on April 20, 2011 — five days after Ferguson demanded the police give him "all original detective interview notes from the David Koschman investigation."
On June 28, 2011, Yawger had "a more than four-minute telephone conversation with Area 3 (and possibly Walsh himself)," according to Webb's report. Yawger later told grand jurors he had "no idea who I spoke to" that day.
And Walsh said he didn't recall contacting Yawger after January 2011.
The next evening, Walsh "reportedly" found "the original Koschman homicide file . . . on a wooden shelf in [the Area 3] Violent Crimes sergeants office" in a blue binder sitting on a shelf that had been previously searched, according to Webb, who wrote that some documents were missing from the file.
The following morning, Yawger went to see Walsh at Area 3, where he "reportedly" found his Koschman "working file" in the detectives locker room "in a box labeled with [Yawger's] name on it," according to the Webb report.
In an interview with Webb's investigators, "Yamashiroya stated that it was both 'embarrassing' and 'shocking' that missing files (both the discovery of the 'original' Koschman homicide file as well as Yawger's 'working file') were turning up with little explanation for their sudden appearance. During his interview, Walsh told [investigators] that he was 'surprised' that Yawger gave him a second set of Koschman files only one day after the Koschman blue three-ring binder had been discovered."
The next day — July 1, 2011 — Ferguson's staff interviewed Yawger, who told them he'd had the face-to-face meeting with Walsh in January, according to the newly obtained witness list.
The disappearing-and-reappearing case files in the Koschman case have led to policy changes within the police department, according to a police source.
"Since the Webb report was released, new policies have been implemented regarding homicide files to ensure the proper maintenance," the source said. "All homicide files were moved to more secure locations, where there is also more controlled access. Further, an inventory was conducted to ensure that all other files were accounted for."