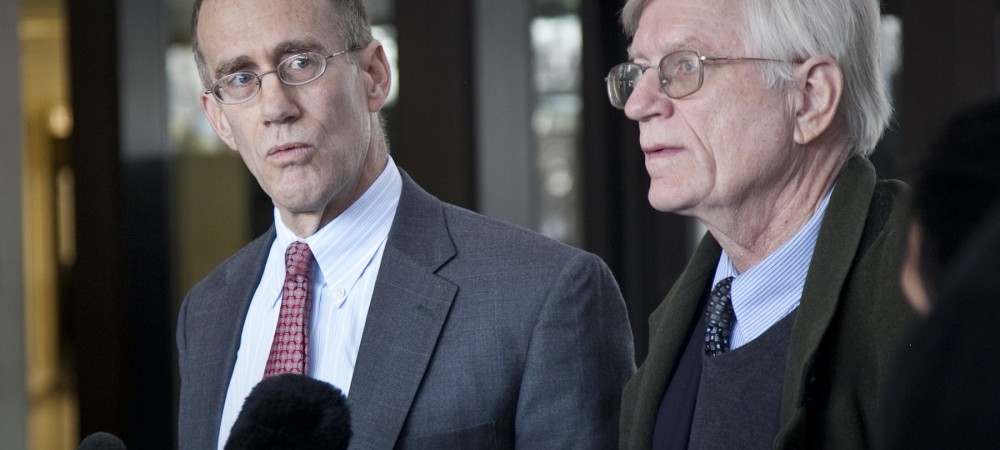 Judge won't unseal report
Published Nov. 13, 2013
By RUMMANA HUSSAIN
Staff Reporter
A judge denied a motion Wednesday to unseal the special prosecutor's report in the involuntary manslaughter case against former Mayor Richard M. Daley's nephew because it contains secret grand jury testimony but said he will make the report public after the nephew's trial.
Cook County Circuit Judge Michael P. Toomin rejected a bid by the Chicago Sun-Times and WMAQ-Channel 5 to make the 162-page report public.
PDF: Opinion on releasing special prosecutor report
Toomin had sealed the report at the request of Dan K. Webb, the special prosecutor he appointed last year to reinvestigate the 2004 death of 21-year-old David Koschman of Mount Prospect and also to determine whether police and prosecutors should be charged over their handling of the high-profile case.
The grand jury investigation headed by Webb led to the indictment last December of Daley nephew Richard J. "R.J." Vanecko.
Toomin said sealing Webb's findings is a "temporary measure."
_____________________________________________________________________________________________________________
RELATED CONTENT
Get the ebook "The Killing of David Koschman: A Watchdogs Investigation." Download now
WHERE VANECKO TRIAL STANDS
Former Mayor Richard M. Daley's nephew Richard J. "R.J." Vanecko's involuntary manslaugher trial in the 2004 death of David Koschman is set for Feb. 18. Expected to last more than a week, it will be held at the Leighton Criminal Court Building at 26th and California before McHenry County Judge Maureen P. McIntyre. She was brought in because of the Illinois Supreme Court's concerns about the Daley family's ties to Cook County judges. Daley formerly was Cook County state's attorney.
_____________________________________________________________________________________________________________
In his 21-page ruling, Toomin said the Sun-Times and WMAQ "failed to establish any compelling or immediate constitutional, common law or statutory presumptive right of access" to the report.
"Historically, grand jury proceedings are closed and have been kept from the public eye," Toomin said in court.
But Toomin said he plans to release Webb's report after Vanecko's trial. He ruled against a request by the Fraternal Order of Police — the union representing rank-and-file Chicago police officers — to permanently seal the documents, which union lawyers said could damage the reputations of officers named in the report.
Locke Bowman, a lawyer representing Koschman's mother, Nanci Koschman, said Toomin's decision to keep Webb's findings secret for now was disappointing. He said the Koschman family and the public have an "urgent need" to see the documents.
But Bowman added, "We take comfort in our understanding that at the immediate conclusion of the Venecko trial, everyone will have an opportunity to to see this report."
Vanecko is accused of throwing the punch on April 25, 2004, that led to the death of Koschman after a drunken confrontation on Division Street near Dearborn Street.
In September, Webb decided no one else should be charged and filed his report with Toomin, who ordered it sealed pending Vanecko's trial.
Lawyers for Daley's nephew didn't want it made public before Vanecko stands trial in February, saying that could prejudice potential jurors.
Webb's appointment came after a series of reports in the Sun-Times questioned the handling of the case by the Chicago Police Department and the Cook County state's attorney's office.
Webb wasn't in court Wednesday. Other lawyers working with him on the Koschman case attended the hearing. Also present were Vanecko's attorneys and attorney Damon Dunn, representing the Sun-Times and NBC5.
Dunn said he thought there were other ways, beside keeping Webb's report under seal, to ensure that Vanecko gets a fair trial.
"I think that the institution should trust the public with the information, and they should trust the county and the system and the lawyers to deliver a fair trial," Dunn said. "This report was intended for public consumption . . . Chicago is no stranger to high-profile trials."
Email: rhussain@suntimes.com
Twitter: @rummanahussain