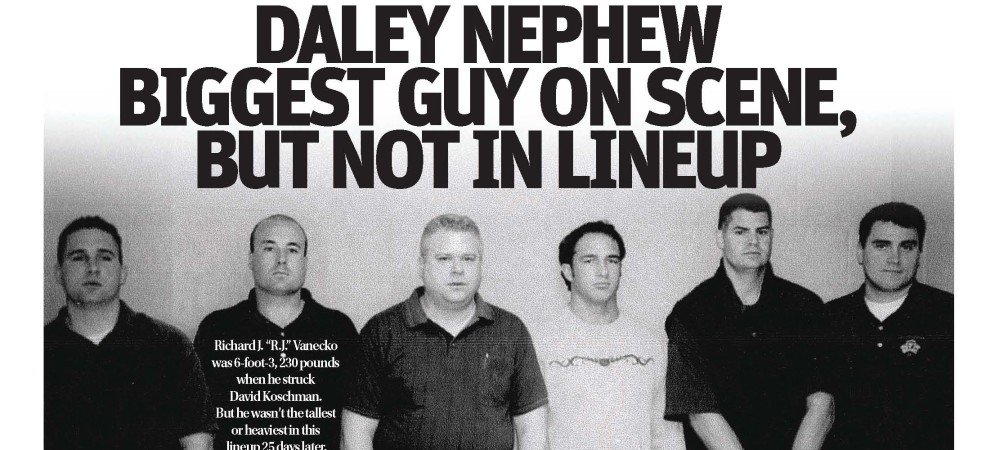 Judge: Sun-Times broke privacy law with details on cops in Daley nephew lineup
Published Sept. 30, 2018
By SAM CHARLES
Staff Reporter
The Chicago Sun-Times violated federal privacy law in publishing the birth months and years, heights, weights and hair and eye colors of five Chicago police officers who acted as "fillers" in a police lineup involving a nephew of Mayor Richard M. Daley, a federal judge has ruled.
Officers Scott Dahlstrom, Hugh Gallagly, Peter Kelly, Robert Shea and Emmet Welch sued the Sun-Times in 2012, saying a story published Nov. 21, 2011, violated the federal Driver's Privacy Protection Act and left them "gravely concerned for their safety."
The details were included in a story about Chicago Police Department lineups in 2004 that included the officers, who matched or even dwarfed the 6-3, 230-pound Vanecko in size — lineups in which witnesses couldn't pick out the man who punched David Koschman in a drunken encounter near Rush Street on April 25, 2004.
That was one of a series of stories that led to the court-ordered reopening of the investigation under a special prosecutor and the conviction of Daley nephew Richard J. "R.J." Vanecko for involuntary manslaughter a decade after he threw the punch that led to the 21-year-old Mount Prospect man's death days later and then ran away. Daley's nephew spent 60 days in jail.
The officers' names were listed in police reports obtained by the Sun-Times, which got much of the other information from the Illinois Secretary of State's Office.
A lawyer for the Sun-Times had argued the newspaper "could not have 'knowingly' violated the DPPA because it relied on the secretary's authorization of the information."
But, on Thursday, U.S. District Judge Harry Leinenweber ruled in favor of the officers in the civil case. The judge said the secretary of state's office itself might have violated the privacy law by releasing the information, but that didn't get the Sun-Times off the hook.
Leinenweber noted that Donna Leonard, a lawyer for the secretary of state, had said in an affidavit that the agency had released the information because it "was not 'personal' information under the DPPA."
RELATED:

• The killing of David Koschman | A Sun-Times Watchdogs investigation
But the judge wrote: "The Secretary might have violated Section 2721(a) — which prohibits the Secretary from 'knowingly disclos[ing] personal information — but its violation does not immunize the Sun-Times from liability."
"Put simply, an initial violation by one party does not negate subsequent violations by another," Leinenweber wrote.
Each officer sued for $2,500 in actual damages, "punitive damages upon proof of willful or reckless disregard of the law" and attorneys' fees. The judge didn't rule on damages.
Lawyers for the five officers couldn't be reached Friday.
Damon Dunn, an attorney for the Sun-Times, said the newspaper "is gravely concerned" the judge's decision might have a chilling effect on newsgathering nationwide and that "an appeal is necessary and in the public interest."
"The takeaway is that reporters are no longer safe to even ask government agencies for information, let alone publish the answers they receive," Dunn said. "That would stand the First Amendment on its head."