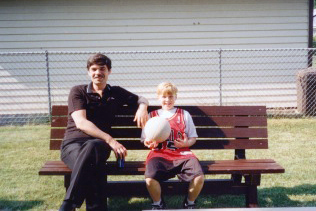 HE MADE FRIENDS EASILY AND KEPT THEM
Published Dec. 4, 2012
By CHRIS FUSCO, TIM NOVAK AND CAROL MARIN
Staff Reporters
Having just turned 21, David Koschman was excited about the big weekend in the city he and some friends had planned.
First: bar-hopping on Rush Street. Then, the next day: a Cubs game against the New York Mets.
But after leaving a late-night bar a little after 3 a.m. on April 25, 2004, Koschman got into a drunken confrontation on Division Street and was punched in the face. He was rushed by Chicago paramedics to Northwestern Memorial Hospital, where he died 11 days later of massive brain injuries.
Now, more than eight years later, Richard J. "R.J." Vanecko, a nephew of former Mayor Richard M. Daley, has been charged with throwing the punch that led to Koschman's death.
Born two days before Valentine's Day in 1983, Koschman lived his entire life in a small, one-story frame house on a quiet street in Mount Prospect. His parents had tried for years to have a family. David ended up being Nanci and Robert Koschman's only child.
The blond-haired boy with the infectious smile played baseball growing up, though he was always smaller than the other kids. Even as an adult, Koschman stood just 5-foot-5 and weighed 125 pounds.
He made – and kept – friends easily. He knew James Copeland since fourth grade and met Scott Allen on the baseball diamond. They were with him that night on Rush Street.
"He was a nice guy, very much the jokester," Copeland said. "He was easy to get along with. He wasn't the biggest guy in the world, but he played."
Weeks after he started the seventh grade, Koschman saw his father die. They had been out playing basketball together earlier and were watching TV when Bob Koschman went unconscious.
"His dad sat down on a sofa one Sunday night," Nanci Koschman said in an interview last year. "He was a smoker, and he had a clot that went from his leg to his heart, and it killed him. It was a hard thing for any young kid."
Her 12-year-old boy became the man of the house, cutting the grass and shoveling snow. Some nights, he turned down going out with friends so he could spend time with his mom, recalled Lela Bork, a classmate at Prospect High School.
"I think he was more responsible because of his father's death," Nanci Koschman said. "He faced life a little bit differently."
In high school, Koschman was a "nice kid, kind of a friendly sort" who didn't get in trouble, according to Pat Tedaldi-Monti, the dean at Prospect.
Some of his friends played on the football team, and Koschman helped out with the team, according to his mother, who said he also worked for the Mount Prospect Park District and at Best Buy.
He graduated from Prospect in 2001 and began taking classes at Harper College in Palatine, hoping to transfer to Roosevelt University's Schaumburg campus and pursue a career in human resources.
Meanwhile, he was working at an insurance company in Arlington Heights with his friends Allen and Copeland.
When he bought a car, he drove to the cemetery in Arlington Heights where his father was buried. He wanted to show his dad the car.
Koschman loved Snoop Dogg and the Cubs, and he was a big fan of stock-car racing. The weekend of April 24, 2004, some friends had invited him on an out-of-state trip to see a NASCAR race. Other friends wanted to do Rush Street, then the Cubs. He chose Rush Street and the Cubs.
He also loved to play cards, especially the poker game Texas Hold 'em. When he died, his friends took note of that, placing a full house in the coffin with him.