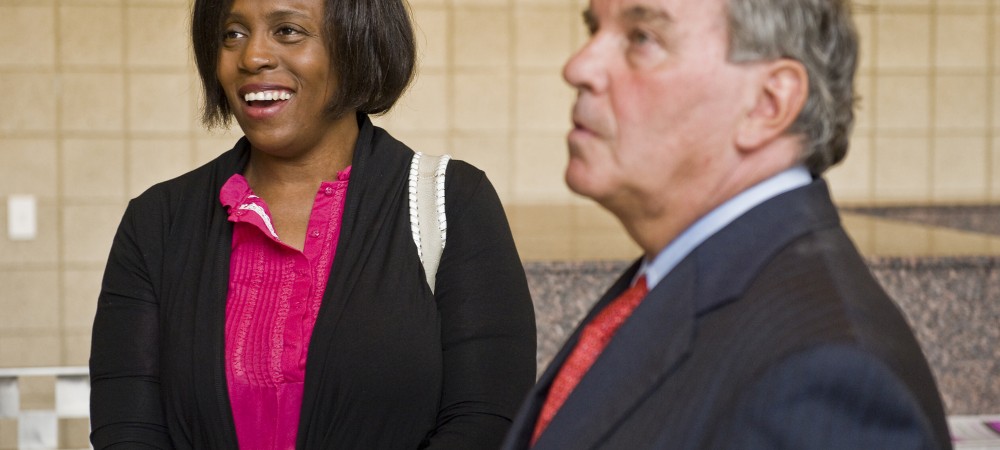 City Hall scrambled over questions
Published Feb. 10, 2014
By  TIM NOVAK AND CHRIS FUSCO
Staff Reporters
After the Chicago Sun-Times began the investigation that led to former Mayor Richard M. Daley's nephew pleading guilty to involuntary manslaughter, Daley's administration began scrambling to write a police report that falsely concluded Richard J. "R.J." Vanecko was defending himself when he threw the punch that killed David Koschman.
City Hall's 59-day investigation involved 16 police officials — from top brass to detectives — as well as Daley's law department and the mayor's press office, including one of Daley's closest confidantes, Jacquelyn Heard.
Daley's press office released the findings only after police officials met with Cook County State's Attorney Anita Alvarez's chief of staff, who apparently agreed Vanecko shouldn't be charged.
During those 59 days:
• The state's attorney's office told the newspaper it hadn't had any communication with the police about the case. In fact, the police began re-investigating the case by calling the state's attorney's office for its files — which they were told were missing and have never been found.
• The same day reporters asked the city for records on the Koschman case, the retired detective who handled the case in 2004 began exchanging calls and text messages with a police lieutenant involved in the re-investigation.
The 2011 police investigation's conclusions led special prosecutor Dan K. Webb to consider charging six police officers with crimes. Webb ultimately decided there wasn't enough evidence. In his report, Webb wrote he couldn't "prove beyond a reasonable doubt that CPD personnel's incorrect interpretation of facts and testimony as it relates to self-defense constitutes criminal obstruction of justice."
Here's a behind-the-scenes look at how the Sun-Times' request for records sent City Hall into a frenzy, according to Webb's report and other records:
Jan. 4, 2011 — The Sun-Times files a request under the Illinois Freedom of Information Act for police reports on Koschman's death. The request is forwarded to five police officials: General Counsel Debra Kirby, First Assistant General Counsel Bill Bazarek, Lt. Maureen Biggane of news affairs and James McCarthy and Terrence Collins of legal affairs. It also goes to attorney Karen Coppa and Jennifer Hoyle in the law department.
Kirby gives a "30-second rundown" to Supt. Jody Weis' chief of staff, Michael Masters.
Weis is "shocked" the case is still open but recalls Kirby telling him "things just happen." Saying this "made CPD look bad," he asks Chief of Detectives Tom Byrne to re-investigate. Byrne assigns the case to his deputy, Constantine "Dean" Andrews, who asks Area 3 Cmdr. Gary Yamashiroya for the original file. But Area 3 Lt. Denis P. Walsh says he can't find it. A file later surfaces in Yamashiroya's credenza — though it's not the original file, and it's missing several reports.
That same day, the lead detective on the case in 2004 — Ronald E. Yawger, by now retired for nearly four years — calls someone at the Area 3 detective headquarters at Belmont and Western.
Jan. 10, 2011 — Hoyle e-mails Daley deputy press secretaries Rosa Escareno and Jodi Kawada, saying the newspaper "is interested in one of the bystanders to this fight."
Jan. 11, 2011 — "Who is the bystander?" Escareno asks. Hoyle replies by sending a newspaper story from 2004 about Vanecko's involvement.
The same day, Andrews gets the police reports and decides "that certain investigative steps had not been taken and that certain information was missing."
Jan. 13, 2011 — In Byrne's office at police headquarters, Andrews says he wants "a fresh set of eyes" on the case, "choosing Area 5 for the re-investigation because he was previously assigned there." Area 5 Cmdr. Joseph Salemme chooses Det. James Gilger and his partner Nick Spanos because "he was told to select his 'best detective.' "
Also at the meeting: Deputy Supt. Steven Peterson, Sgt. Sam Cirone, Byrne, Yamashiroya, Walsh, Salemme, Gilger and Bazarek.
According to Salemme, there was "a brief summary of the previous investigation along the lines of 'Vanecko is a suspect, he's related to Daley, the investigation stopped at some point.' "
The "very first thing" detectives do is visit John Brassil at the state's attorney's office and request the Koschman felony review file. Brassil later says he can't find it.
Jan. 16-17, 2011 — Gilger and Spanos interview Scott Allen, James Copeland and Shaun Hageline, three of the four friends who were with Koschman when he was punched on Division Street on April 25, 2004.
Jan. 18, 2011 — The police refuse to release the Koschman reports, citing an "ongoing criminal investigation."
Yawger gets two calls on his cellphone from Walsh. Webb's report doesn't elaborate on those calls.
Gilger and Spanos interview another Koschman friend, David Francis, and a bystander, Philip Kohler.
Biggane emails Daley press secretary Jacquelyn Heard and her assistants Kawada, Escareno and Lance Lewis that "the case is expected to be closed in the near future."
According to Webb, Biggane's email "was sent five days after the re-investigation began and six weeks prior to its ending; yet its implication is that, though the investigation had just started, CPD knew it would soon end. Further, the e-mail arguably seems to suggest that when the re-investigation ended, the file would be closed [and] charges would not be returned."
Biggane told Webb "her language should not be read to mean that CPD already knew the conclusion of the Koschman re-investigation."
Jan. 19, 2011 — Gilger and Spanos interview Michael Connolly, another bystander.
Jan. 20, 2011 — At the Daley administration's weekly meeting on news media requests, Hoyle recalls the city's response "would be to inform the Sun-Times that it would get the requested information 'in a little while' if the investigation was to be closed (which Hoyle believed would occur in a few weeks)."
Jan. 21, 2011 — Gilger speaks with Darren O'Brien, the prosecutor who decided in 2004 there wasn't evidence to charge anyone.
Jan. 24, 2011 — Vanecko friend Kevin McCarthy refuses to talk with Gilger and Spanos, saying he and his wife Bridget Higgins McCarthy stand by their statements from 2004.
Jan. 26, 2011 — Yawger gets a text message from Walsh. Webb's report does not elaborate on this.
Jan. 27, 2011 — Vanecko friend Craig Denham tells detectives he, too, stands by his 2004 statement.
Jan. 28, 2011 — Vanecko's father — Dr. Robert M. Vanecko, Mayor Daley's brother-in-law — tells detectives his son "no longer lives in Chicago."
Feb. 9, 2011 — Vanecko lawyer Marc Martin tells detectives Vanecko won't talk. Gilger speaks with another Vanecko lawyer, Terence Gillespie, who says "he would speak with his client about coming in to Area 5 to make a statement.
"Afterward, Gilger sent an e-mail to Walsh with 'an update on the Vanecko case. . . .' Gilger describes his conversation with Gillespie, noting he had told him, 'If this is self-defense, we need to know this.' The e-mail further states, 'I told Gillespie that Felony Review is already involved in this case, which they are, and will possibly be asked to review the case, which I know is going to be a rejection.' According to Gilger, he meant that the state's attorney's Felony Review Unit 'know[s] I'm working on the case. As a matter of fact, they even consulted with Darren O'Brien on the case, so they're involved in that respect. That's what I meant here.'
"Gilger testified that what he meant by 'which I know is going to be a rejection' was that, based upon O'Brien's decision in 2004 — and without a statement from Vanecko, no identification of the offender in a lineup and Vanecko's friends refusing to provide additional statements in 2011 — charges would be rejected."
Feb. 11, 2011 — Gilger's draft report concludes Vanecko punched Koschman. It doesn't mention self-defense, which he tells grand jurors he planned to add.
Feb. 18, 2011 — Yawger tells the Sun-Times he hasn't talked with the detectives re-investigating the case.
Feb. 23, 2011 — Alvarez press secretary Sally Daly answers reporters' request to interview State's Attorney Anita Alvarez and O'Brien by emailiing: "All witnesses who were questioned indicated that Koschman was the aggressor and had initiated the physical confrontation by charging at members of the other group after they were walking away. . . . As for the current status of the case, the Cook County state's attorney's office has not received any information or had any inquiries from the Chicago Police Department or any of the witnesses in connection with this case in the nearly seven years that have elapsed since the incident."
Feb. 27, 2011, 9:54 p.m. — Cirone — using his personal email — writes to Andrews at his personal email address and Salemme at his police email about "corrections" to Gilger's report. About 30 minutes later, Cirone emails Andrews, writing, "David KOSCHMAN, having yelled "F— you! I'll kick your ass!", by breaking away from his group of friends and aggressively going after VANECKO was clearly the assailant in this incident. These aggressive actions caused VANECKO to take action and defend himself. This investigation has shown that Richard VANECKO, alone, punched David KOSCHMAN, which caused him to fall backwards and injure his head, which ultimately caused his death. Based on this, the R/Ds request this case be classified as CLEARED CLOSED/EXCEPTIONALLY.' "
According to Webb, "The language contained in this e-mail would eventually appear verbatim in Gilger's report."
Andrews emails Cirone back: "Very nicely done."
It was Andrews who decided to close the case "exceptionally" — identifying who hit Koschman but not seeking charges.
Feb. 28, 2011 — "Who killed David Koschman?" — the first of what would be dozens of Sun-Times stories — is published. That afternoon, Gilger submits his report, concluding Vanecko punched Koschman in self-defense.
According to Webb, Gilger's conclusion "appears to be based on several faulty premises" — that the police have no record of anyone saying 'F— you, I'll kick your ass,' that Koschman's friends told Gilger Vanecko's group was verbally aggressive and that Vanecko was 105 pounds heavier and 10 inches taller than Koschman.
March 1, 2011 — The Sun-Times publishes a story about how Nanci Koschman took her son off life support.
The police close the case.
March 2, 2011 — Escareno emails Biggane the police department's response to the Sun-Times: "cannot go out until Law and [the mayor's office] has reviewed." Biggane replies CPD has to turn over reports immediately. Escareno responded: "We need to review the information before it is turned over."
March 3, 2011 — The Sun-Times publishes "Witness in Daley nephew case says Koschman wasn't the aggressor" — in which bystander Connolly disputes the state's attorney's statement that "all witnesses who were questioned indicated that Koschman was the aggressor," calling that a "flat-out lie."
Biggane emails Escareno: "The Vanecko thing has been pressing. Just FYI — we are meeting with the State's [Attorney's] office on this later today."
That afternoon, four police officials — Peterson, Byrne, Masters and Biggane — meet with Alvarez chief of staff Dan Kirk and press secretary Daly. Alvarez briefly stops by.
That evening, Biggane e-mails Heard, Escareno, Kawada and Hoyle: "We and CCSAO remain in concurrence. Therefore, the file is to be released tomorrow."
March 4, 2011 — Finally responding to the Sun-Times' request from Jan. 4, the police release redacted copies of reports from the 2004 and 2011 investigations. Several files remain missing.