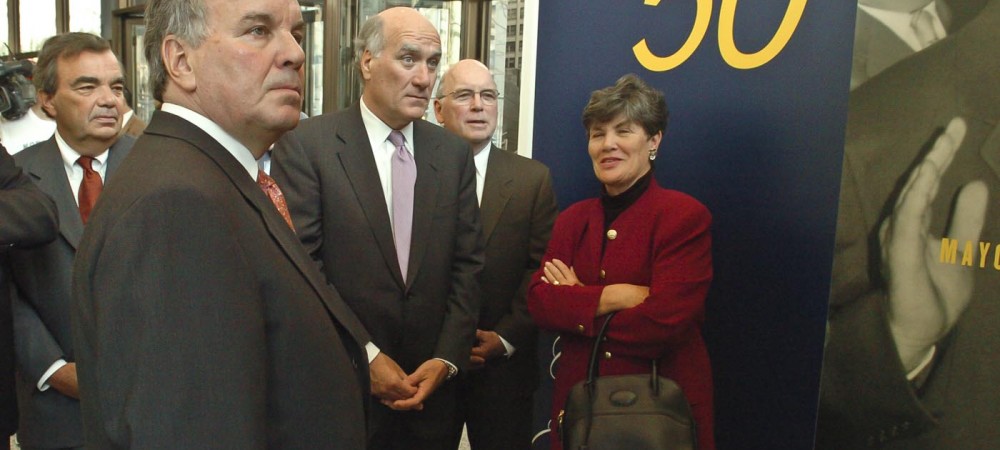 Daley family breaks silence on Koschman case
Published Dec. 5, 2012
By DAN MIHALOPOULOS
Staff Reporter
The death of David Koschman was "a tragedy all the way around," but Richard J. "R.J." Vanecko is "basically a good kid," Vanecko's uncle William Daley said Tuesday.
They were the first public comments from anyone in the Daley family since Vanecko's indictment Monday on an involuntary manslaughter charge.
"The death of the young man was a terrible tragedy," Daley, a former White House chief of staff to President Barack Obama, told the Chicago Sun-Times. "The pain which his family has felt over those years – anyone who has lost a child knows that. It's irreplaceable pain."
Daley lost 8-year-old son Richard J. Daley II to a rare lung disease in 1985.
The former commerce secretary said there are advantages to being a member of what's been Chicago's most politically powerful family for the past half-century, but also disadvantages.
"I think we've been the beneficiaries of enormous opportunity," Daley said. "Every one of us knows that. Everyone knows we were blessed to have such great parents and a father who decided to spend his life in public service, as did his son, my brother Rich. And all of us have tried to do it right and live good lives, as everybody does."
Since his father became mayor in 1955, he said, the family also has faced "a certain level of scrutiny and criticism."
"That is just the way it is," Daley said. "You've got to accept it and understand it. Whether it's fair or unfair, or whether the benefits we have gotten by people being very kind to us and nice to my father and my brother and supporting them for mayor and other things, weighs or outweighs the other, that's for someone [else] to judge. But we've been fortunate overall – very lucky in life."
Asked if the Daley family tie had hurt or harmed the 38-year-old Vanecko in the Koschman case, Daley said, "I'm not going to – you know, he suffers with the fact that he is related."
But he quickly added: "I'm sure there are times where he has thought he has been given opportunities by virtue of that. He's basically a good kid."
Vanecko, 38, was indicted by a grand jury overseen by special prosecutor Dan K. Webb. Webb's appointment resulted from a petition from Koschman's mother, Nanci Koschman, that questioned whether the Chicago Police Department and the Cook County state's attorney's office had declined to file charges because of the Daley family connection.
"Had Vanecko not been a member of the powerful Daley family, he would have been charged with the homicide," Koschman and her attorneys Locke Bowman and G. Flint Taylor had said in the Dec. 14, 2011, court filing. They also asserted that the way the case was handled by the police and prosecutors has "the hallmarks of an investigation governed by politics, not professionalism."
Daley, who said he was still giving "serious thought" to a run for governor in 2014, declined to discuss the Koschman case in detail.
"Obviously, this matter has moved into a different situation – that's a court case," he said, "and we'll just have to let the system run its course and move forward on it."
Daley spoke after attending the swearing-in ceremony for another nephew, Patrick Daley Thompson, elected last month as a commissioner of the Metropolitan Water Reclamation District of Greater Chicago. Thompson, a lawyer, is the first family member of his generation to seek and win election to public office.
Vanecko's brother, Robert Vanecko, also attended Tuesday's swearing-in ceremony for their cousin. Robert Vanecko declined to comment, as did two of William Daley's brothers who were on hand: Cook County Commissioner John Daley and zoning lawyer Michael Daley.
"I don't do interviews," Michael Daley said.
William Daley said the oldest of the brothers ­­- former Mayor Richard M. Daley – could not attend Tuesday's ceremony because he was out of the country on business. William Daley declined to say where the former mayor was travelling because "it's his business. He's private, so he doesn't have to tell any more."
Thompson is a son of the eldest Daley sister, Patricia Daley Martino, and lives with his wife and three children in the old home of his grandfather, the late Mayor Richard J. Daley, in Bridgeport.
John Daley introduced Thompson for his inaugural speech, expressing his "great pride to represent my entire family as we witness another generation taking an oath of office and accepting the honor to serve the voters of this great county."
As the crowd at the water district's downtown headquarters applauded, Thompson approached the lectern and said, "Thank you, Commissioner Daley – Uncle John."
Thompson thanked his family members for their support throughout his life. Asked about Vanecko's indictment, he replied, "It's a terrible incident. I feel sorry for everyone involved. But I don't have any comment or any knowledge of any information. It's just a sad tragedy."