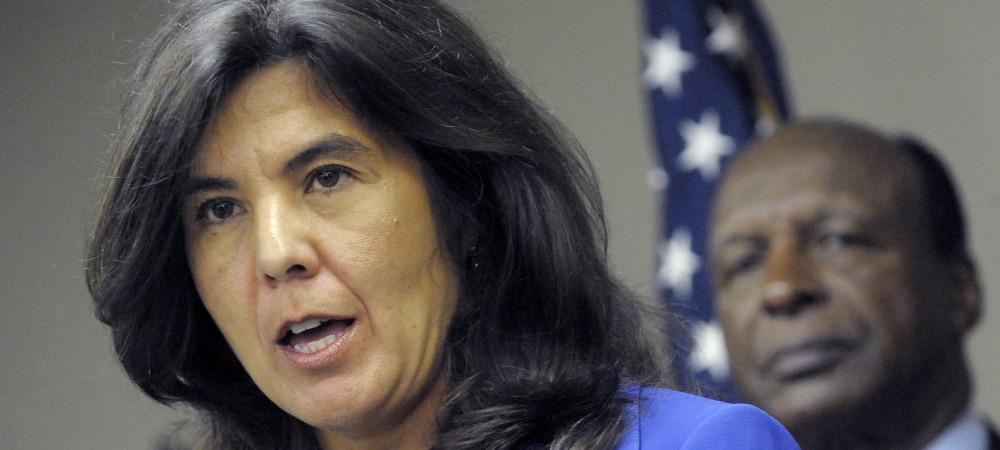 ALVAREZ FIGHTING KOSCHMAN MOTHER'S PETITION FOR SPECIAL PROSECUTOR
Published Feb. 1, 2012
By TIM NOVAK AND CHRIS FUSCO
Staff Reporters
Cook County State's Attorney Anita Alvarez is fighting a mother's request for a special prosecutor to re-examine the homicide of her only child, who died from injuries he suffered during a drunken confrontation with a nephew of then-Mayor Richard M. Daley.
Alvarez argued Tuesday she has no conflict of interest to disqualify her from re-investigating the violent death of David Koschman – even though she still employs Darren O'Brien, the assistant state's attorney who determined nearly eight years ago that there was insufficient evidence to charge Daley nephew Richard J. "R.J." Vanecko.
In her 46-page filing, Alvarez also disclosed that she and City of Chicago Inspector General Joseph Ferguson are "partners" in an "ongoing investigation" of Koschman's death and how it was handled by the Chicago Police Department and the state's attorney's office.
That investigation "involves non-public proceedings that have not yet concluded," she wrote.
The county's top prosecutor also vehemently defended her office's actions to date, saying there has never been enough evidence to convict Vanecko – or anyone else – in Koschman's death.
Koschman's mother, Nanci Koschman, wants Cook County Judge Michael Toomin to appoint a special prosecutor to reinvestigate the death of her son, saying that Vanecko was never charged because his uncle was the mayor. Alvarez replied in her filing that Vanecko's political pedigree had no bearing on the case.
Koschman said she's not surprised Alvarez is opposing her request for an outside prosecutor. "I think I expected her to fight it," Koschman said. "I never expected she would admit wrongdoing."
One of Koschman's attorneys, Locke Bowman, declined to comment, saying he will file a response on Feb. 21. Toomin is set to hold a hearing March 6.
Koschman, a college student from Mount Prospect, and four of his friends – all of them 21 – had been drinking on Division Street the morning of April 25, 2004, when they bumped into Vanecko, then 29, and three of his friends. During the ensuing argument, Koschman was struck and fell backward, cracking his head on the pavement. Vanecko ran away. Koschman died 11 days later of severe brain injuries.
Within hours after Koschman was hit, police stopped investigating and didn't resume until the day of Koschman's funeral. That investigation ended on May 20, 2004, when Koschman's friends and two bystanders couldn't pick Vanecko out of a lineup. Assistant state's attorney O'Brien then concluded there wasn't evidence to charge anyone.
Koschman's death, which police classified as a second-degree homicide, remained open and unsolved for nearly seven years, until Jan. 4, 2011, when the Chicago Sun-Times asked to review police files on the case.
That prompted then-Chicago Police Supt. Jody Weis to order a new investigation that ended March 1 with Detective James Gilger closing the case. "This investigation has shown that Richard Vanecko, alone, punched David Koschman, which caused him to fall backwards and injure his head, which ultimately caused his death," he concluded.
Gilger also decided that Vanecko had acted in self-defense, though Koschman didn't hit him, so no charges should be filed.
Despite that conclusion, Alvarez said in her filing that the evidence she's reviewed doesn't pinpoint whether Koschman was pushed or punched – or who did it.
Alvarez also said Nanci Koschman's request for a special prosecutor is flawed because it relies on a yearlong Sun-Times investigation of Koschman's death.
"Remarkably, and without question, the petition apparently accepts as true all of the hearsay statements printed in the Sun-Times articles, even though no proof exists that the portions of the statements published in the Sun-Times are themselves accurate or complete," according to Alvarez's motion, filed by four of her top assistants: Jack Blakey, Alan Spellberg, Michael Golden and John Mahoney.
In more than two dozen articles published since Feb. 28, the Sun-Times found problems with the way Koschman's death was investigated, including that Chicago Police and the state's attorney's office had lost case files.
Alvarez said those missing files wouldn't have changed the outcome of the case. She noted the police found the "original" file this past summer – months after they closed the case without charging anyone.
Alvarez downplayed her office's failure to find any of its files on the case involving Vanecko.
"While the Sun-Times has written several inflammatory articles proclaiming the troubling nature of the missing 'file' from felony review, they have never once explained what such a folder would actually contain, or what significance that fact may or may not possess," she wrote. "Given its content and purpose, the loss of the felony review folder in this matter is not important."
* That one of the two bystanders said it was a "flat-out lie" when prosecutors claimed all the witnesses said that the 5-foot-5, 140-pound Koschman had been the aggressor in the confrontation with the 6-foot-3, 230-pound Vanecko.
* Two Koschman friends said they never told detectives some of the things the police say they did.
But Alvarez criticized the Sun-Times' reporting, saying that during interviews with Inspector General Ferguson's office, "several of the witnesses have given sworn statements directly refuting information they purportedly gave to the Sun-Times. In fact, a series of witnesses have testified what they said to the reporters was false."
The Sun-Times also revealed that one of Vanecko's friends, Kevin D. McCarthy, had lied to the police – twice – about what happened the night of the confrontation, denying that he and his wife knew Vanecko. Alvarez acknowledged McCarthy lied.
Vanecko's friends refused to be interviewed by police last year. It's unclear whether Ferguson's investigators or Alvarez's staff have ever talked to Vanecko's friends. Vanecko has never spoken to the police.