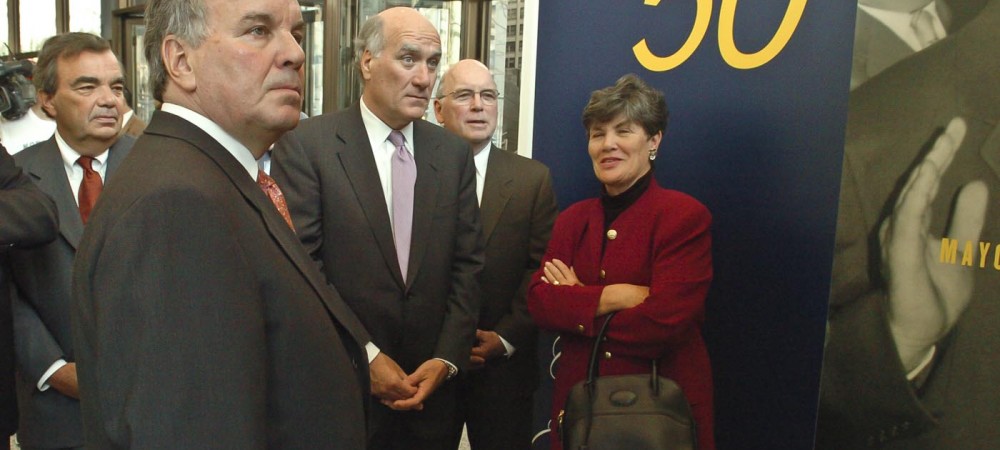 15 questions Webb's report doesn't answer
Published March 3, 2014
By  TIM NOVAK AND CHRIS FUSCO
Staff Reporters
Former Mayor Richard M. Daley and eight of his relatives found themselves in the middle of the latest investigation of David Koschman's death. But none had to testify before the grand jury that indicted Daley nephew Richard J. "R.J." Vanecko for involuntary manslaughter.
Instead, interview transcripts and "voluntary sworn statements" that Daley and his family gave special prosecutor Dan K. Webb were read to the grand jury. The contents of those interviews and statements haven't been made public — and there's no plan to ever release them.
One of the few details Webb has revealed from those statements is that attorney Michael Daley, the former mayor's brother, referred Vanecko to two of Chicago's best-known criminal defense attorneys, Terence Gillespie and Marc Martin, within 18 days after Vanecko punched Koschman in the face and then took off in a cab in April 2004. Vanecko pleaded guilty Jan. 31 and is serving a 60-day jail sentence.
The former mayor told Webb he didn't recall when he learned of Vanecko's involvement — though one of his deputy chiefs of staff remembered telling Daley about the incident as Koschman lay dying at Northwestern Memorial Hospital.
Outside of that, Webb's report doesn't address what the Daley clan knew about the Koschman case or when they knew it.
Webb says he can't discuss any of this "because of grand jury secrecy requirements."
Webb's report said he was unable to charge six officers with violating Illinois state law. But with a judge's permission, he turned over all of his evidence last June to four FBI agents, citing their "experience and expertise with police corruption investigations."
Webb's report leaves many questions unanswered — and raises some new ones — about the 2004 and 2011 police investigations into Koschman's death. Among them:
1. When did the police first know it was Vanecko who ran away after throwing the punch that led to Koschman's death — and who told them?
Testifying under immunity from prosecution last year, police Lt. Richard Rybicki told grand jurors he knew "pretty shortly thereafter" — within "a couple of days" — Vanecko was involved. Rybicki, who supervised the Area 3 detectives handling the case, said he discussed this with his boss, Cmdr. Michael Chasen, and recalled someone saying, "Holy crap, maybe the mayor's nephew is involved."
Webb's report says his 17-month investigation couldn't determine who told Chasen and Rybicki about Vanecko.
The report doesn't say whether anyone higher in the police chain of command knew about Vanecko.
2. Which Chicago police official told Daley's deputy chief of staff for public safety, Matthew Crowl, Vanecko was involved?
Crowl told Webb's team "he was informed by someone at CPD" of Vanecko's involvement "shortly after the incident" and "immediately informed Mayor Daley in person of what he had heard . . .
"It was not clear whether Mayor Daley was already aware of the incident when Crowl made the disclosure to him," Webb wrote.
3. Who did Daley talk to about Vanecko – and what did he tell them?
The former mayor told Webb's investigators in an April 26, 2013, interview he didn't know when he learned his nephew was involved — and that, once he found out, he never had any "substantive discussions with his staff about the law enforcement investigations."
4. Did Chasen, Rybicki or other police supervisors keep Vanecko's identity from the detectives who initially investigated the case?
Webb's report gives no indication that the original detectives — Rita O'Leary and Robert Clemens — knew Vanecko was involved in the April 25, 2004, confrontation with Koschman.
The two detectives stopped investigating hours after Koschman was rushed to the hospital. Each went on vacation two days later. The investigation remained "dormant" until May 9, 2004 — three days after Koschman died — when Det. Ronald E. Yawger took over the case.
5. When Yawger got the case, did his boss, Rybicki, tell him Vanecko was involved?
Rybicki told grand jurors "the assignment of the case to Yawger may have been influenced in part by Vanecko's involvement."
Yawger, though, testified he didn't learn of Vanecko's involvement until four days later, on May 13, 2004, during an interview with Bridget Higgins McCarthy, who had been with Vanecko the night of the confrontation.
6. After then-police Supt. Phil Cline told reporters on May 25, 2004, there wasn't enough evidence to charge anyone in Koschman's death, why did the police wait six months to file their reports?
7. Why did Yawger — who retired from the department in 2007 — call the Area 3 detective division on Jan. 4, 2011, the same day the Chicago Sun-Times asked to review Koschman case files?
8. Why was Area 3 Lt. Denis P. Walsh involved in the 2011 re-investigation after Deputy Chief of Detectives Constantine "Dean" Andrews ordered the case shifted from Area 3 to Area 5?
Walsh exchanged a series of emails and phone calls with Yawger, whose files on the Koschman case, Webb's report noted, kept appearing and disappearing.
9. Did investigators search Walsh's house for documents that remain missing from the Koschman case file?
Walsh told Webb's investigators he put the original "missing" file in a safe at his Northwest Side bungalow after it suddenly appeared on a shelf at Area 3 in June 2011 — four months after Area 5 detectives closed the case without charging Vanecko — and without seeing the missing records. Parts of that file are still missing.
10. When did Mayor Daley learn that Andrews had closed the case on March 1, 2011, without seeking charges against Vanecko — and who told him?
11. Who did Webb's team interview?
His report and other court records identify only 96 of the 146 people who "provided information through witness interviews and/or special grand jury testimony."
12. Who was brought to testify before the grand jury?
Webb identifies 20 of the 24 people who testified before the grand jury — among them six cops, four Koschman friends who were out with him that night in 2004, three Vanecko friends who were with him, two bystanders and two prosecutors from the Cook County state's attorney's office who declined to charge anyone in 2004.
13. Why did 14 cops — including seven who still work for the city — and one prosecutor refuse to testify until they were given some type of immunity from prosecution, and did any of them admit unlawful acts?
14. Who are the 14 Daley staff members Webb interviewed?
Webb identifies five of them — Crowl and four members of Daley's police detail, James Keating, now the Chicago Transit Authority's security chief; Sam Roti; Walsh's sister-in-law, Carol Weingart; and Brian Thompson, now commander of Mayor Rahm Emanuel's security detail. The four bodyguards "denied having any personal knowledge of the Koschman incident or of the response to or investigation of the Koschman incident," according to Webb's report.
15. What did the Daley relatives tell Webb's investigators?
Katherine Daley — a Vanecko cousin and Michael Daley's daughter — refused to talk with investigators until given a limited form of immunity. Hours before running into Koschman, Vanecko and his friends had been drinking at an engagement party for Katherine Daley.
Webb presented the grand jury with "voluntary sworn statements" from seven other Daley family members, according to his report and other court filings: Michael Daley, Vanecko's uncle; Mary Carol Vanecko, R.J. Vanecko's mother and the mayor's sister; Dr. Robert M. Vanecko, her husband; their three other children, Robert, Mark and Mary Clare; and Jill Denham, a sister-in-law of Mayor Daley's daughter, Nora Daley Conroy.
Denham's husband, Craig Denham, was involved in the altercation with Koschman and ran away with Vanecko. Craig Denham testified before the grand jury after being granted immunity.
According to Webb's report, the Daley family statements "tended to show (Vanecko) did not confess to any third party" about punching Koschman.