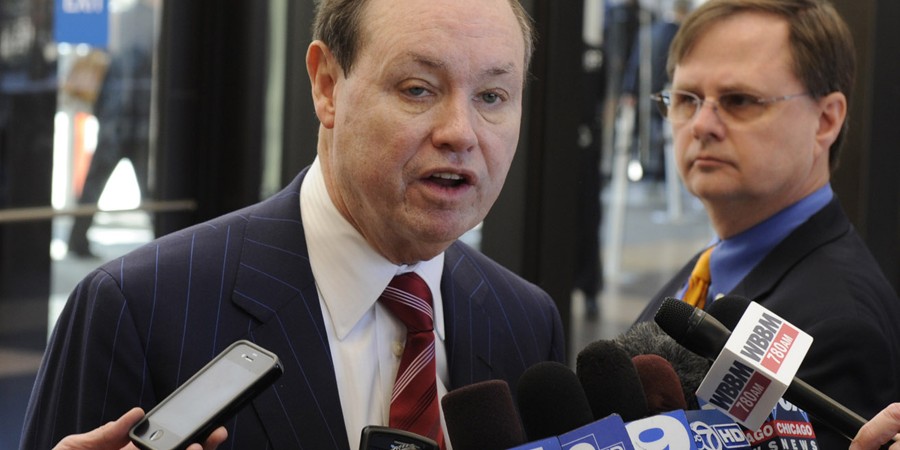 Webb appointed as special prosecutor
Published April 24, 2012
By CHRIS FUSCO, TIM NOVAK  AND CAROL MARIN
Staff Reporters
Former U.S. Attorney Dan K. Webb — who won the convictions of corrupt Cook County judges and a former national security adviser — was appointed Monday as the special prosecutor to re-examine the 2004 death of David Koschman, who died after being punched by Richard J. "R.J." Vanecko, a nephew of then-Mayor Richard M. Daley.
Cook County Circuit Judge Michael P. Toomin named Webb "to investigate whether criminal charges should be brought against any person in connection with the homicide of David Koschman in the spring of 2004 and whether, from 2004 to the present, employees of the Chicago Police Department and the Cook County State's Attorney's Office acted intentionally to suppress and conceal evidence, furnish false evidence and generally impede the investigation into Mr. Koschman's death."
Webb — the top federal prosecutor in Chicago from 1981 to 1985 — was given the authority to subpoena records and compel witnesses to testify under oath before a grand jury.
"I don't have any timetable," said Webb, 66. "I'm just going to do whatever the facts tell me to do."
Toomin contacted Webb about a week ago. Before accepting, Webb said he informed Toomin that he and Vanecko's attorney, Terence Gillespie, worked together last year defending Springfield power broker William F. Cellini, who was convicted of federal corruption charges.
"I did not view that as a problem, and neither did Judge Toomin," Webb said. "I've known Terry Gillespie for 25 years."
Webb also defended Republican Gov. George Ryan, whose co-defendant, Lawrence Warner, was represented by Gillespie and Marc Martin, another Vanecko lawyer. Ryan and Warner both went to prison.
Gillespie praised Webb, calling him "a very thorough lawyer. He'll get to the facts."
This is the fourth time Webb has served as a special prosecutor. In the best-known of those cases, he successfully prosecuted retired admiral and national security adviser John Poindexter in the Iran-contra case. A partner in the law firm of Winston & Strawn, Webb is most closely associated with Republicans. President Ronald Reagan appointed him U.S. attorney.
He led the Operation Greylord investigation into judicial corruption in Cook County, trying the first case himself and winning the conviction of Judge John Murphy.
Over the past 18 years, Webb has contributed more than $265,000 to political candidates, including $104,000 to Republican Jim Ryan's unsuccessful run for governor but also a total of $39,500 to the campaigns of a powerful Democratic couple: Chicago Ald. Edward M. Burke (14th) and his wife, Illinois Supreme Court Justice Anne Burke. Webb also gave $8,000 to Vanecko's uncle, the former mayor.
"I have a lot of ties and associations with both political parties over the years, and I would be surprised in any way if anyone thought that was an issue," Webb said.
Attorney Locke E. Bowman, representing Koschman's mother Nanci Koschman, asked for a special prosecutor in December in the wake of a Chicago Sun-Times investigation. He said he's "extremely gratified" at Webb's appointment.
Bowman and co-counsel G. Flint Taylor argued that State's Attorney Anita Alvarez should be disqualified from re-investigating the case, citing conflicts of interest — among them that prosecutors already concluded there wasn't enough evidence to charge Vanecko.
Toomin agreed to take the unusual step of appointing a special prosecutor after declaring earlier this month that "the system has failed" Koschman, a 21-year-old from Mount Prospect who bumped into a group including Vanecko after a night out drinking on Rush Street and ended up in a coma from which he never awoke, dying 11 days later.
Toomin had harsh words then for police and prosecutors regarding their assertion that the 6-foot-3, 230-pound Vanecko, who was never charged, acted in self-defense when he hit the 5-foot-5, 140-pound Koschman, who never threw a punch. "This was a defense conjured up by police and prosecutors," Toomin said. Vanecko never spoke with the police.
Though the drunken confrontation took place nearly eight years ago, on April 25, 2004, Webb said that shouldn't hinder his investigation.
"Many, many cases deal with facts that took place years earlier, and lawyers and prosecutors have to deal with that," Webb said. "When you don't know what you want to know, you go out and find out. That will mean probably the use of a grand jury, and it will mean to use resources to make sure that I can eventually tear apart the facts . . . and then make the kind of decisions prosecutors make."
Webb plans to hire lawyers from his firm to aid in the investigation and said he would be "cost-conscious." Cook County commissioners — including John Daley, Vanecko's uncle — will pay his bills on behalf of taxpayers. Toomin didn't set Webb's salary but said it won't exceed the salary paid to Alvarez, who makes $192,789 a year.
Koschman's mother said she's "happy the special prosecutor was named so quickly, and I admire Dan Webb. I just hope he sees how badly the case was handled and will make things right for my son."
Webb's powers
As a special prosecutor, Dan K. Webb has all the powers of Cook County State's Attorney Anita Alvarez. Webb can:
Compel witnesses to testify under oath before a grand jury.
Grant witnesses immunity from prosecution.
File criminal charges.
Hire a staff of attorneys, in­vestigators and other personnel.
Obtain all reports and records from the state's attorney's office, the Chicago Police Department and the city of Chicago inspector general's office.