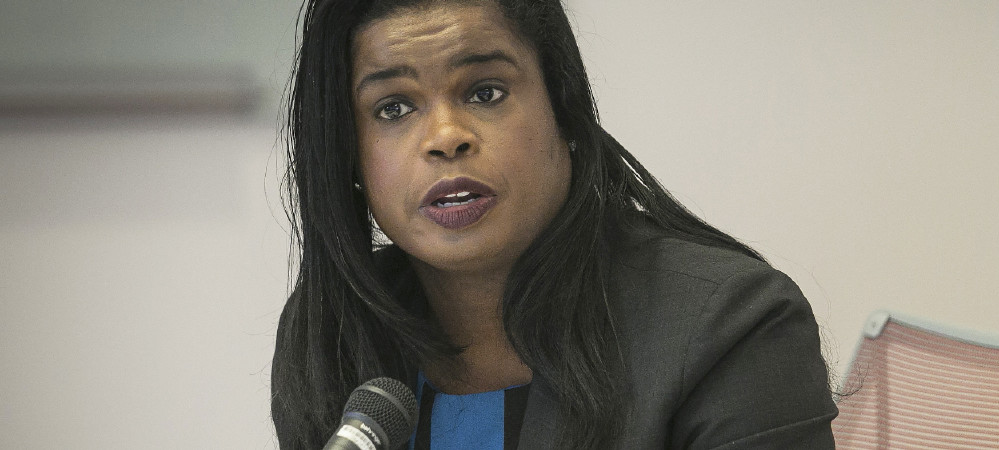 Editorial: Elect Kim Foxx state's attorney
Published Feb. 24, 2016
Three names that will not be on the ballot on March 15 should guide your choice in the Democratic primary for Cook County state's attorney:
Laquan McDonald.
Rekia Boyd.
David Koschman.
All three of these young people were killed on the streets of Chicago. The first by a police officer who shot him 16 times. The second by an off-duty police officer who shot into a crowd. The third by a mayor's nephew who threw a fatal punch.
EDITORIAL
In each case, as the Sun-Times has documented exhaustively over the last several years, the Chicago Police Department and Cook County state's attorney's office were slow to respond, slow to investigate and slow to press criminal charges.
In each case, the public was left to wonder whether those who wear uniforms of blue or enjoy special clout are held to account as fully as the rest of us. In each case, the public's confidence in our local criminal justice system took a beating.
Today, because this cannot go on, we are endorsing Kim Foxx, a former chief of staff to Cook County President Toni Preckwinkle, over incumbent State's Attorney Anita Alvarez. In a contentious race, Foxx has made clear she understands what this election is all about: Restoring faith in the state's attorney's office.
Alvarez, try as she might, will never be able to do that — she's just in too deep.
Also running in the Democratic primary is Donna More, a former assistant U.S. attorney and state's attorney who has spent the last 20 years representing the gaming industry. She hasn't prosecuted a case in 25 years.
Foxx has sufficient professional credentials to take on the job. She served as an assistant state's attorney for 12 years, from 2001 to 2013, working as a prosecutor and administrator, mostly in the juvenile bureau. She gained essential large-scale management experience as Preckwinkle's top aide.
Foxx has inflated her record as an assistant state's attorney, which has become an issue in this race. She did not try "hundreds of cases," as she once claimed, certainly not in the sense of actually taking a case to trial, with a jury or judge rendering a verdict. Almost every case she handled was settled before then.
But there also is no question Foxx served a dozen commendable years in that office. Nor is there doubt that the changes she proposes for the office are promising. She would call for a special prosecutor to handle all police-involved shootings. She would establish a special unit to handle gun trafficking cases. She would "focus on bringing charges" against a handful of suburban gun shops that are the source of a disproportionate number of the guns used in local violent crimes.
Foxx would bring a holistic approach to the business of fighting crime in Cook County, much as her mentor, Preckwinkle, has. She emphasizes that her "first responsibility" is to "keep our communities safe," but says that is often best done by finding alternatives to incarceration for non-violent offenders, especially those who are young.
"Decades of data shows clearly that longer sentences do not necessarily make us safer," she writes in her Sun-Times questionnaire. "Illinois should take the lead in reversing the trend toward longer sentences, especially for offenders who pose little to no risk to public safety."
Foxx was born to a teenage mother and grew up in Chicago's Cabrini-Green public housing project, where she says she developed "a deep understanding of the impact of crime, violence and poverty on our communities." She has been, she says, "both a victim of violent crime and a prosecutor of violent criminals." This would be no small advantage for Foxx as state's attorney — this ability to understand and empathize from personal experience — at a time when many Chicagoans feel a deep distrust in law enforcement.
Our purpose here is less to criticize Alvarez's performance as state's attorney than to argue in favor of Foxx. Alvarez has strongly defended her actions and inactions. Her frustration — if people only understood how this job really works — is palpable.
But we have listened hard to her defense, and we're still waiting on better answers.
Why did Alvarez take more than a year to bring charges against the officer who killed Laquan McDonald? A video recording caught it all — right then and there.
Why did Alvarez take almost two years to bring charges against the off-duty officer who killed Rekia Boyd? The officer remained on the job the whole time.
Why did Alvarez reject any suggestion that Richard J. Vanecko, a nephew of then-Mayor Richard M. Daley, committed a felony crime when he threw the punch that led to David Koschman's death? She objected to the appointment of the special prosecutor who finally brought Vanecko to justice.
And so it goes. In an election that is about setting things right, it becomes necessary to spell out what's gone wrong.
In her eight years as state's attorney, Alvarez has pursued too many doubtful prosecutions and defended too many wrongful convictions. She has imposed roadblocks on others who have sought to determine whether innocent men are languishing in prison because of statements extracted through police torture in the 1970s and 1980s.
In 2012, the TV news show "60 Minutes" called Chicago the nation's capital of false confessions.
Alvarez dragged her feet on releasing the Dixmoor Five, a group of teenagers convicted of a 1991 rape and murder, until long after DNA testing implicated a convicted rapist as the real killer. Her office fought for years to keep Daniel Taylor in prison for a double murder he couldn't have committed because he was in police custody at the time. She overcharged the so-called "NATO Three" — a collection of goofs — with terrorism. And when a former gang member, Willie Johnson, came forward to recant testimony he had given 15 years earlier, Alvarez prosecuted him for perjury.
Once a leader in law enforcement loses the trust of a community, fairly or not, that leader should know to move on. So it was for former Police Supt. Garry McCarthy, whom Mayor Rahm Emanuel had to fire, and so it is now for Anita Alvarez. People are marching in the streets.
Kimberly Foxx offers a fresh start for an office that has lost its way.