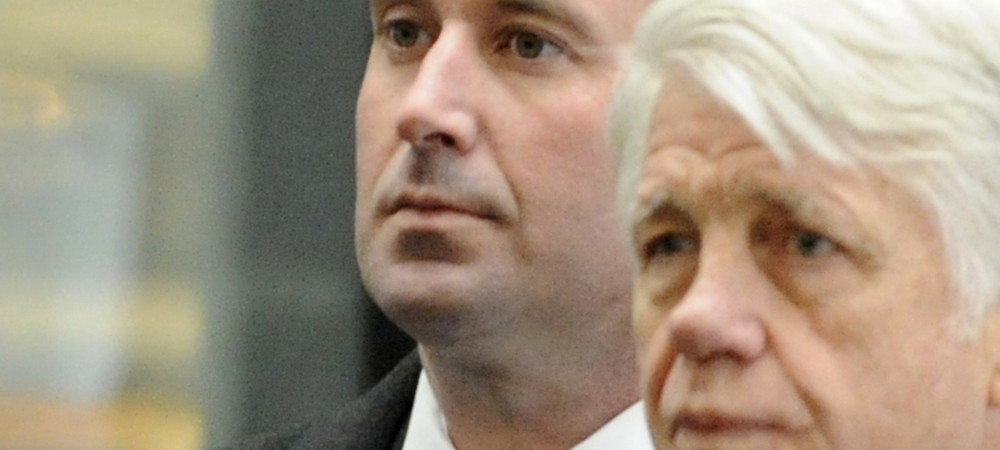 Daley nephew charged in Koschman killing
Originally published Dec. 4, 2012
By TIM NOVAK, CHRIS FUSCO AND CAROL MARIN
Staff Reporters
Richard J. "R.J." Vanecko — a grandson of the late Mayor Richard J. Daley and nephew of former Mayor Richard M. Daley — has been indicted on a charge of involuntary manslaughter, accused of throwing the punch that led to the 2004 death of 21-year-old David Koschman of Mount Prospect.
And others could still face charges. The grand jury that returned Monday's indictment is continuing to look into whether criminal charges should be filed regarding the handling of the Koschman case by police and prosecutors.
"There's been a terrible, terrible delay in coming to this decision," said Locke E. Bowman, an attorney for Koschman's mother, Nanci Koschman. "For the community as a whole, the questions now begin. Why did this take so long?"
The Chicago Police Department and the Cook County state's attorney's office — first under Richard Devine, then under current top prosecutor Anita Alvarez — had declined to charge Vanecko.
But a Chicago Sun-Times investigation prompted Cook County Circuit Judge Michael P. Toomin to reopen the politically explosive case and appoint former U.S. Attorney Dan K. Webb as special prosecutor to lead the new investigation.
Indictment against Richard J. "R.J." Vanecko
According to the indictment, Vanecko, "through the use of physical force, and without lawful justification, recklessly performed acts which were likely to cause death or great bodily harm to another, and such acts caused the death of David Koschman."
Vanecko, 38, who has been living in California, will be required to appear in court for arraignment at 9:30 a.m. Monday at Cook County's Leighton Criminal Court Building at 26th and California.
"Arrangements have been made with Mr. Vanecko's counsel for his client to voluntarily appear on that date, at which time a trial judge will be assigned to the case," Webb said in a written statement. "Bond has been set at $100,000 (secured by a $10,000 cash deposit)."
Webb's statement also noted that, "while the grand jury investigation into the circumstances of Mr. Koschman's death has concluded, the grand jury inquiry of how the authorities handled their investigation into Mr. Koschman's death continues at a vigorous pace."
To date, he said, "Thousands of documents have been reviewed, and more than 50 witnesses have been interviewed."
Webb praised city of Chicago Inspector General Joseph Ferguson and his staff, who Webb said "have provided invaluable and continuing assistance in the investigation of this matter."
Vanecko's lawyers — Terence Gillespie, Thomas Breen and Marc W. Martin — said in a written statement: "We are disappointed . . . This matter was investigated multiple times by the Chicago Police Department and the Cook County state's attorney's office. These agencies professionally investigate these types of incidents on a daily basis. Each time, the Chicago Police Department and the Cook County state's attorney's office declined to bring criminal charges. These decisions were not because of favoritism, but because the facts did not warrant felony charges."
Their statement went on: "While the death of David Koschman is no doubt a tragedy and a great loss to his mother and family, on the morning in question, he and four others in his group had been drinking extensively . . . [and Koschman] was clearly acting in an unprovoked, physically aggressive manner. We are confident that, when all the facts are aired in a court of law, the trier of fact will find Mr. Vanecko not guilty."
At a news conference, a tearful Nanci Koschman said she planned to go to her son's grave Tuesday to tell him the news so that now he could be "at peace."
She also said she doesn't want Vanecko to go to prison. "It would hurt his mother," she said.
"I'm happy. It makes me feel better," she said of Vanecko's indictment. "But it doesn't bring David back."
She added: "I'm assuming he won't go to trial because he knows he did it. It will be on his record.
"I know [Vanecko] didn't go out that night to hit David. I wanted it on the record that this man hit my son for no reason."
The indictment marks a stunning swing in a case that current and former police officials and prosecutors had insisted didn't merit criminal prosecution.
"There's no basis for criminal charges," then-police Supt. Phil Cline said in May 2004.
But, facing new questions about the case, the police reinvestigated last year, again declining to seek charges. They said Vanecko — who never spoke with investigators — acted in self-defense.
"Absent evidence that would enable us to prove guilt beyond a reasonable doubt, there is not a good-faith basis to bring charges," Sally Daly, Alvarez's press secretary, said then.
The judge didn't buy it.
"The system has failed" Koschman, Toomin said in April when he granted the request by Nanci Koschman for a special prosecutor.
The judge ripped "the fiction of self-defense" that he said was "conjured up by police and prosecutors," and he questioned why Vanecko wasn't charged.
"He's identified as the killer — make no mistake about it," the judge said then. "This is not a whodunit . . . When you have a dead body, someone's going to jail. Not in this case."
Weeks later, when he appointed Webb, he made clear he wanted him to look beyond Vanecko, to also "investigate whether criminal charges should be brought against any person in connection with the homicide of David Koschman . . . and whether . . . employees of the Chicago Police Department and the Cook County state's attorney's office acted intentionally to suppress and conceal evidence, furnish false evidence and generally impede the investigation."
G. Flint Taylor, another lawyer for Nanci Koschman, praised Webb for continuing to pursue that part of the case.
"You have to look at the state's attorney and the family of the person involved," Taylor said Monday. "This would have been charged eight years ago. It should have been charged eight years ago."
The grand jury that returned the indictment against Vanecko has been meeting at the downtown offices of Webb's law firm, Winston & Strawn. The grand jury is made up of 16 people. To return an indictment, at least nine of them had to agree it was warranted.
Involuntary manslaughter is among the crimes for which there is no statute of limitations. Sentences can range from probation to prison time.
A drunken confrontation
The case against Vanecko stems from a drunken confrontation with Koschman around 3:15 on the morning of April 25, 2004, in front of the Starbucks on Division just west of Dearborn.
Vanecko and three friends — Craig Denham, Kevin D. McCarthy and McCarthy's wife, Bridget Higgins McCarthy — had left an engagement party and taken a cab to go to Butch McGuire's bar at 20 W. Division.
Koschman had been bar-hopping on Rush Street with four friends from high school in Mount Prospect — Scott Allen, James Copeland, Shaun Hageline and David Francis Jr.
According to witnesses and the police, Koschman bumped into Denham, then a 29-year-old LaSalle Bank employee, knocking off Denham's glasses.
A drunken confrontation followed. There were insults and obscenities. Then, Koschman was hit.
He was drunk, and he was loud, but, according to the police and all who were there, he didn't strike anyone.
In an instant, Koschman, who stood 5-foot-5 and weighed 125 pounds, went flying backward. One of his friends said he appeared to be unconscious before he hit the ground.
He cracked the back of his head on the pavement, causing brain damage.
Koschman was rushed by ambulance to nearby Northwestern Memorial Hospital.
"They kept saying, 'He's young, he's strong,' " said Sue Pazderski, Nanci Koschman's sister.
But he never came out of the coma. After 11 days, Nanci Koschman agreed to take him off life support, and he died in his mother's arms.
Vanecko and Denham ran off. Denham would later tell the police that having his glasses knocked off "made him mad" and that Koschman "kept trying to fight."
But he also told the police he didn't know why he and Vanecko ran away: "Denham states he was pretty intoxicated . . . Denham states that he and Vanecko got into a cab and went to another tavern . . . and didn't know someone had been hurt."
The initial investigation
Around Rush Street, there are always police officers out, even at 3:15 in the morning. Koschman's friends flagged one of them down and pointed out McCarthy, who was walking away with his wife. The police handcuffed McCarthy, but he told them he didn't know the two men who ran off, and they let him go.
The detectives who originally were given the case then went on vacation, and the police didn't do any more to investigate until after Koschman died.
On May 13, 2011, Bridget McCarthy gave them Vanecko and Denham's names. And her husband — changing his story — admitted he knew them.
A week later, detectives put Vanecko in a lineup. But they said Koschman's four friends and two bystanders didn't identify Vanecko, a 6-foot-3, 230-pound former college football lineman who stood between four similarly sized or bigger police officers. Allen and Hageline have since said they believe they did pick out Vanecko.
The police never told Nanci Koschman Vanecko's name. She remembers a detective telling her that if she knew who was involved, "You'd be impressed."
Vanecko's involvement didn't surface in news reports until after the police lineup and wasn't explained. The story disappeared from the news. And the initial investigation was dropped.
Seven years later
But the case was never formally closed, remaining on the books as an unsolved homicide — which became known only after Sun-Times reporters asked to see the case file in January 2011. The police said no, citing their ongoing investigation — which then-Supt. Jody Weis had ordered in light of the newspaper's request.
On Feb. 28, 2011, the paper published the first in what, over the coming months, would be dozens of stories uncovering problems with the way the case was handled.
The next day, March 1 — six weeks before Daley left office — the police formally closed the case, without seeking charges from Alvarez's office. They now identified Vanecko for the first time as having punched Koschman in the face but said, without explanation, he'd done so in self-defense.
On March 2, the newspaper reported that Michael Connolly, one of the two bystanders who saw what happened on Division Street back in 2004, said that a statement from Alvarez's office saying Koschman "was the aggressor and had initiated the physical confrontation" was a "flat-out lie."
Also, the newly released police reports attributed statements to Koschman's friends that they told the newspaper they didn't make.
Acknowledging those discrepancies and under fire for not being able to find any files on the Koschman case from her office's involvement in 2004, Alvarez asked the Illinois State Police to investigate the police department's handling of the case. "I think there should be an independent police investigation," Alvarez said.
News release from special prosecutor Dan K. Webb
At first, the state agency agreed. Then, it got a new boss: Alvarez's chief deputy, Hiram Grau, who had been a deputy superintendent with the Chicago Police Department at the time of Koschman's death, in charge of the department's detectives. And the state police quickly reversed course and declined to get involved.
Meanwhile, Ferguson — the city of Chicago inspector general and a former federal prosecutor — began a separate probe of the way the police handled the Koschman investigation.
Subsequent Sun-Times reports revealed that:
The police closed their reinvestigation even though some of their files on the case were missing and weren't reviewed by the detective handling the new investigation.
One of those missing documents included a notation that a witness had told the police Vanecko was being "very aggressive" toward Koschman before punching him — the first official indication that the police were ever told anything that contradicted their conclusion that Koschman was the aggressor. That statement was scratched out on the detective's report of what the witness told him.
'Everybody knew everybody'
In December 2011, Nanci Koschman went to court, asking for the appointment of a special prosecutor.
"Had Vanecko not been a member of the powerful Daley family, he would have been charged with the homicide," she said in a court filing prepared by attorneys Locke E. Bowman and Alexa Van Brunt of Northwestern University Law School's Roderick MacArthur Justice Center and G. Flint Taylor of the People's Law Office, who agreed to take the case without any fee. "Mr. Vanecko is not entitled to escape prosecution simply because he is the nephew of former Mayor Daley."
The petition went on to say: "Despite . . . witness statements, the 2004 Chicago police investigation was closed without charges in part because the police claimed to be unable to determine the identity of the person who had thrown the fatal punch. Such a blatant failure to connect the dots has the hallmarks of an investigation governed by politics, not professionalism."
And it singled out Alvarez — who now was arguing that she should oversee any new investigation — for criticism: "Despite the suspicious circumstances surrounding the Koschman investigation, Alvarez has publicly defended the work of the Chicago police and the Cook County state's attorney's felony review unit.
"Alvarez is in no position now to conduct the kind of probing and objective 'fresh look' that this matter so urgently requires."
Koschman's mother said she asked for a special prosecutor after reading the Sun-Times stories, which also reported that Devine — a Daley family friend who, as state's attorney at the time of Koschman's death, was Alvarez's boss — was representing one of Vanecko's brothers in a civil lawsuit over the investment of city of Chicago pension funds.
"Everybody knew everybody — except for David and me," Nanci Koschman said then. "We didn't know anybody.
"So he died. And nobody cared."
A judge's doubts
Her request initially went to Chief Cook County Criminal Courts Judge Paul Biebel Jr. But he stepped aside because of a health issue and, after consulting with Timothy Evans, the county's chief judge, appointed Toomin.
In April, over Alvarez's objections, Toomin agreed to appoint a special prosecutor. He said that despite her assurances of fully and fairly investigating the case, he saw instead "a decided interest in preventing Vanecko's prosecution.
"While professing impartiality, [the state's attorney's office] essentially has endeavored to denigrate the evidence against Vanecko, a rather unusual strategy for an objective prosecutor to embrace. As noted, the police and prosecutors initially declined to charge Vanecko in part because his identification was deemed inconclusive. That question no longer remains."
He said interviews that Ferguson had done with Koschman's friends helped convince him a special prosecutor was needed and noted that Alvarez had opposed sharing those interviews with Nanci Koschman's lawyers.
Toomin also wrote that Alvarez's office "now offers an incongruous argument suggesting that Koschman was pushed, rather than punched [and] maintains that if Vanecko had simply shoved Koschman, that minimal contact would be consistent with a claim of self-defense. Objective onlookers might well discern that . . . argument evokes a difference without distinction. Whether push or punch, it concedely was the unlawful force Vanecko employed to propel Koschman to his untimely death. Under prevailing law and the undisputed facts in the case at hand, it was indeed force likely to cause great bodily harm, if not death.
"Upon being apprised that Koschman met his death at the hand of an identifiable and known assailant, one might reasonably anticipate that law enforcement officials would bring the offender before the bar of justice."
Instead, though, Toomin said Alvarez "seems consumed with finding legal justification for Vanecko's use of deadly force."
Ripping the assertion that Koschman must have acted in self-defense, the judge wrote: "An objective observer might well express amazement as to how the police or prosecutors could so blithely divine the subjective feelings of Vanecko. Clearly, they could not. Under these circumstances, the public could well conclude that the entire claim of self-defense came not from Vanecko but, rather, was conjured up in the minds of law enforcement."
A visit to a son's grave
"I think some things were probably covered up or mishandled," Nanci Koschman said after the indictment was announced Monday.
Asked if she thinks Vanecko should go to jail, she said, "No. It's not going to bring my son back."
She said the investigation has been difficult for her.
"I've been having dreams that he's hurt, that I can't get to him," she said of her son.
She said she feels some vindication now.
"I wanted David's name cleared, that he didn't cause his own death," she said.
After news stories began to appear, Koschman had said she wanted something she never got from the man who caused her son's death — an apology.
On Monday, she said that, as stories were published, "I got notes from some of the most wonderful people in the city, telling me they were on my side. But the one person I wanted to hear from never callled."
As she did after the judge agreed to appoint a special prosecutor, Koschman said she plans to go Tuesday morning to the Arlington Heights cemetery where she buried her son.
"I'll go see him," she said, "and tell him what happened."
 Contributing: Dan Mihalopoulos